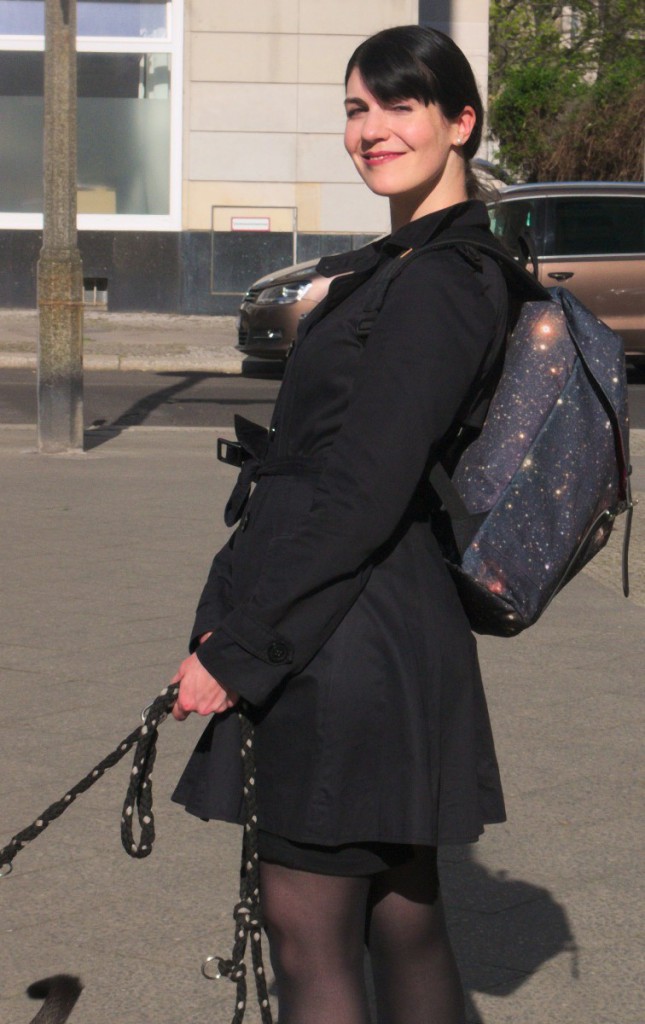 There was a time not long ago when backpacks were actually reserved for kids still in school, nerds of every ilk or people who really don't care. Well, times have changed!
It all started when I decided to finally put into action my long-hedged plan to take a bike to work. Grudgingly, I had to admit that a backpack would come in handy and would actually be a useful accessory. So I started scanning the market and discovered there were actually a lot of not too bad looking backpacks out there…but then I spotted this galaxy print backpack from spiral bags at Zalando…and fell head over heels!
OUTFIT
Spiral Bags Backpack, via Zalando
Promod Trenchcoat, similar here
and featuring: Tora, the Basenji Mix
It's got a galaxy print (how cool is that!) and silver metal details. This is actually really important to me as I prefer my metals to match in colour and I mostly wear silver jewellery. I'm not a big fan of gold-coloured applications in general as they tend to make things look either cheap or mismatched.
While some of the nicer backpacks out there are made of fine leather I purposely went for a hard-wearing, sturdy poly canvas because I knew that it would need to withstand Berlin rain showers.
It's also amazing what you can fit in there. It takes my lunch, extra cardigans for when it gets chilly at work, scarves, bags of snacks and even a notebook if needs be. For any combination of these items I had to go pack an extra bag before. The best thing is that it goes with just about anything thanks to the relatively neutral colour scheme. It doesn't look overly sporty or utilitarian. Admittedly, not quite everything goes with it effortlessly when it comes to the high class end of the fashion spectrum. I would still choose a clutch for the next elegant formal occasion but still, this was a big change of heart for me!
So here's a few thoughts in favour of trying to integrate a backpack into your daily routine.
The pros:
– easy to carry, you'll have both hands free!
– it's actually quite good for your posture, for a change – seriously!
– you will effortlessly be able to carry even more stuff around (yay!)
– it's much safer than carrying a flimsy shoulder bag when it comes to pickpockets: although this has never happened to me, living in a big city that's sure worth a thought.
I have collected a few of my favourite sky printed Spiral backpacks here (I had quite a hard time when deciding which one to get; the dark blue one on the right was another runner-up…):
 Spiral Bags HAMPTON – galaxy mercury // OG Laptop bag – galaxy storm // HAMPTON cloud // HAMPTON galaxy saturn all via Zalando