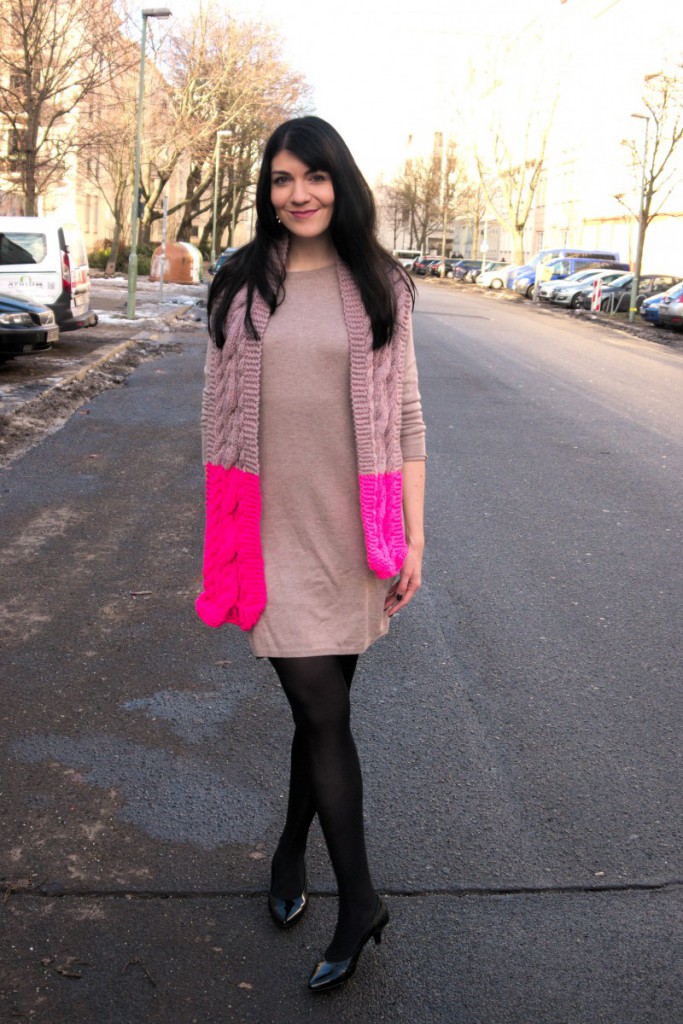 I have mentioned before that if there's one item of clothing I couldn't live without in winter it would be sweater dresses.
These days, I wear a knit dress on three days out of five in a typical work week. What I love about them is that they can easily be styled up or down depending on occasion. If you choose pieces with a lower neckline they even transition effortlessly into evening wear for after-work drinks and such. Plus, you can always add layers and accessories like cardigans, scarves, brooches or a hat to make the look more sophisticated.
The outfit I'm showing you today features a light cotton blend knit dress by Esprit in a rosy beige, almost nude colour. I love this shade of colour as it usually goes well with my complexion and can be accented with contrasting accessories.
This cable scarf is actually a product of my own needles which I finished last winter. I found the free pattern on the page of Norwegian wool brand Drops (here). I decided to customize it by changing to a neon coloured yarn towards the ends. I rather enjoy knitting on larger needles and at greater gauge, 8mm in this case. A project is finished just so much quicker than with the usual 4mm needles. Plus, oversize scarves like these come in quite handy when it gets chilly at work or when you're out. I tend to use them as shoulder throws as well as they are wide enough.
The yarn I used for this scarf is an alpaca blend in an attractive misty rose shade with flecks of bluish lilac.
Outfit Details:
Dress – edc by Esprit, via Zalando
Pumps – Clarks
Tights – Fascìno by dm
Scarf – handknit – pattern by Drops Design