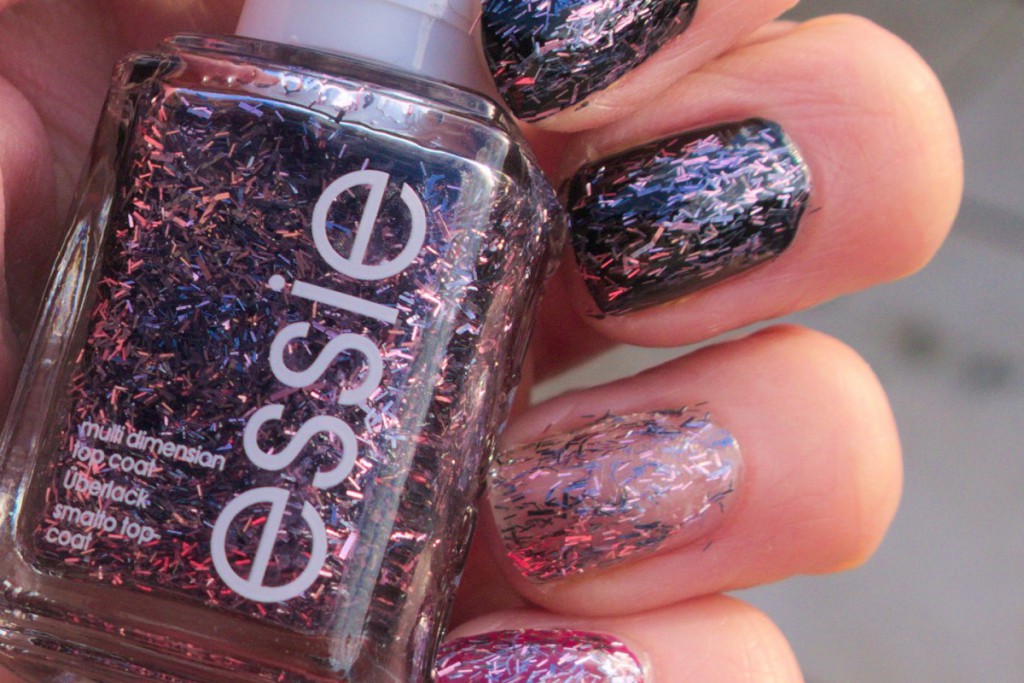 I have recently stumbled upon the 2015 Essie Fringe Luxeffects LE in my local drugstore. Being inexplicably drawn to glitter polishes sometimes I decided to get one of them. So let's start the new year off with another Essie nail polish review.
Fashion Flares (a hot pink bar glitter with black confetti) and Fringe Factor (silver and light pink bar glitter) seemed the most promising colourwise and I had a hard time deciding between those two. I finally settled on fringe factor and I'm glad I did….
Colour: Fringe Factor contains bar glitter in gunmetal silver and light pink in a clear base. For better effect, I have swatched it on two different base colours as well as on its own. As base colours I used Trend it up No.1 in black 020 and Essie Bahama Mama which is a magenta plum shade. I used two coats of the coloured base and sealed the nail off with a clear top coat.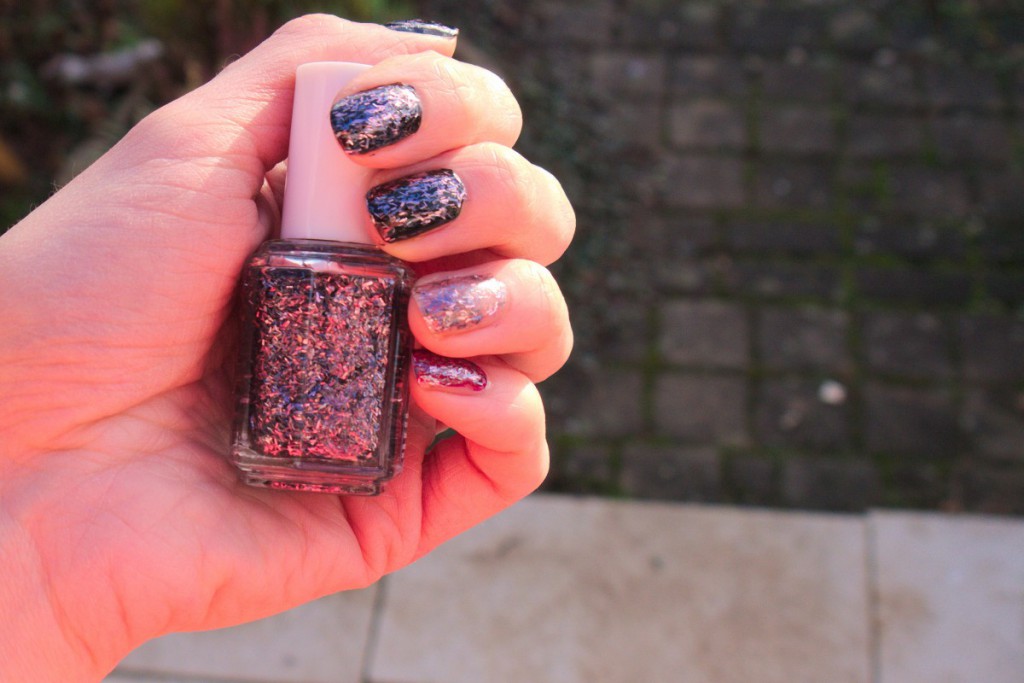 The black base colour showcases the silver and pink glitter best in my opinion. Black polish with a glitter top coat always makes a great party look which is why this actually was my New Year's Eve look for the nails. Bahama Mama or another deep pink or even burgundy shade looks nice under fringe factor as well. Especially combined with a marsala or dark red outfit this could work really well in my opinion.
Applied on its own with a clear base coat, fringe factor is not as impressive and looks mostly silver. The light pink metallic doesn't come out as well on light coloured nails. If you want a silvery glitter look, this would work well though. What I like is that fringe factor doesn't look over the top (pun intended) when applied on its own.
Application: As is often the case with glitter top coats, it's not always easy to get enough glitter to evenly cover the nail. I had to apply three coats of fringe factor for these swatches in order to get enough glitter payoff. I would also recommend using a clear top coat to seal off the nail for getting a smooth surface. Although I do like glitter polishes, it's not so great if the bits of glitter feel scratchy on the nail surface and get stuck in wool sweaters pulling threads. Applying a top coat solves this problem beautifully though.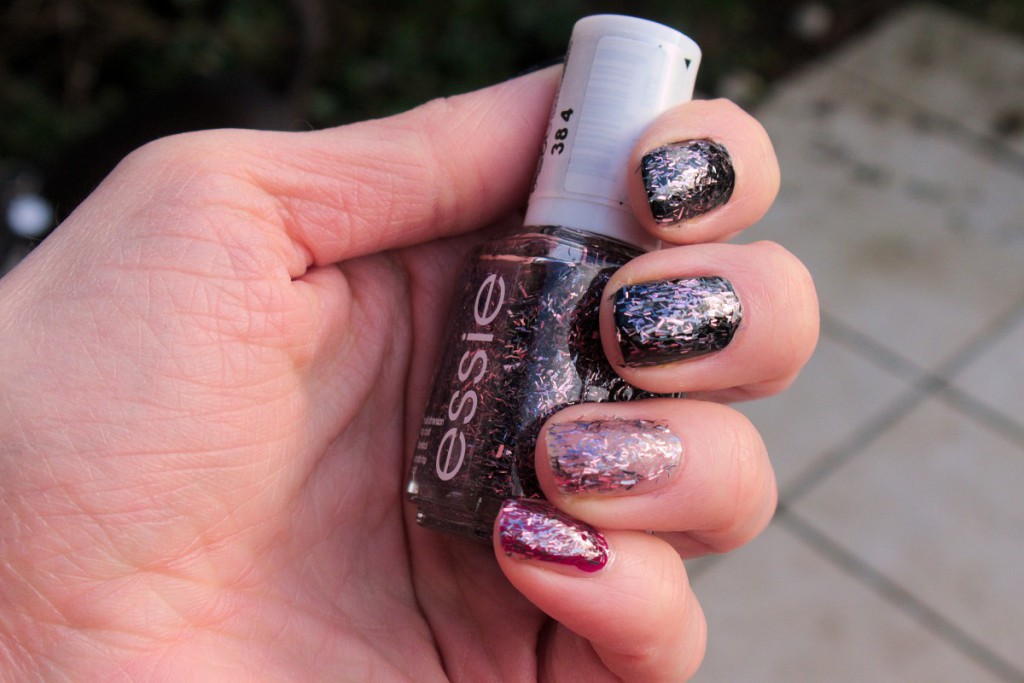 The 2015 Fringe Luxeffects collection features four signature metallic glitter polishes in different colour shades. Besides fringe factor there are: tassel shaker, fashion flares and frilling me softly. Fringed, frilled, flared and tasseled, Essie describes them as pushing the fashion envelope and adding breathtaking drama in seconds. You can see the other shades here.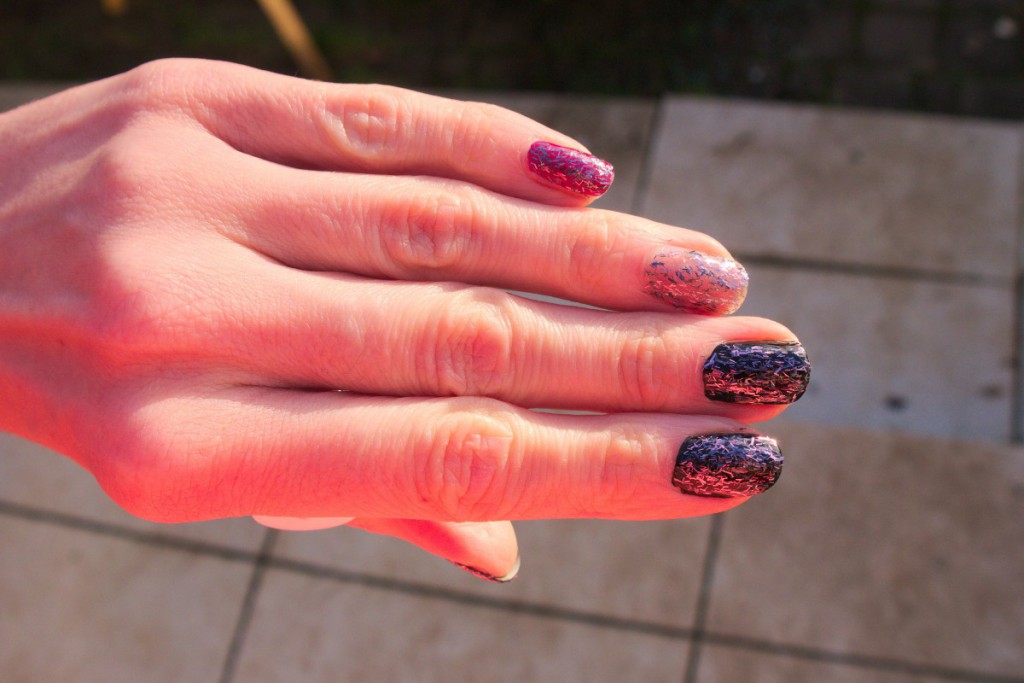 From further away the bits of glitter seem predominantly silver. But it also depends a bit on the lighting  conditions.
Verdict: Fringe Factor is a great polish if you like silver and pink. It can be used for party nails or a silver metallic look. The glitter payoff is good. I am a fan of bar glitter and will be using this as a top coat for special occasions throughout the year.