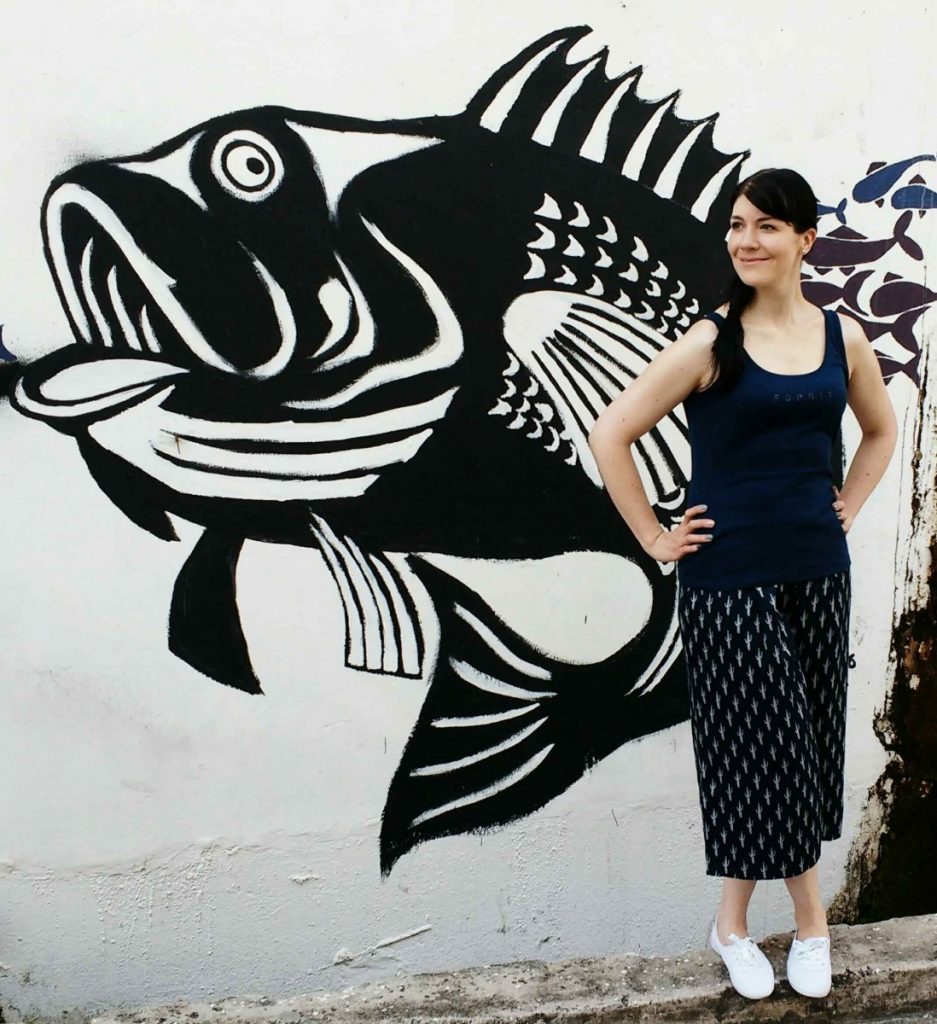 My first vacation outfit is from Mersing. This is a small coastal town in the east of Malaysia where we stayed overnight in order to catch the ferry to Tioman Island the next day.
We actually went straight to Mersing after landing in Singapore which resulted in quite a long roadtrip. Getting over the border into Malaysia took longer than expected and the queues were nothing like we'd ever seen. It was late on a Friday evening so a lot of Malaysians working in Singapore during the week were going home for the weekend. Considering that we came straight from the airport and were marginally jetlagged from the 11h flight we managed quite well though. Our bus finally dropped us into Mersing at midnight and we went straight to our hotel to get a few hours of sleep…
Getting to Tioman Island is really a subject in itself so I think I will do a separate post on this later on.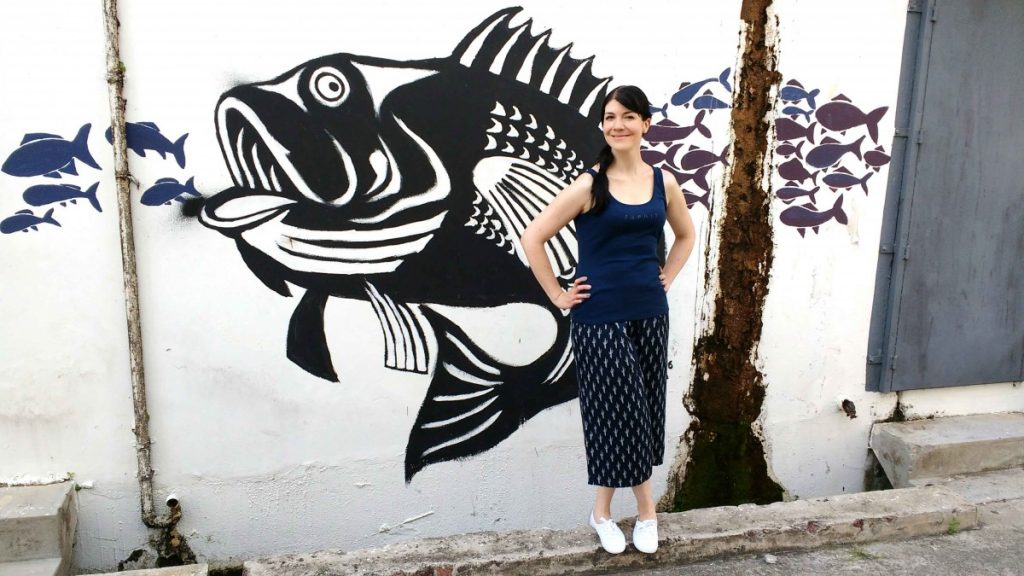 My First Culotte
After shunning the subject all summer long I finally decided to get my very first culotte for our holiday. Considering that we were going to the tropics I was looking for light-weight garments that would cover enough to keep off the sun but would be breathable and airy at the same time. When I saw these cute cactus print culottes on sale at Tom Tailor I decided to give them a try. Turns out my idea was a good one and I really enjoyed wearing these on our first day in Malaysia. They made getting used to the humidity so much easier.
We were scheduled to catch the ferry to Tioman Island at 11 that morning so we just went in search of a 7-Eleven to get some food and drinks and wandered around the streets a  bit. Mainly catering to people stopping over for Tioman, Mersing surprised me with some really cool wall paintings which made the perfect backdrop for my navy and white outfit that day.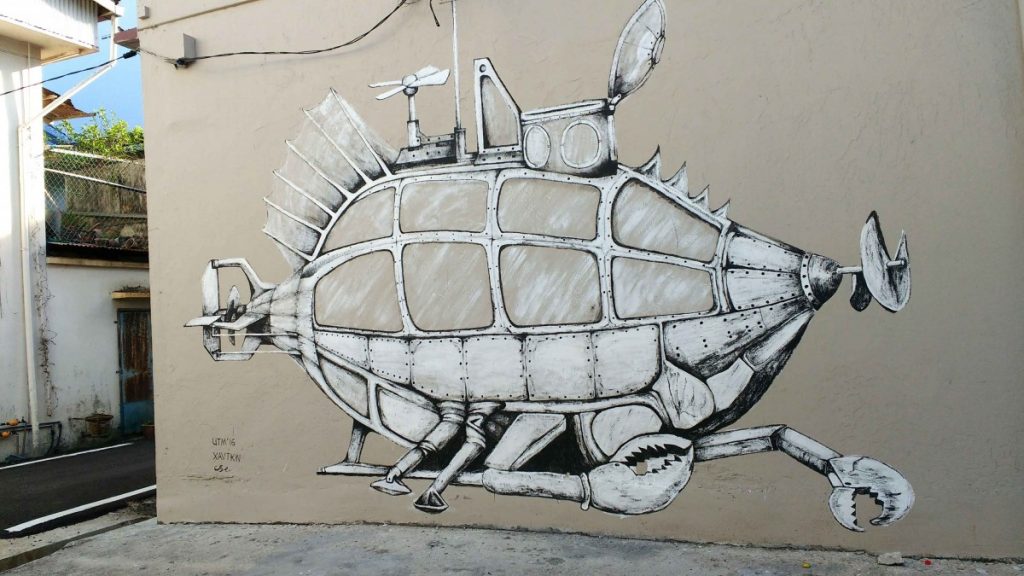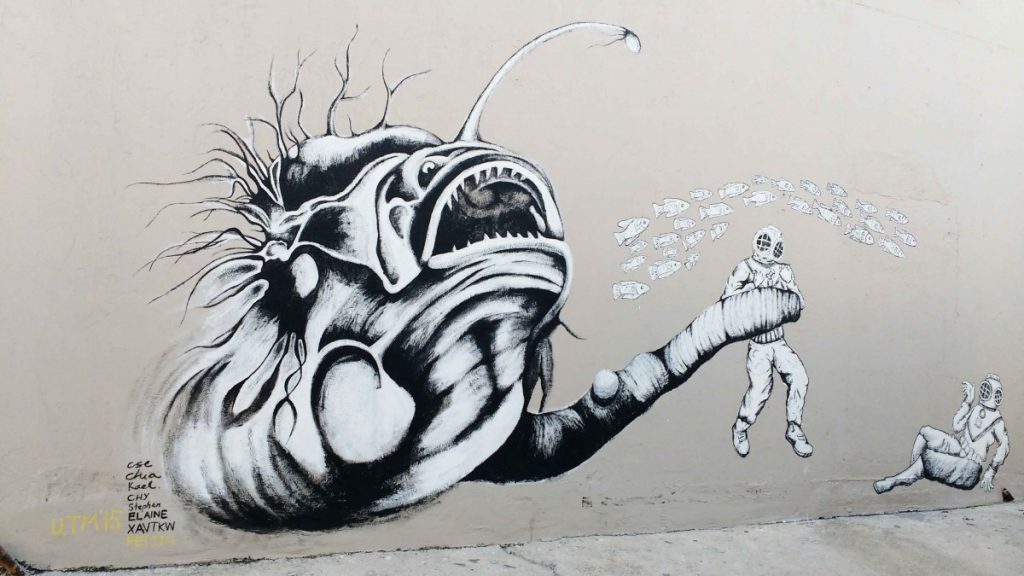 Outfit Details:
Top – edc by Esprit  here
Culotte – Tom Tailor here (currently on sale!)
Canvas Sneakers – Graceland here
Ballerina Flats – Melvin & Hamilton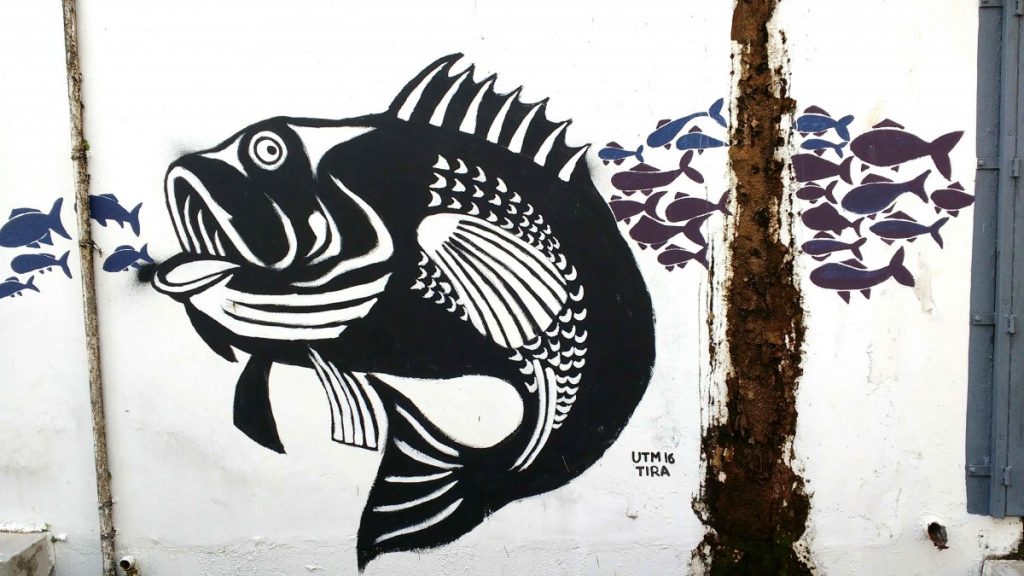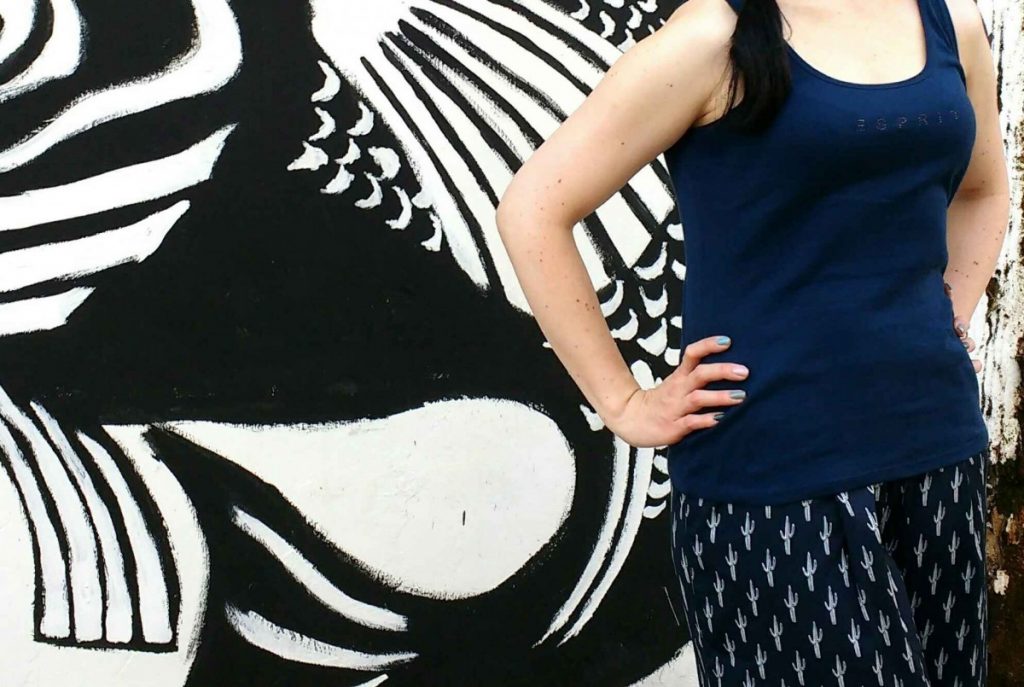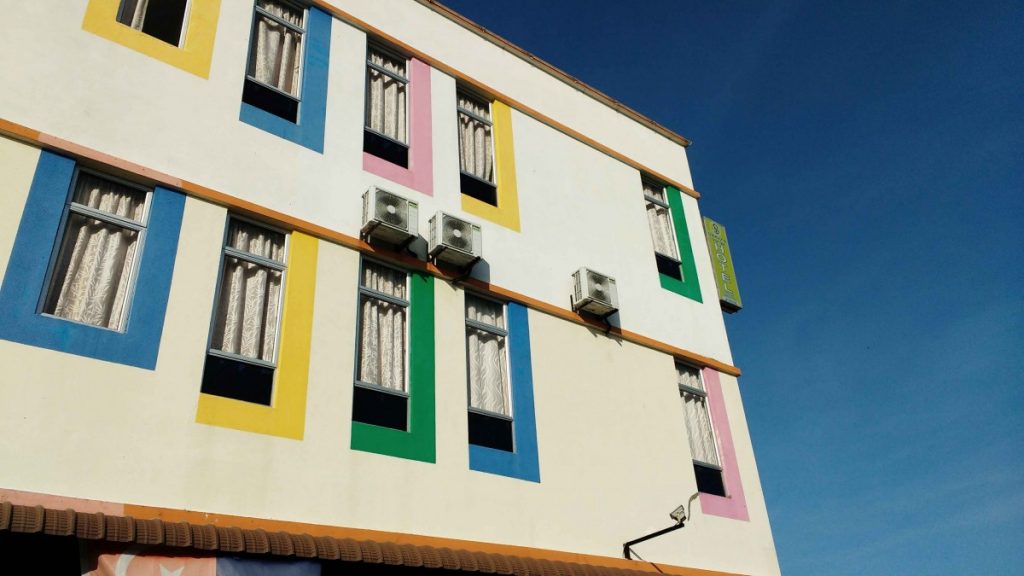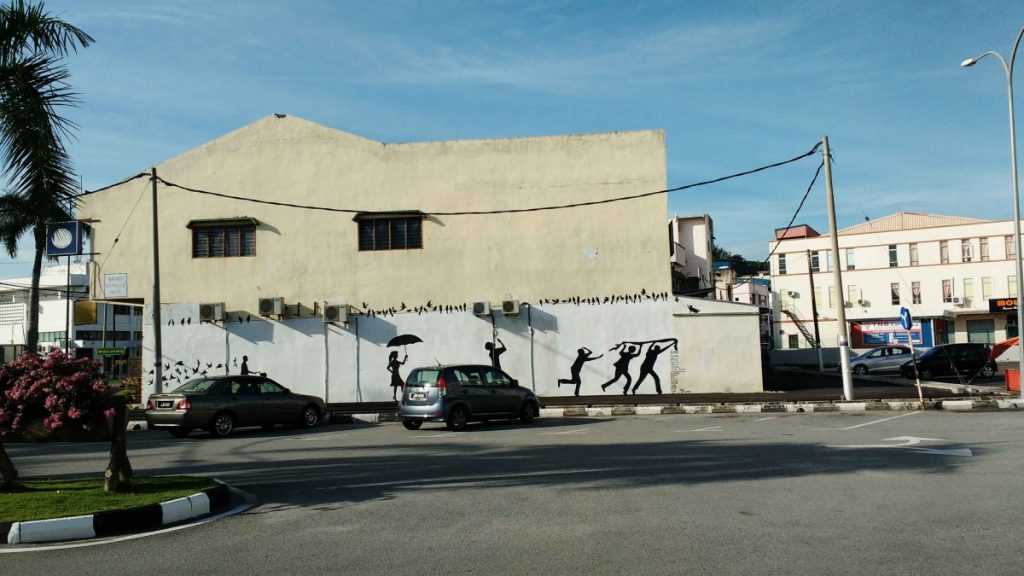 I hope you enjoyed this first little installation of travel outfits and have a lovely week!
---
Das erste Urlaubsoutfit, das ich euch heute zeigen möchte, stammt aus der Stadt Mersing. Dies ist eine Kleinstadt in Johor an der Ostküste von Malaysia, die vor allem als Gateway zur Insel Tioman dient.
Um nicht unnötig Reisezeit zu verlieren, hatten wir uns dazu entschieden vom Flughafen in Singapur direkt einen Überlandbus nach Mersing zu nehmen, von wo aus am nächsten Tag eine kleine Fähre auf die Insel Tioman übersetzte. Der Grenzübertritt nach Malaysia an sich war allerdings schon ganz schön aufwendig und die völlig ungeordneten Warteschlangen für europäische Verhälrnisse durchaus gewöhnungsbedürftig. Da wir uns einen Freitagabend für unsere Reise ausgesucht hatten, waren unglaublich viele Malayen, die in Singapur arbeiten, auf dem Weg nach Hause fürs Wochenende.
Alles in allem hat die Anreise aber richtig gut geklappt und wir konnten zwar ziemlich erschöpft, aber glücklich nach einer etwa 18-stündigen Reise gegen Mitternacht in Mersing unser Hotelzimmer beziehen.
Outfit mit Culotte, weißen Canvas Sneakern und Full Needle Rib Top
Nachdem ich mich bisher erfolgreich dem Trend-Thema Culottes entzogen hatte, entschied ich mich dafür, mir für den Urlaub dann doch mein erstes Paar zuzulegen. Als ich bei Tom Tailor diese Culottes mit Kaktus-Print im Summer Sale entdeckt hatte, war die Entscheidung gefallen. Und ich muss sagen, dass sie für das tropische Klima wirklich genau richtig war und ich im Nachhinein froh bin, diese für mich gewöhnungsbedürftige Hosenform ausprobiert zu haben. Denn da ich doch recht hell bin, muss ich immer aufpassen, dass ich mich nicht zu sehr der Sonne aussetze, gleichzeitig sollte meine Garderobe natürlich luftig und leicht sein.
Mersing ist vor allem ein Stopover für Reisende, die nach Tioman wollen, konnte mich aber mit einigen coolen Wandmalereien beeindrucken, die wir in einer kleinen Seitenstraße gefunden haben.
---
Im nächsten Outfitpost geht es dann um die ersten Tage auf Tioman…