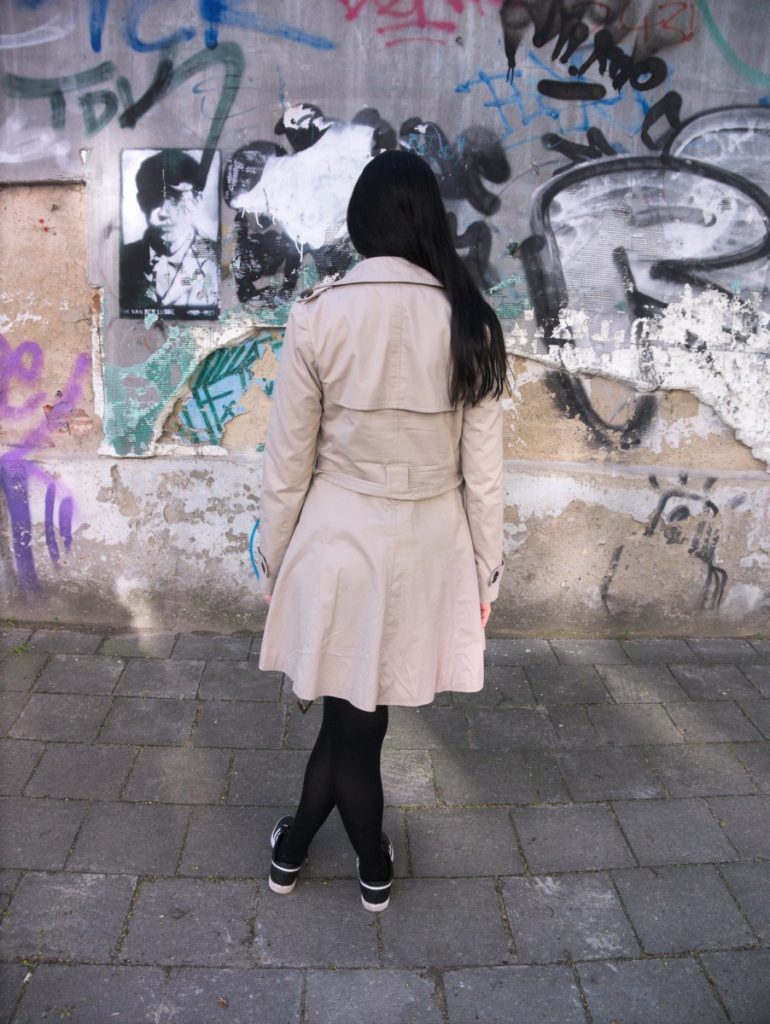 Another casual outfit this time. And this is an unusual look for me as I'm wearing sneakers with a dress for once! But given the casual nature of this look I felt that sneakers would be appropriate.The dress I'm wearing under the trenchcoat is made of medium weight jersey and sports a fun marble print. Marble has been quite popular recently so it's amusing to see this trend extend to dresses as well. I got this from AboutYou in the course of last month's collaboration. It's a great workday dress that came in handy for the unsteady transitional weather we had in mid May. I like how the marble pattern corresponds to the graffiti on the wall behind. It's a bit like urban camouflage.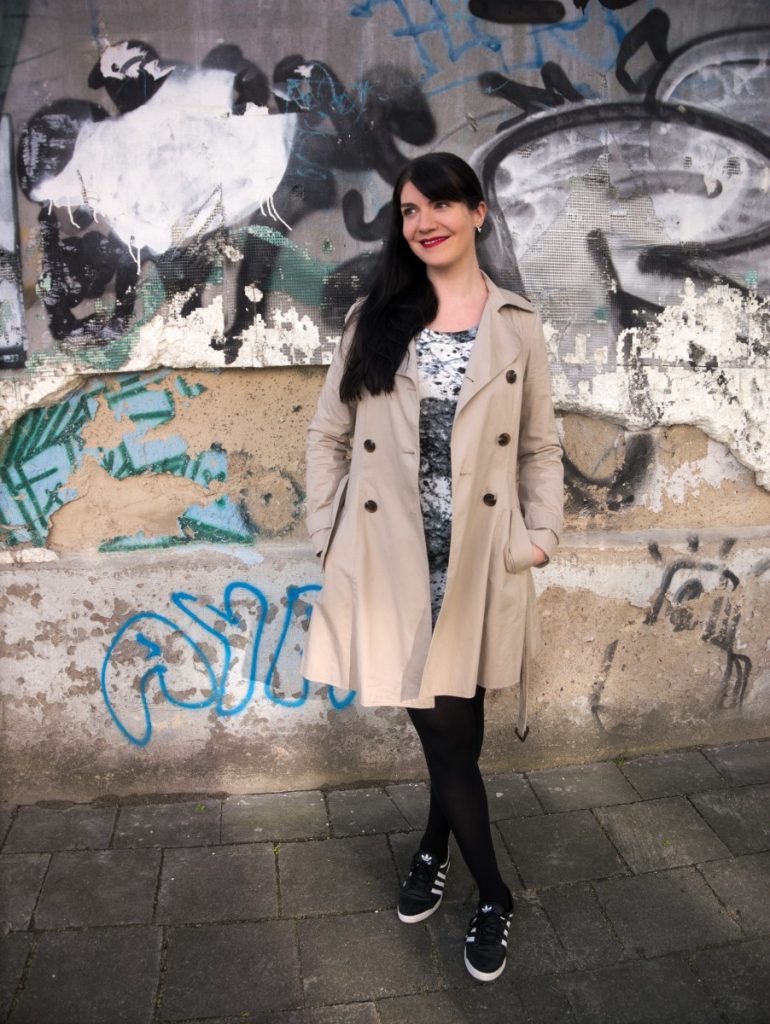 I combined this dress with a trenchcoat and Adidas sneakers for an urban vibe. I felt really uncomfortable wearing sneakers with a dress at first as this is really new for me. But it looked alright on the photos and, of course, it was quite comfortable! You can walk the dog in this outfit without having problems with your footwear. Sandals or even heels can be tricky when you need to walk on all kinds of terrain. Even here in the middle of the city we have quite a diverse environment ranging from dusty patches, cobble stones from GDR times, uneven asphalt, to train tracks and wooded patches in between backyards. Plus, you need to be quick sometimes as you want to be prepared for all eventualities. Although my off leash dog does usually come when called an attractive lady dog on the other side of the street might be more alluring.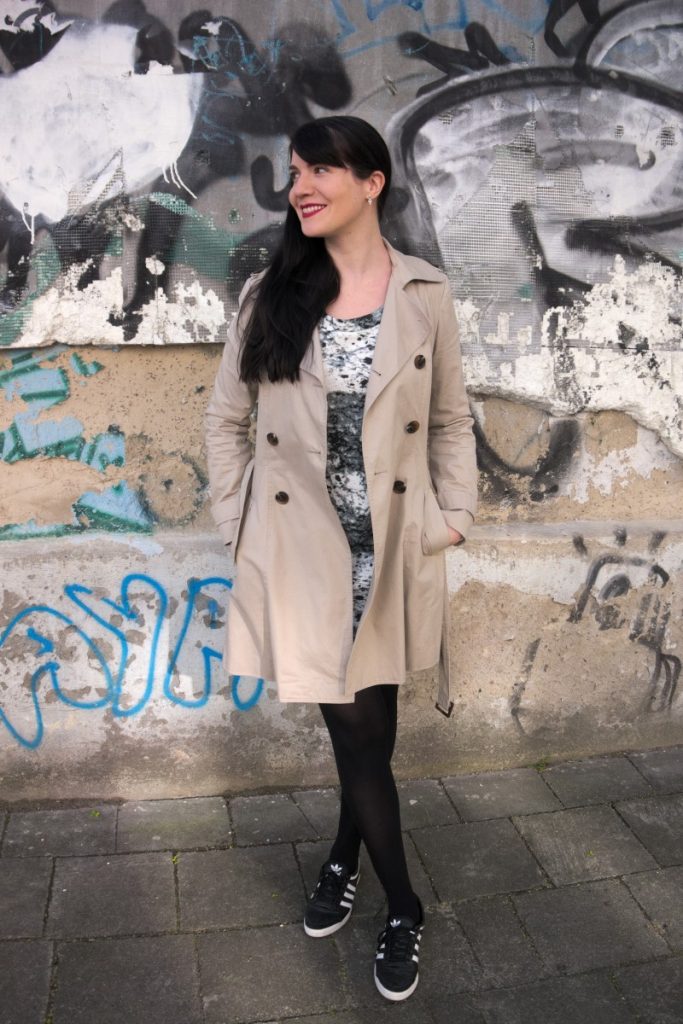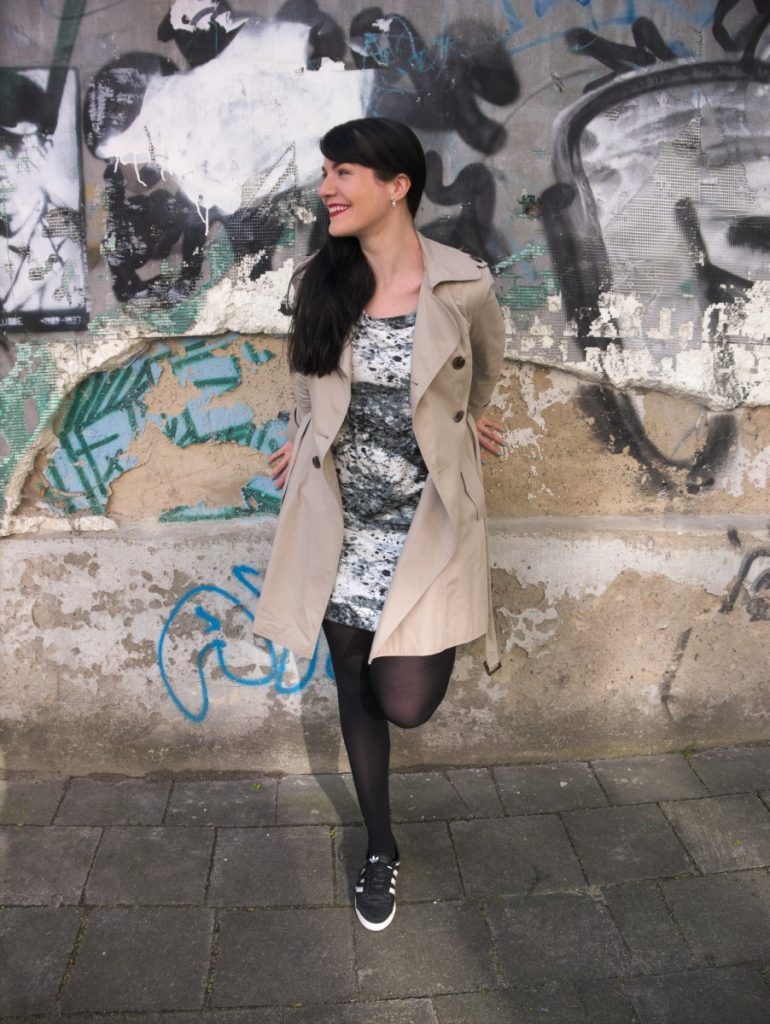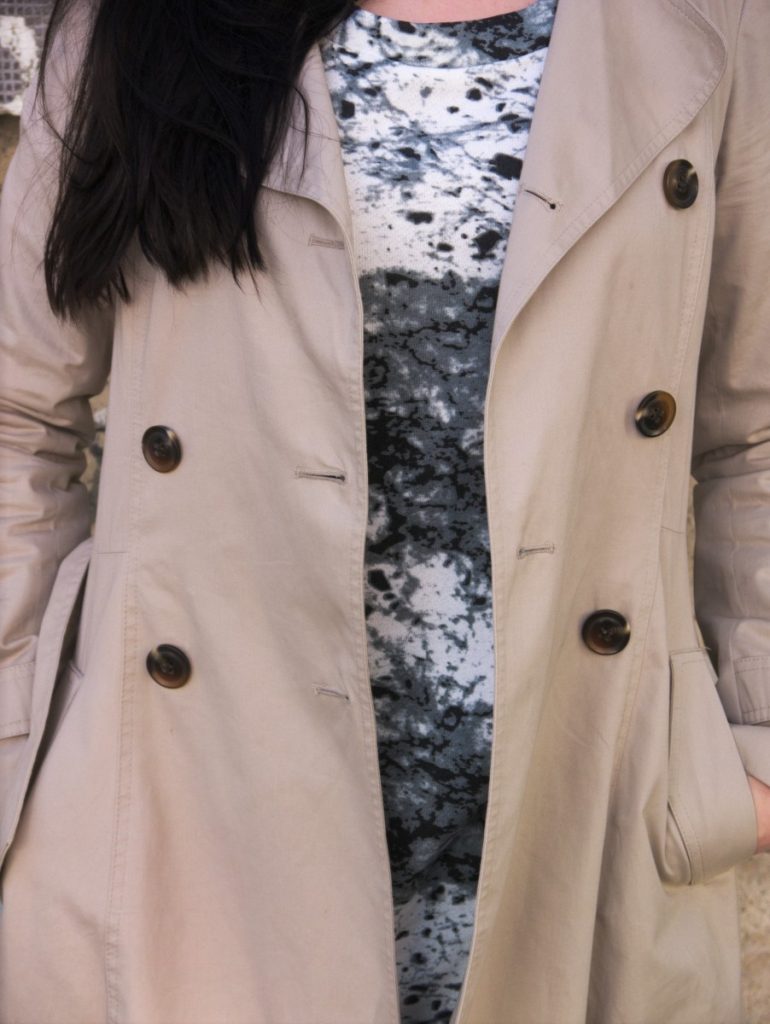 Outfit Details:
Dress – Mbym via AboutYou*
Trenchcoat – Promod (similar here)
Sneakers – Adidas Sleek Series (similar)
Lips – MAC Russian Red
Nails – Essie mint candy apple here or here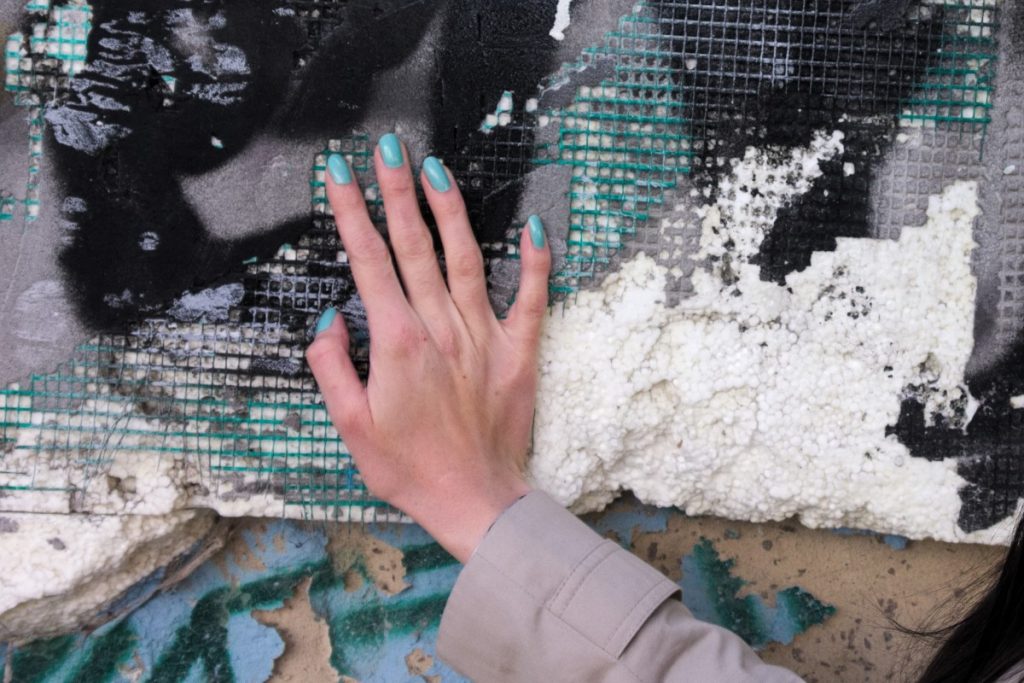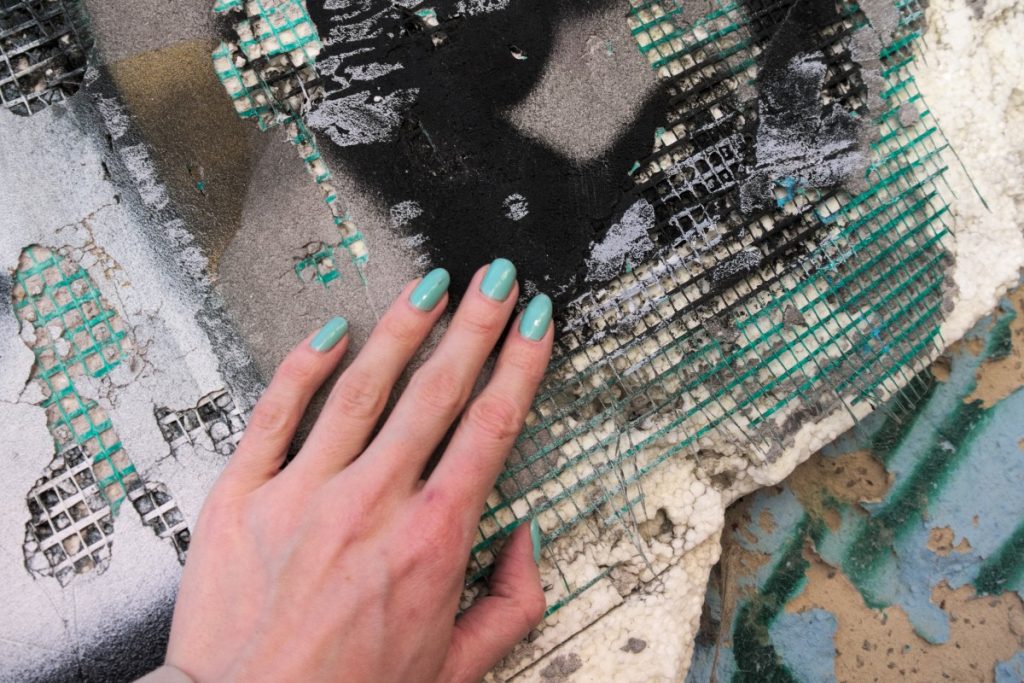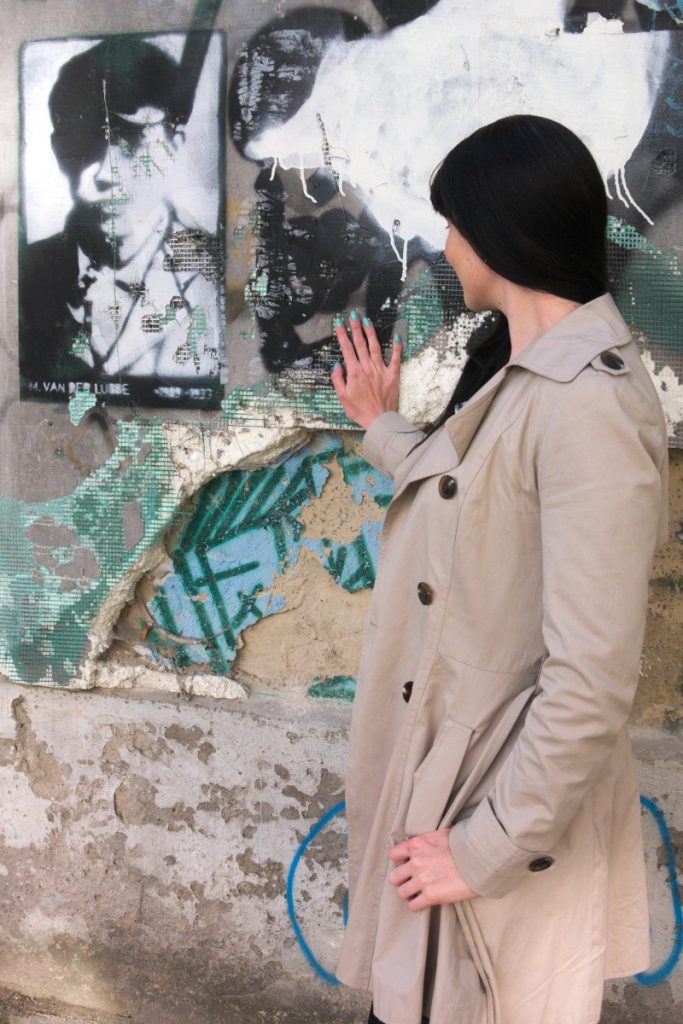 I was quite delighted that my nails actually matched the graffiti on the wall behind me during this shoot. I hadn't planned this but the colour was a pretty good match to mint candy apple. The colour is described as a 'a creme de menthe mint' on the Essie website. I got it as part of an Essie anniversary triple pack and wasn't crazy about this shade at first. Once applied it actually grew on me though and now I quite like it as a summery shade. You can get it from douglas here.