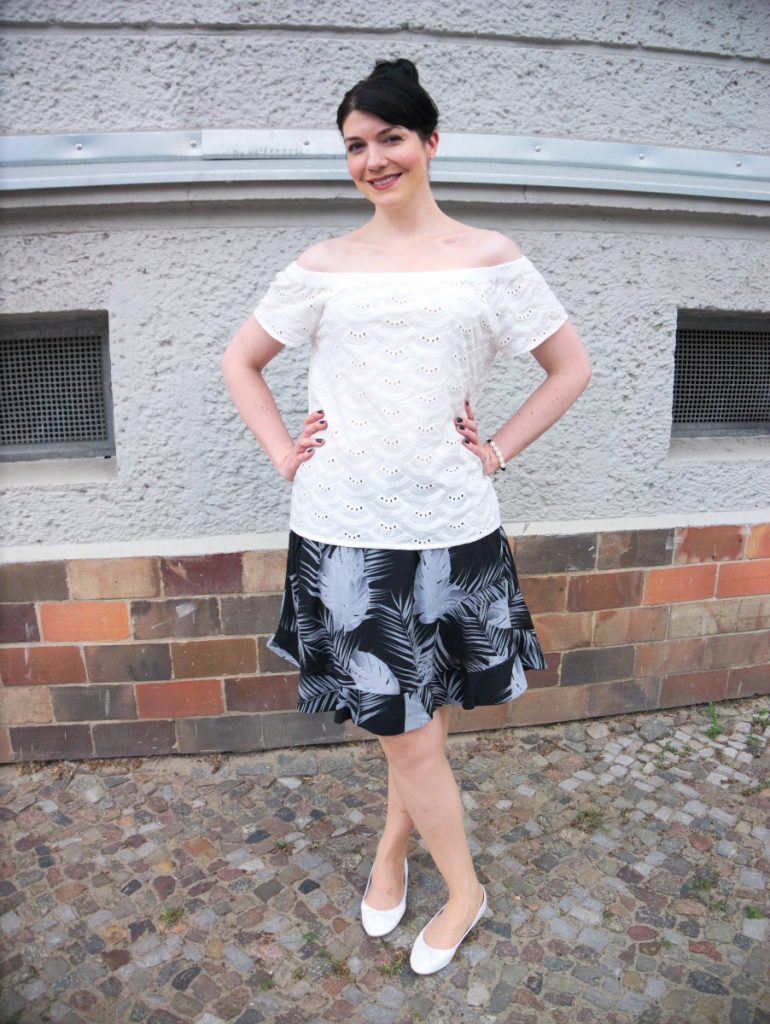 Today's outfit is a bit of an artistic one and can't really be called an outfit…it's rather a black and white combination with bohemian undertones. I decided to call this boho ballerina because of the boho vibes…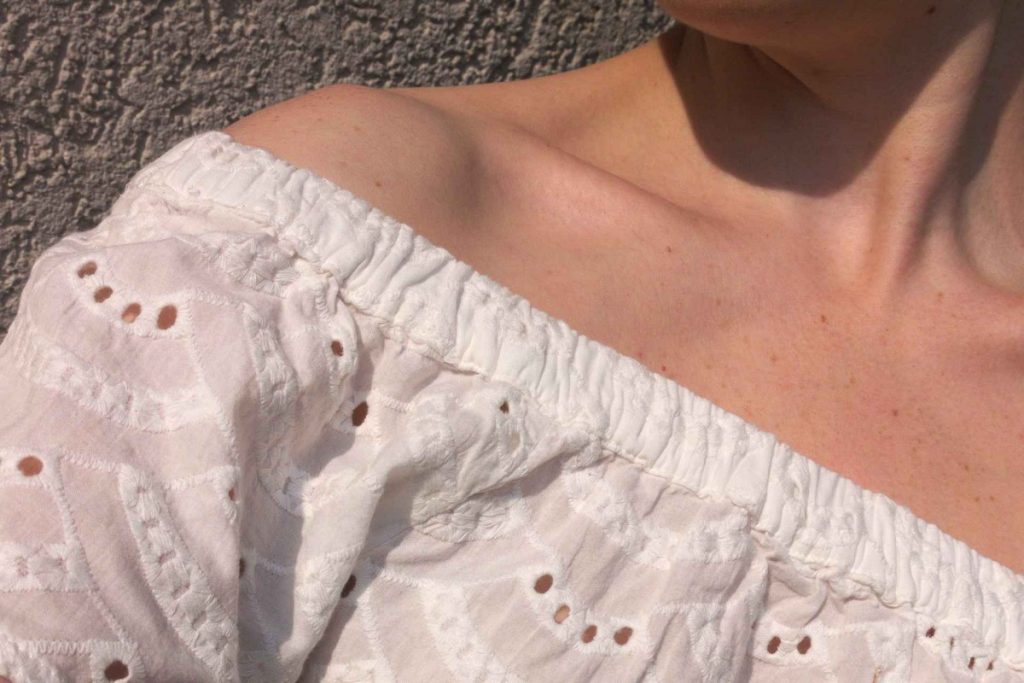 As you may have noticed I love the current off-shoulder trend. There are so many cute summer tops in the stores right now and I have acquired several pretty pieces by now. This eyelet one is a favourite by Street One just as the one you already got a glimpse of in this post here. This blouse has an amazing pure cotton quality and the fabric is just right – it's neither too heavy for summer nor so thin that it's see-through as some summer tops tend to be. I've already worn it to work on several really hot days this summer and I love how you feel light and breezy but still manage to look quite dressed at the same time!
Monstera Print Skirt and Ballerina Flats 
This is a relatively simple and easy look but I love the playful quality of all the details together. Off-shoulder tops are usually nicer when worn tucked in especially when combined with an A-line skirt but in this case I decided to go for a slightly undone look. I decided to go for a top knot as it fits the ballerina motif nicely I think. I added a Thomas Sabo pearl bracelet to keep in line with the black and white colours.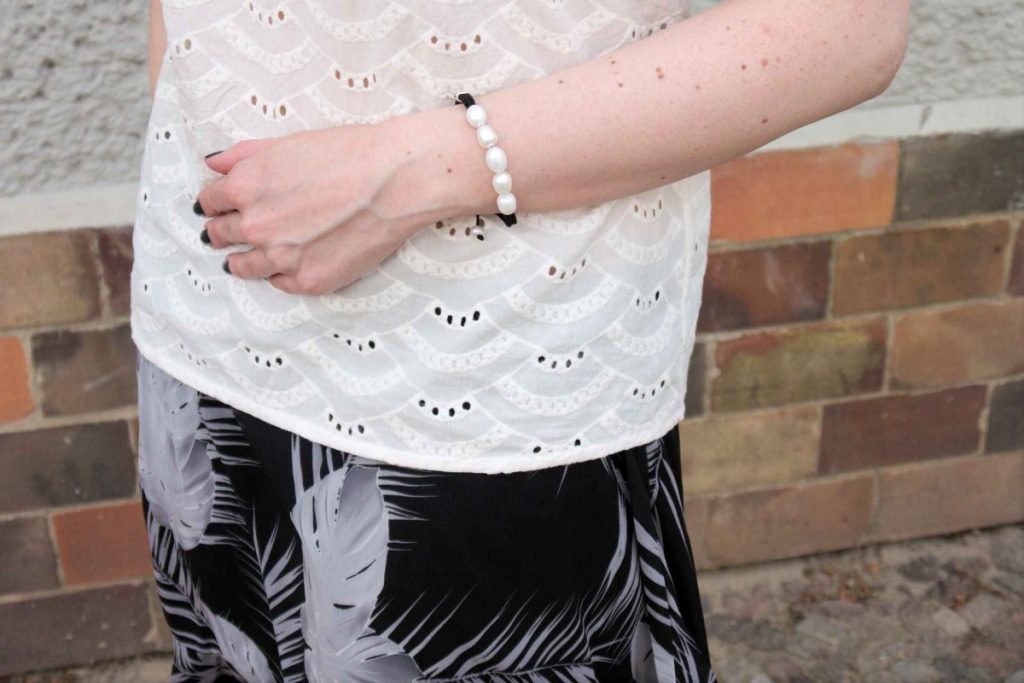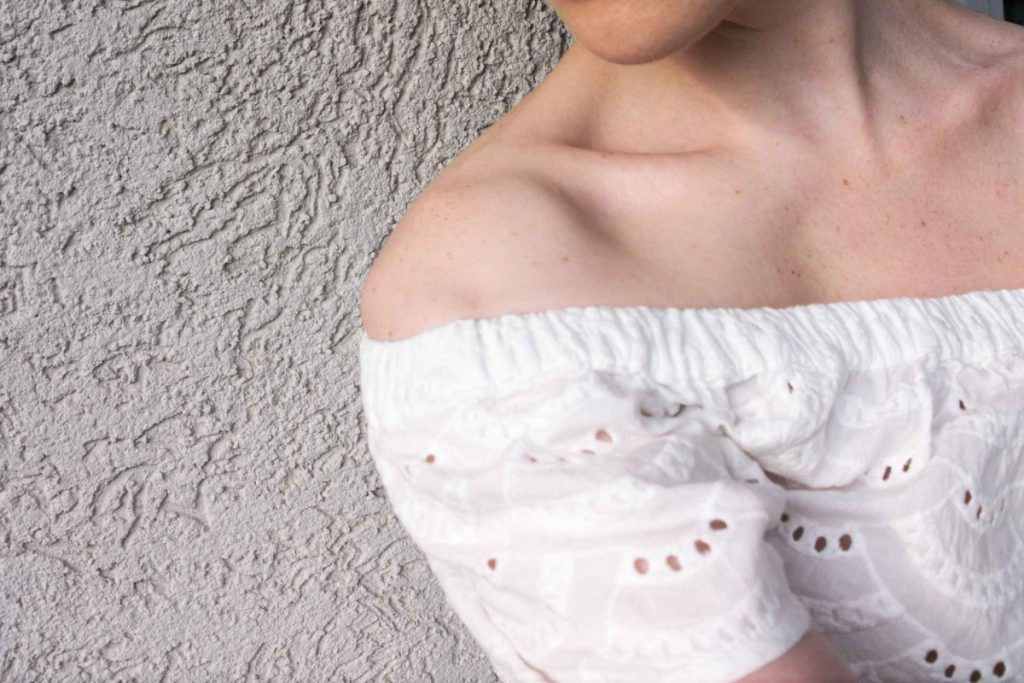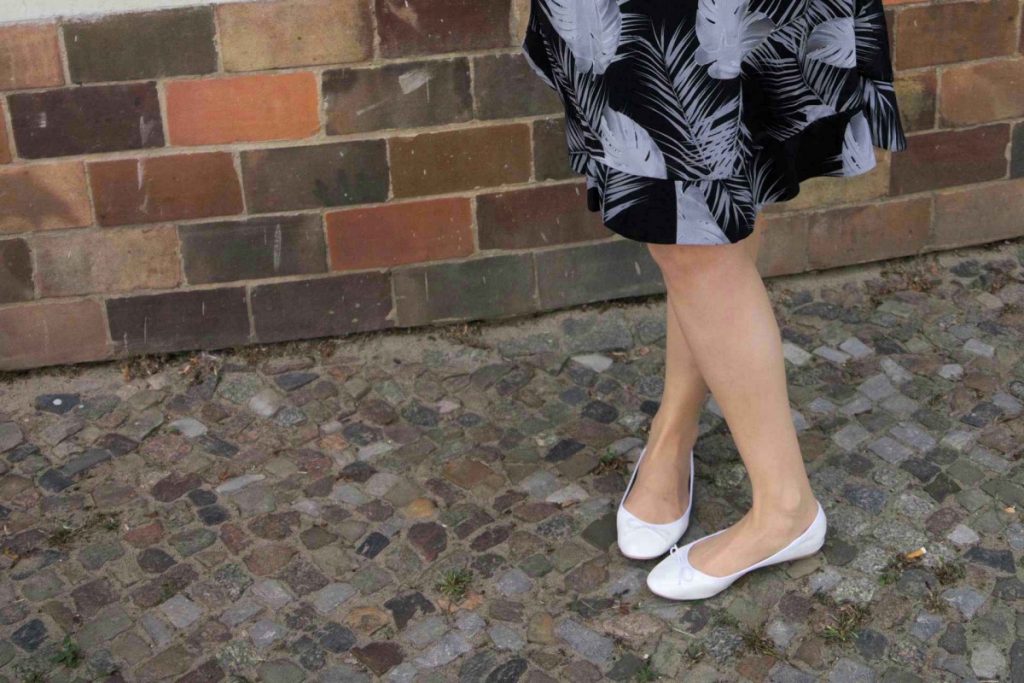 GERMAN
Der Off-Shoulder Trend hat mich vollkommen in seinen Bann gezogen! Wie ihr euch vorstellen könnt, besitze ich mittlerweile gleich mehrere dieser schönen Stücke. Die Bluse, die ich hier trage, ist wieder von Street One, genau wie das Off-Shoulder Top, welches ich euch in diesem Post gezeigt hatte (ein Zufallsfund während der Glamour Shopping Week). Ich hatte Street One gar nicht mehr so auf dem Schirm, habe dort aber diesen Sommer gleich mehrere schöne Basics entdeckt. Die Bluse ist aus reiner Baumwolle, die genau die richtige Gewebedichte hat – sie ist weder so dünn, dass sie fast durchsichtig ist, noch ist sie zu schwer für den Sommer! Ich habe sie in den letzten Wochen bereits mehrmals ins Büro getragen und finde, dass sie ein tolles Mittelmaß zwischen legère und elegant darstellt. Man fühlt sich leicht und sommerlich, aber durch die Blusenelemente sieht es auch etwas schicker aus.
Monstera Print Rock und weiße Ballerinas
Diesen Rock habe ich für sehr wenig Geld bei einem Sale ergattert und liebe ihn aufgrund seiner angnehmen Trageeigenschaften und des schwarz-weißen Pflanzen-Prints sehr. Er ist leicht a-linienförmig geschnitten und hat einen sommerlichen Volant am Saum.  Dazu habe ich mir ausnahmsweise auch mal einen Haarknoten gemacht, da er gut zum Ballerina-Motiv passt wie ich finde. Das kleine Perlenearmband ist von Thomas Sabo und ein Accessoire, was ich jetzt im Sommer sehr gern trage.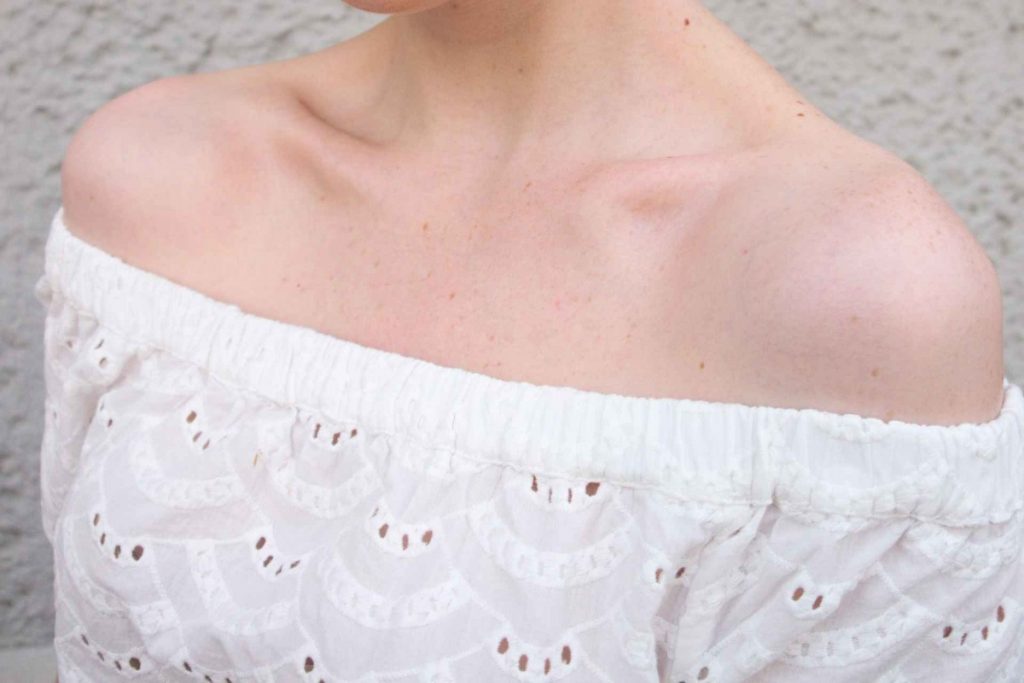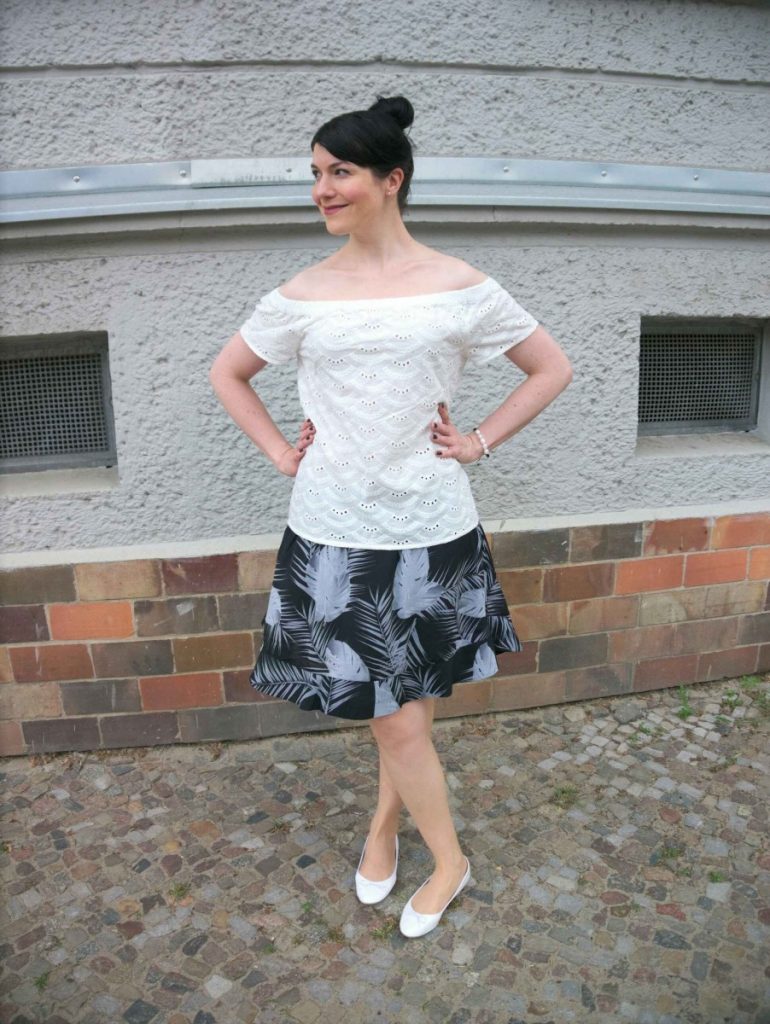 Outfit Details:
Blouse – Street One here
Skirt – By Zoé
Ballerina Flats – H&M (similar)
Bracelet – Thomas Sabo