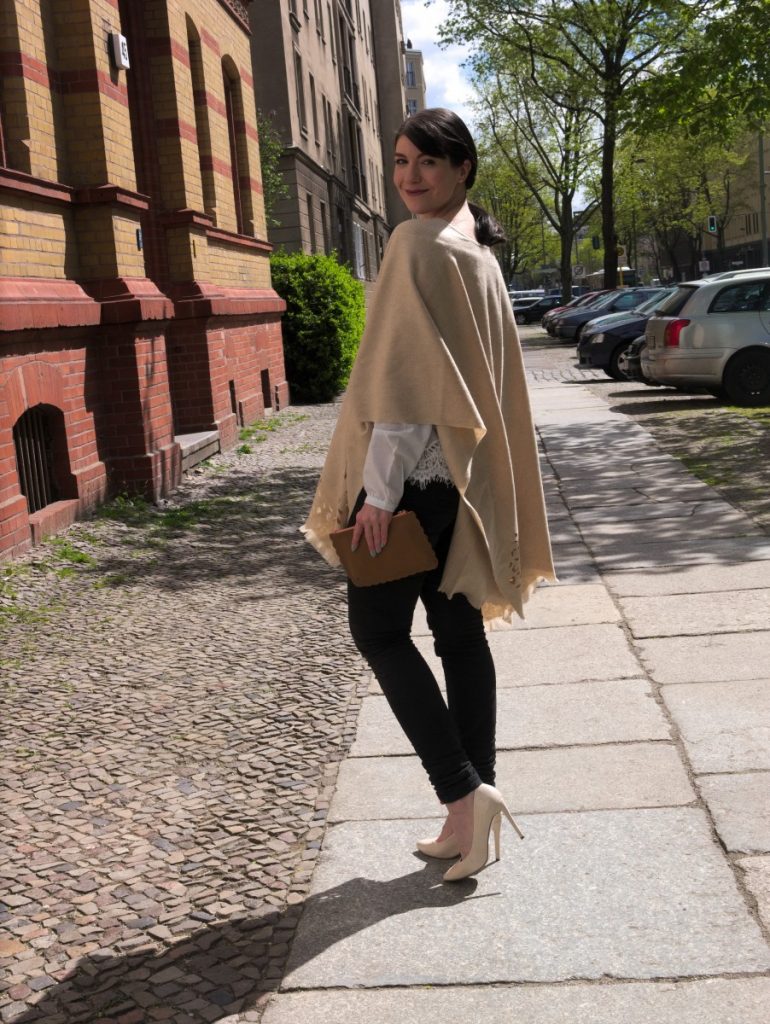 When the temperatures hit another April low earlier this week I was really glad I had just received this wonderful wool poncho.
This beautiful piece hails from my latest collaboration with Fraas  – The Scarf Company. It proves once again that ponchos are not just for the colder months but are just perfect for the transitional weather. This poncho has a fine fringe hem and a laser cut floral pattern which gives it a playful bohemian edge. The quality of the fabric is amazing – thin and lightweight yet very soft and it keeps you warm easily.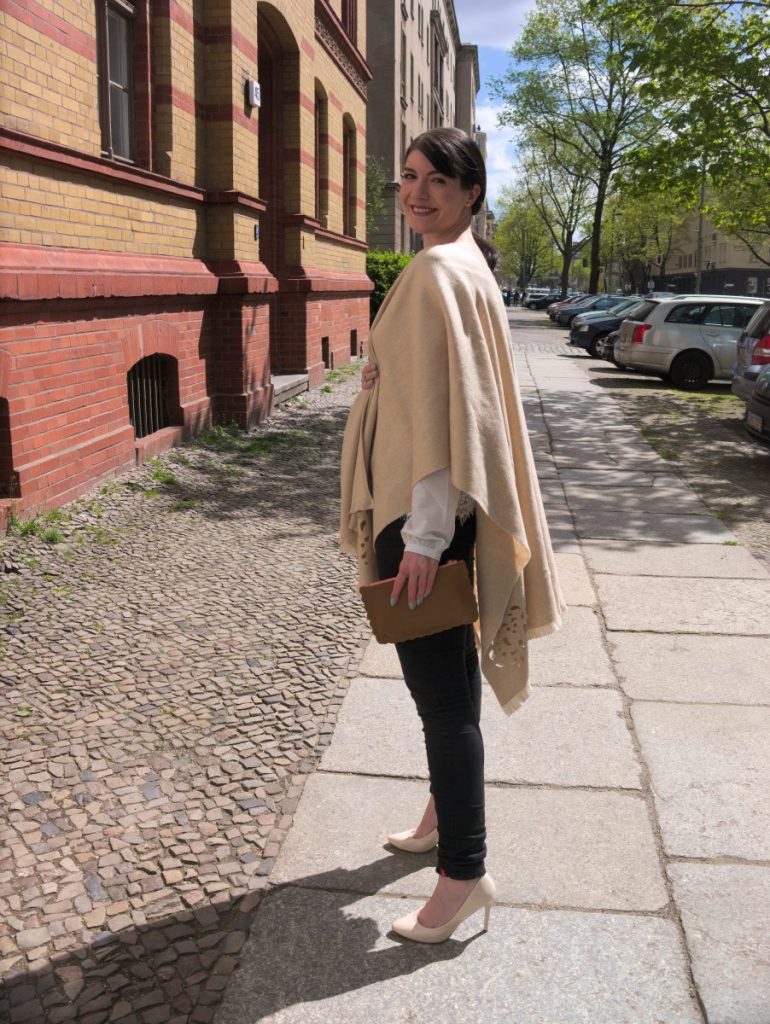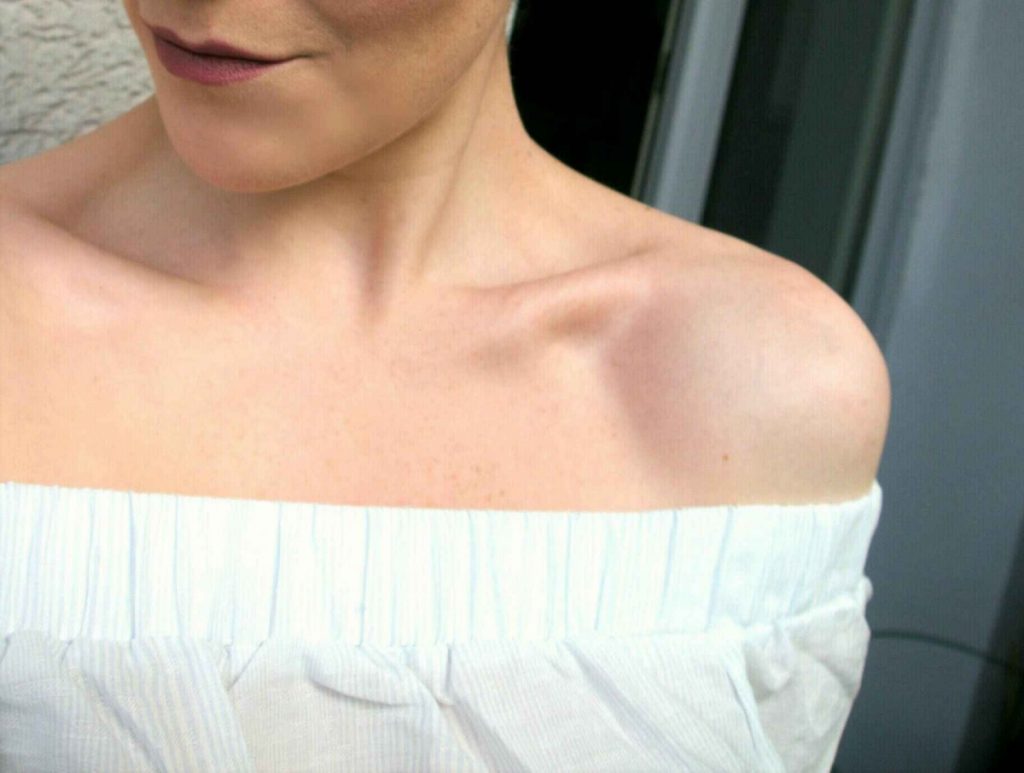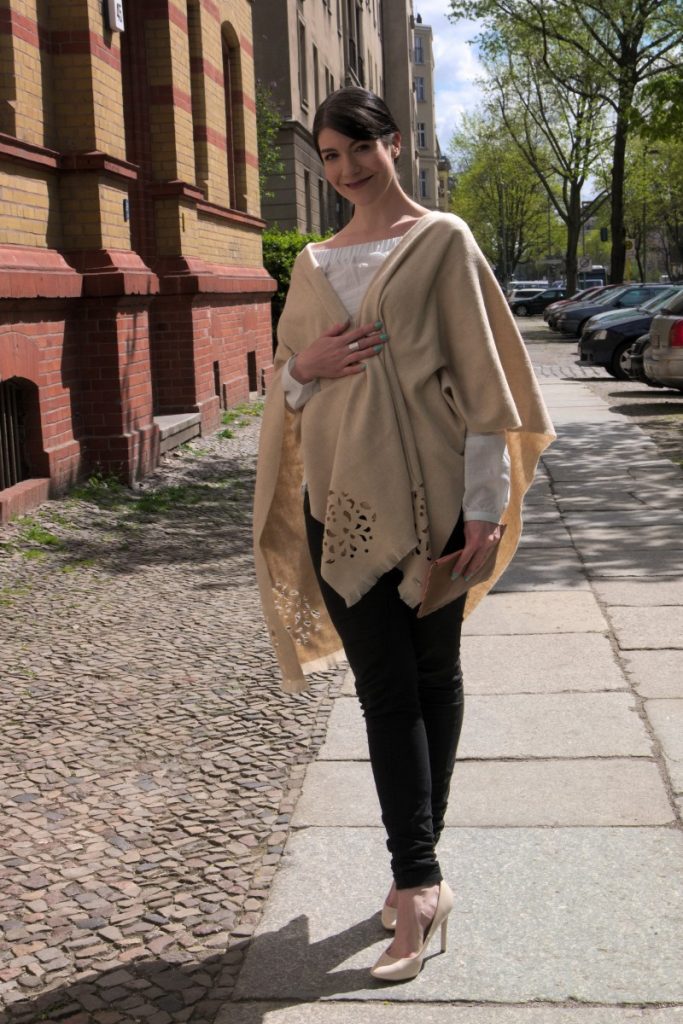 When Fraas contacted me I was quite excited at the prospect of being able to choose something from their Online Shop as I love scarves and have a respectable collection at home. Fraas looks back on 135 years of business tradition and the name stands for textile accessories of high exclusivity in terms of design and manufacturing. They pride themselves on having started as a hand weaver's one-man shop in 1880 and are aiming to produce by sustainable standards. Today, they are one of the last textile manufacturers that still manufacture part of their range in Germany. Many of the yarns for their scarves are spun and dyed locally thereby leaving a smaller carbon footprint.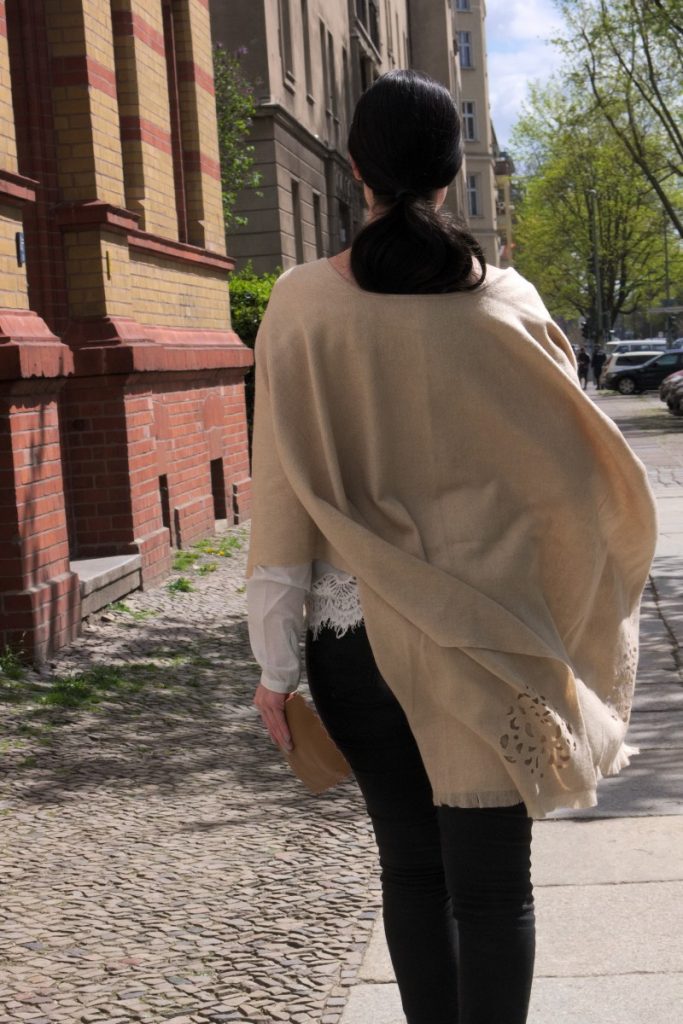 Ponchos for Spring
One of my favourite late fall looks last year was in fact a plaid poncho by Fraas which I found at Zalando (on sale there now!). You can revisit this look here. But I also have a cotton summer poncho with palmtrees which I hope to get some more wear out of at the office this summer. I love how a poncho or cape can transform an outfit. For today's outfit, I styled the poncho with matching cream coloured pumps and a light blue and white striped off-the shoulder blouse from Street One with feminine lace details at the hem. I love the bohemian vibes which poncho and tunic blouse lend the outfit. I also added a scalloped zip pouch from Boden with contrasting back and front – the front is coral and the back is cognac coloured. This pouch also has a cute patterned cotton lining. While browsing though Fraas' online shop I immediately fell for a few of their other pieces as well. I love the galaxy print scarves they currently have on sale here and here. Or this beautiful XXL scarf made from pure cashmere. They also have pieces with innovative fibers like milk proteins as part of their range which I love.
So if you're still looking for a Mother's Day gift or a pretty floral scarf for the coming season you get a 10% discount on all their merchandise with the Code Caliope0416 until 31.06.2016 in the Fraas Online Shop.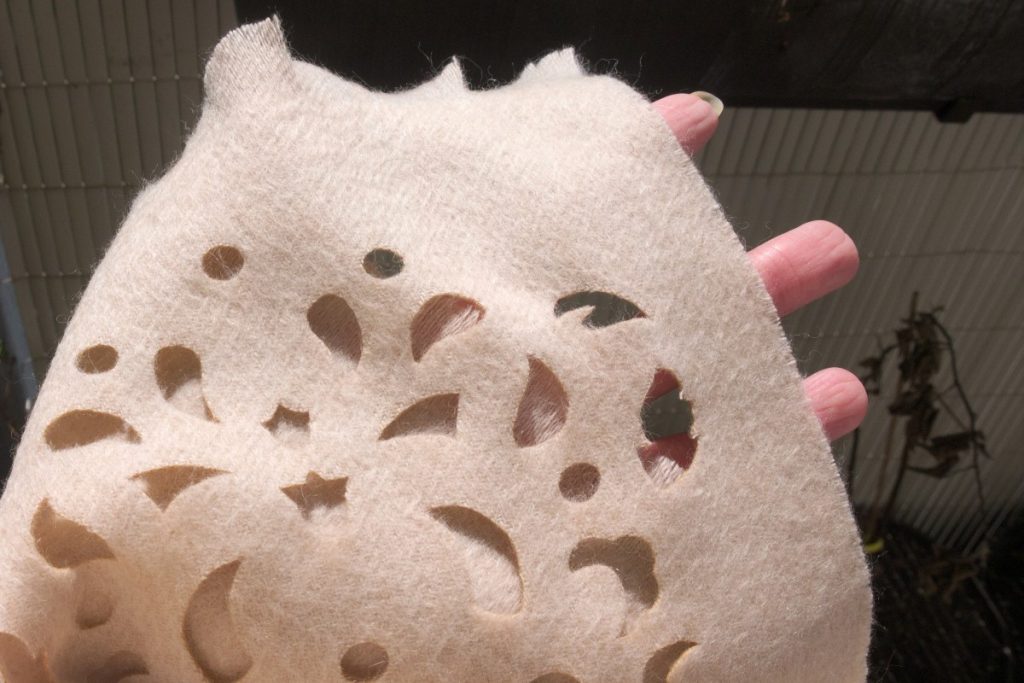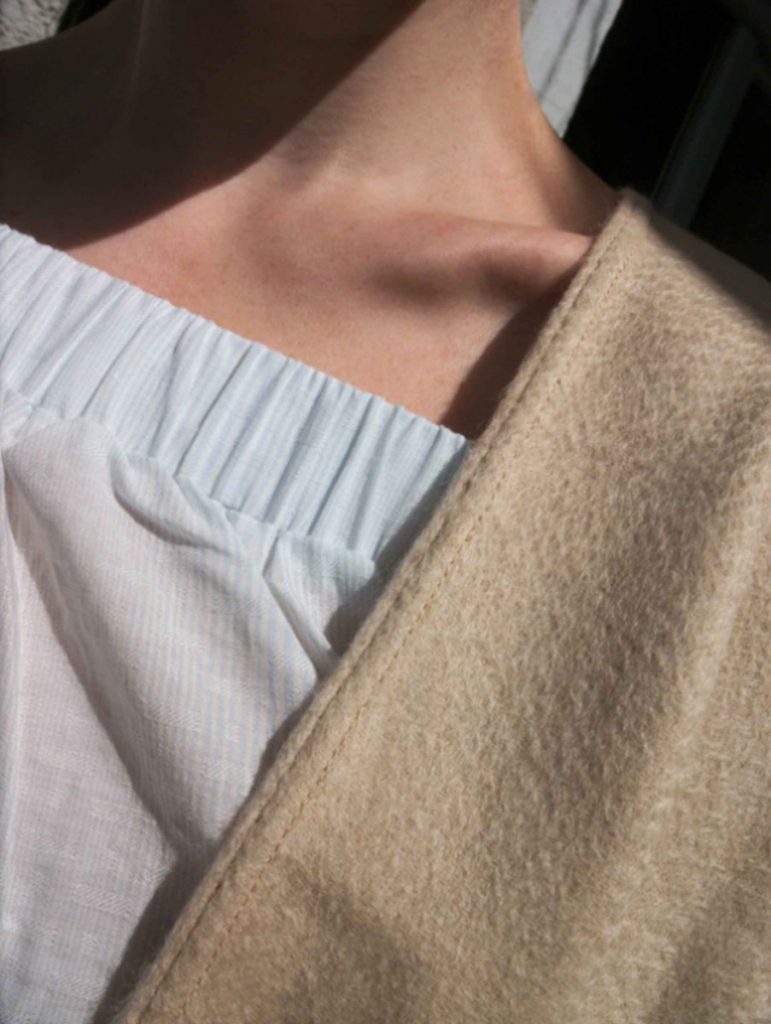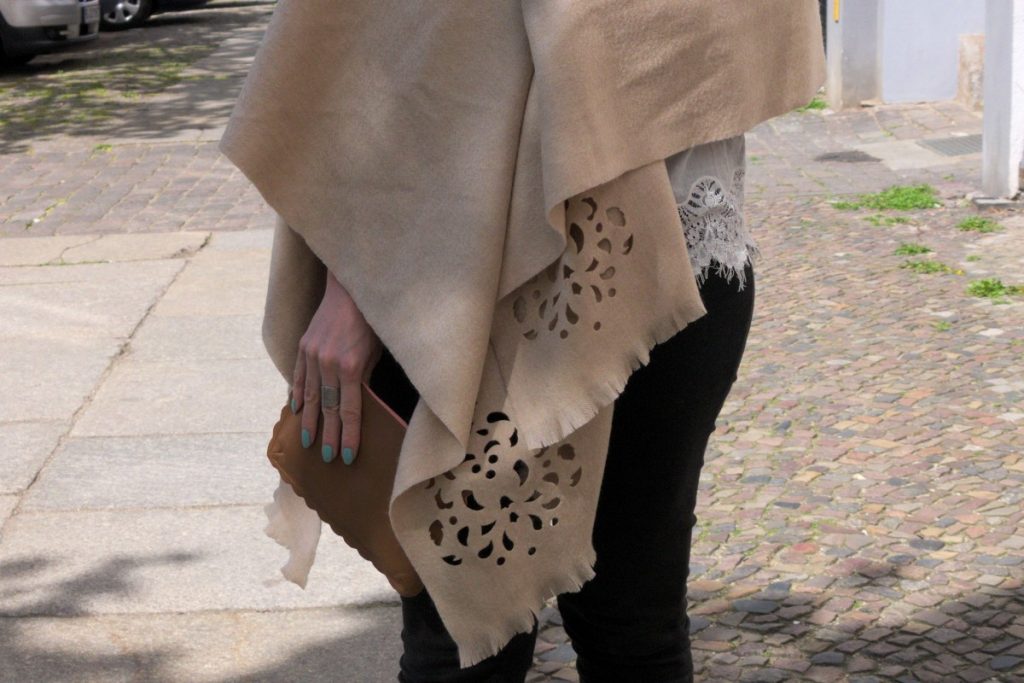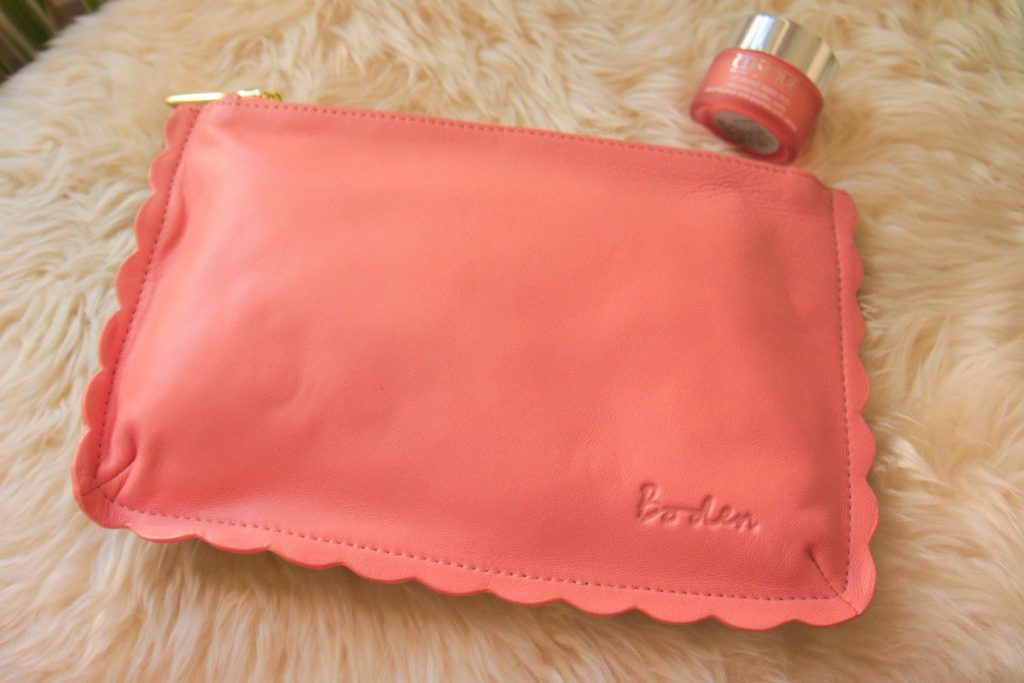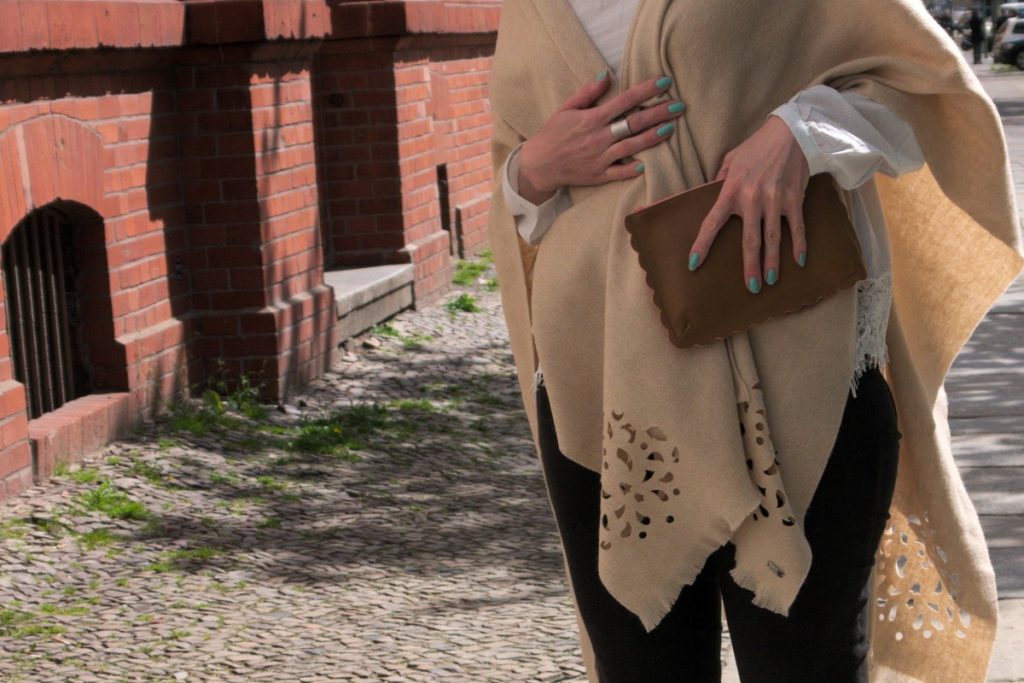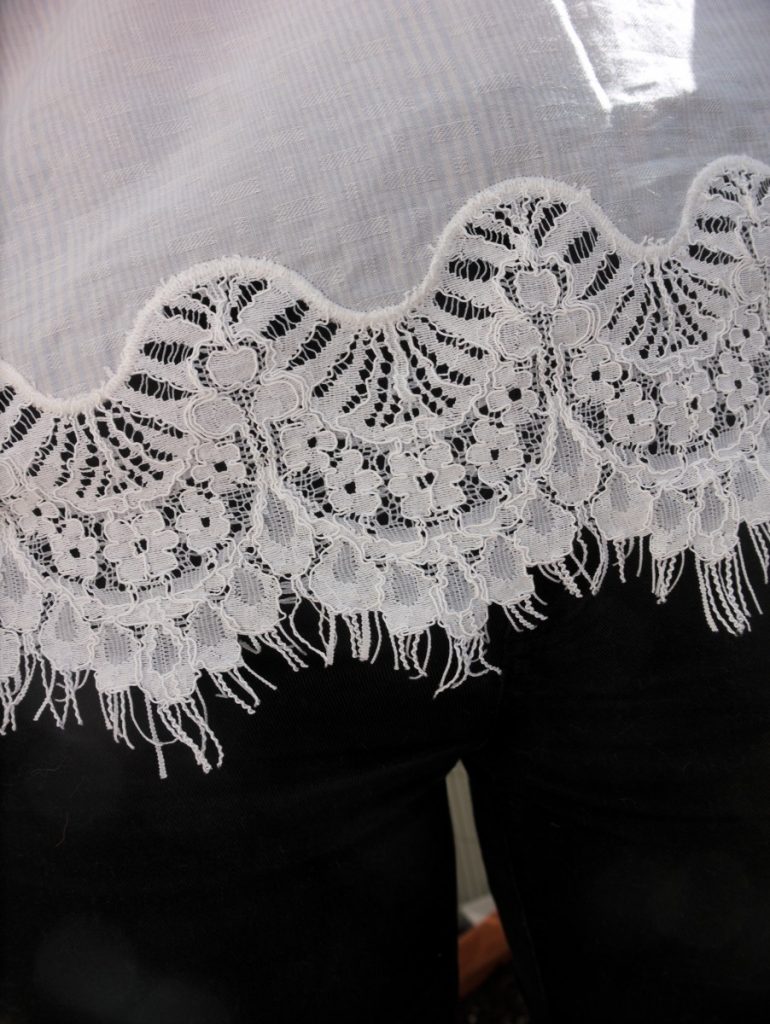 Outfit Details:
Poncho – Fraas*
Off-Shoulder Top – Street One
Pants – edc by Esprit
Pumps – Dorothy Perkins
Pouch – Boden
Ring – Kenzo (old)
Nails: mint candy apple by Essie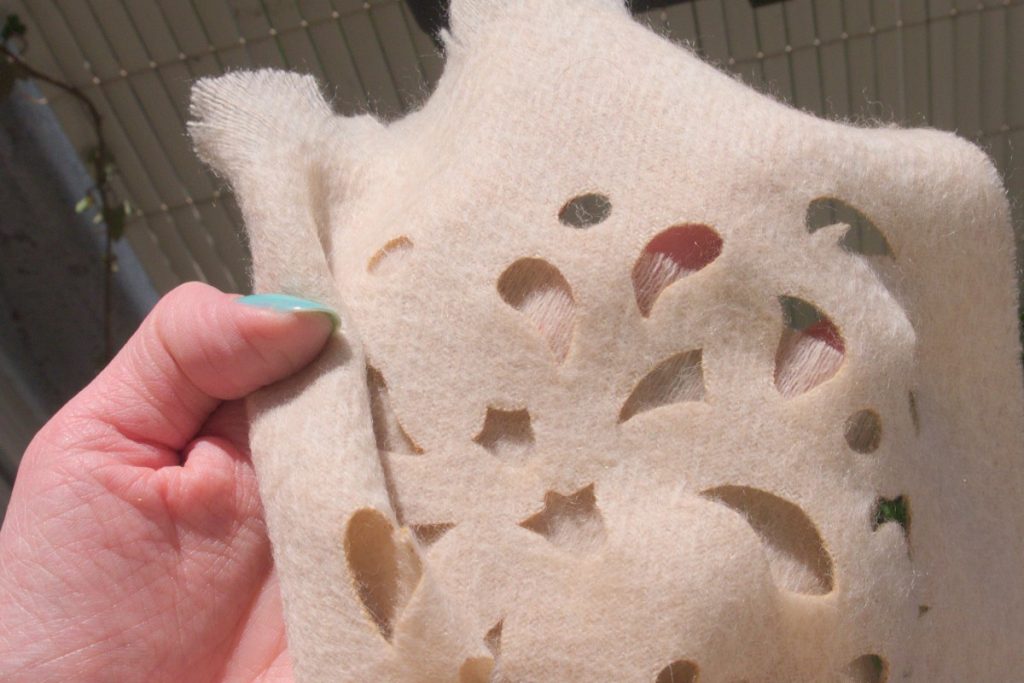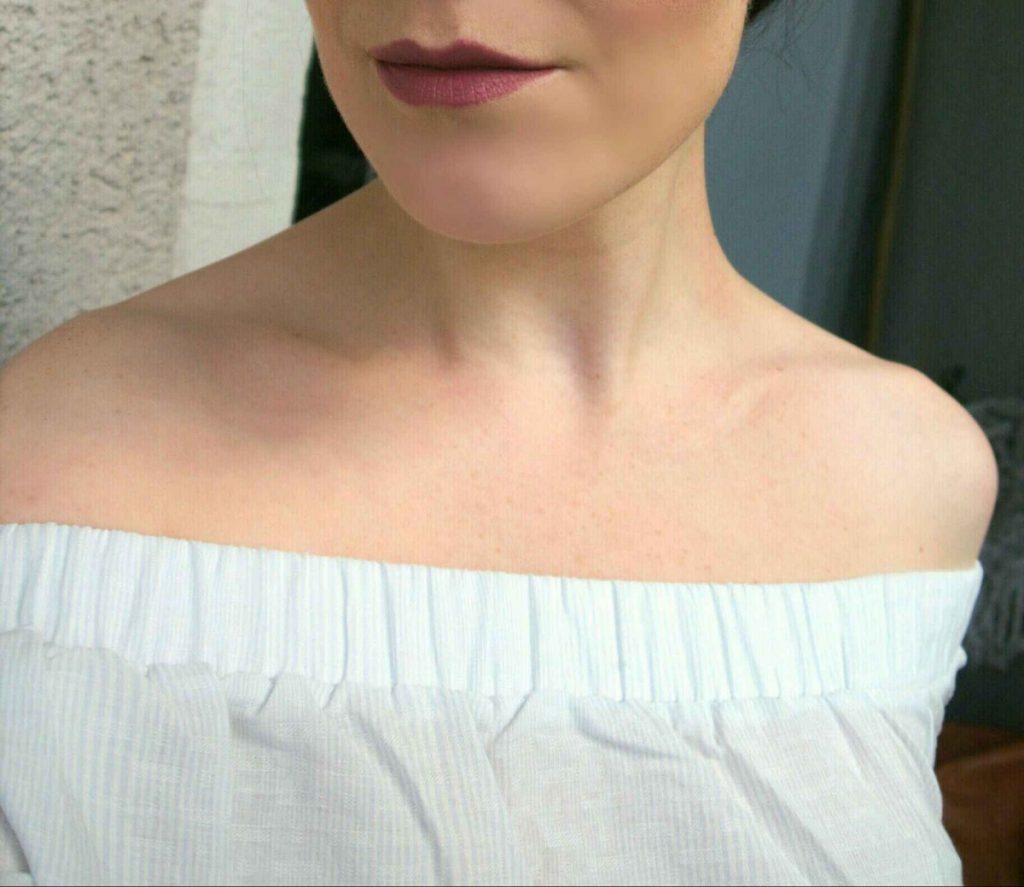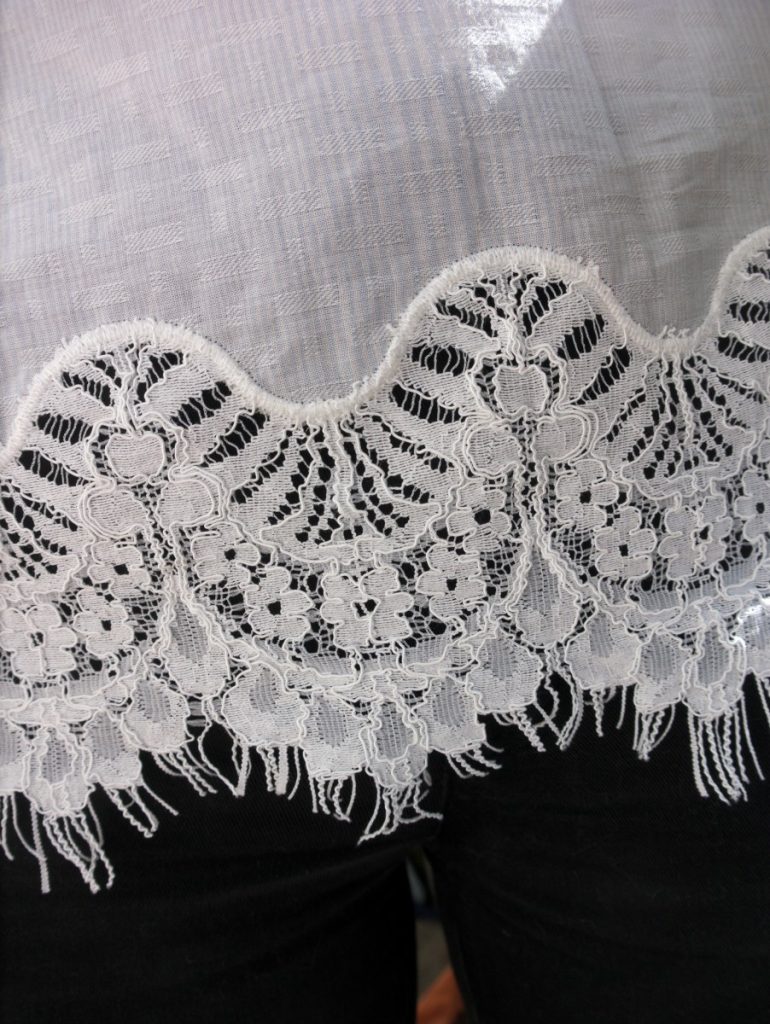 GERMAN:
Als die Temperaturen Anfang der Woche ihren Tiefstand erreicht hatten, war ich unglaublich froh, dass ich grade diesen Poncho von Fraas erhalten hatte*. Dies zeigt malwieder, dass Ponchos eben nicht nur für die kühlere Jahreszeit, sondern auch ganz hervorragend in die Übergangszeit passen. Der Woll-Poncho hat ein florales Laser Cut Muster und einen feinen Fransensaum. Das Material verfügt über eine großartige Qualität – es ist fein und leicht, hält jedoch wunderbar warm und ist dabei sehr weich.
Da ich ein bekennender Schal-Liebhaber bin, habe ich mich sehr über die Kooperationsanfrage von Fraas gefreut denn es gehören bereits einige ihrer Stücke zu meiner kleinen Sammlung. Fraas schaut mittlerweile auf eine 135-jährige Firmengeschichte zurück. Der Name steht für qualitativ hochwertige Accessoires und modernes Design. Auch auf Nachhaltigkeit wird bei Fraas großen Wert gelegt, was ich sehr gut finde. Sie gehören heute zu einer der Textilmanufakturen, die zum Teil tatsächlich noch in Deutschland produzieren. So werden 70% der Garne noch regional versponnen und gefärbt.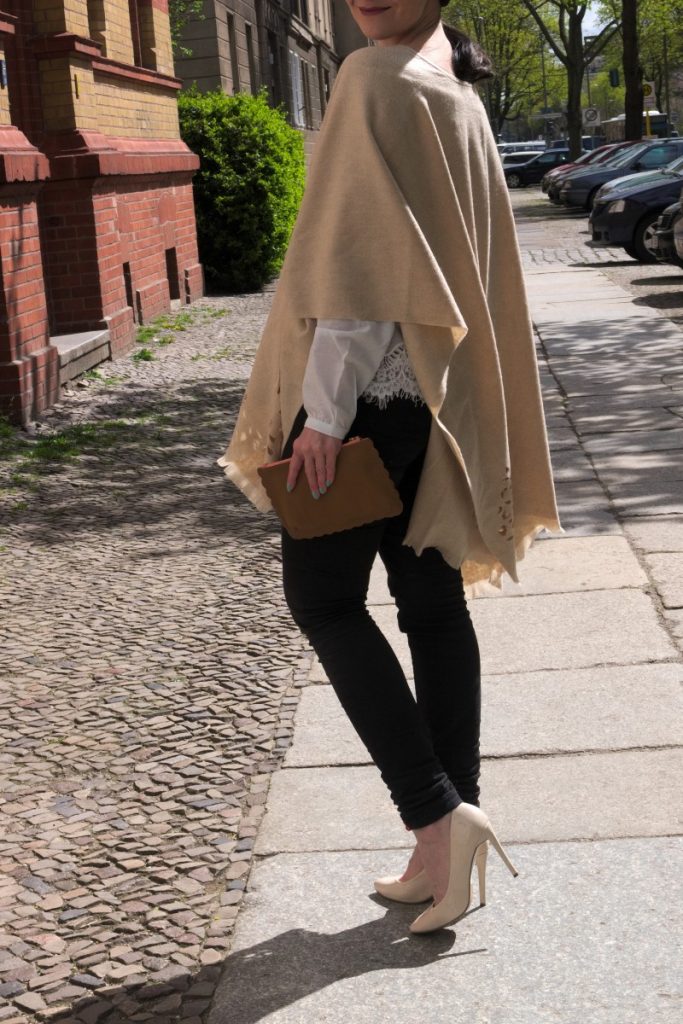 Einer meiner Lieblings-Looks aus dem letzten Herbst war ein karierter Poncho von Fraas den ich bei Zalando gefunden habe (momentan im Sale!). Hier könnt ihr euch den Look noch einmal anschauen. Aber es gab auch einen sommerlichen Poncho mit Palmen den ich im kommenden Sommer sicher wieder gerne tragen werde. Ich finde es immer wieder faszinierend zu sehen wie man durch ein Cape oder Poncho einen Look verändern kann. Für das heutige Outfit habe ich den Poncho mit meinen farblich passenden Lieblingspumps und einer hellblau und weiß gestreiften Off-Shoulder Bluse von Street One kombiniert. Dazu trage ich eine kleine Zip Pouch von Boden im Wende-Design.
Wenn ihr noch auf der Suche nach einem leichten Schal für den Sommer oder einem Geschenk für den Muttertag seid, bekommt ihr mit dem Code Caliope0416 noch bis zum 31.06.2016 10% Rabatt im Online Shop von Fraas.  Ich habe mich gleich in einige Stücke aus dem Shop verliebt, wie diese Schals mit Universum-Print hier und hier. Oder auch diesen XXL Schal aus reinem Kaschmir.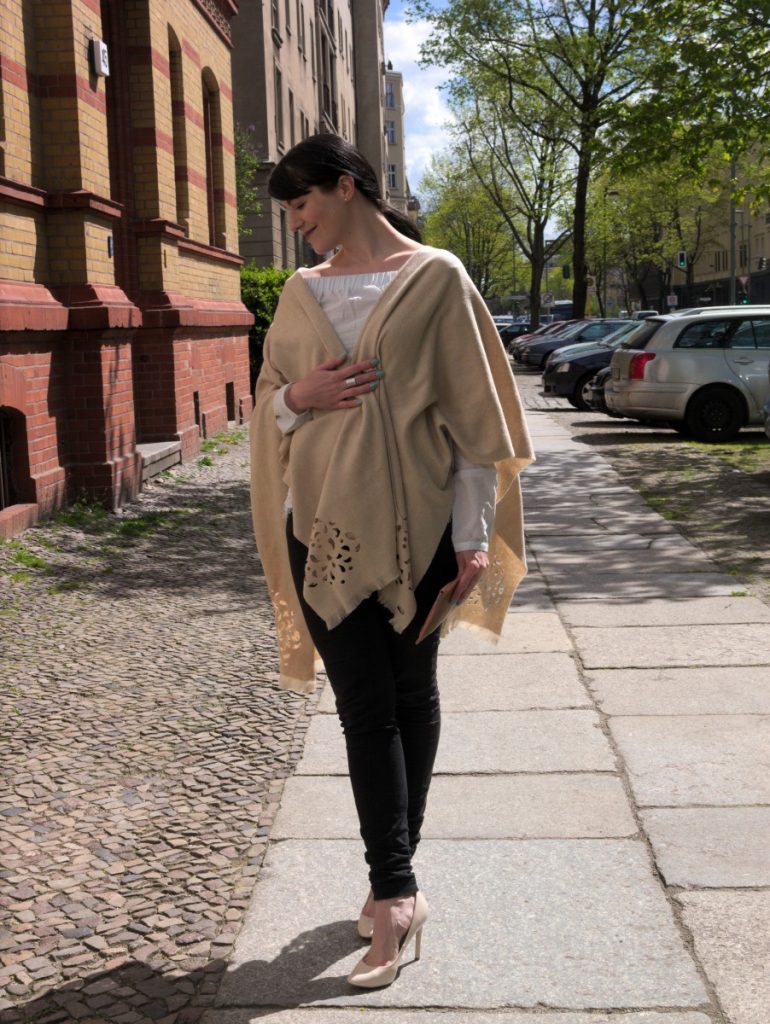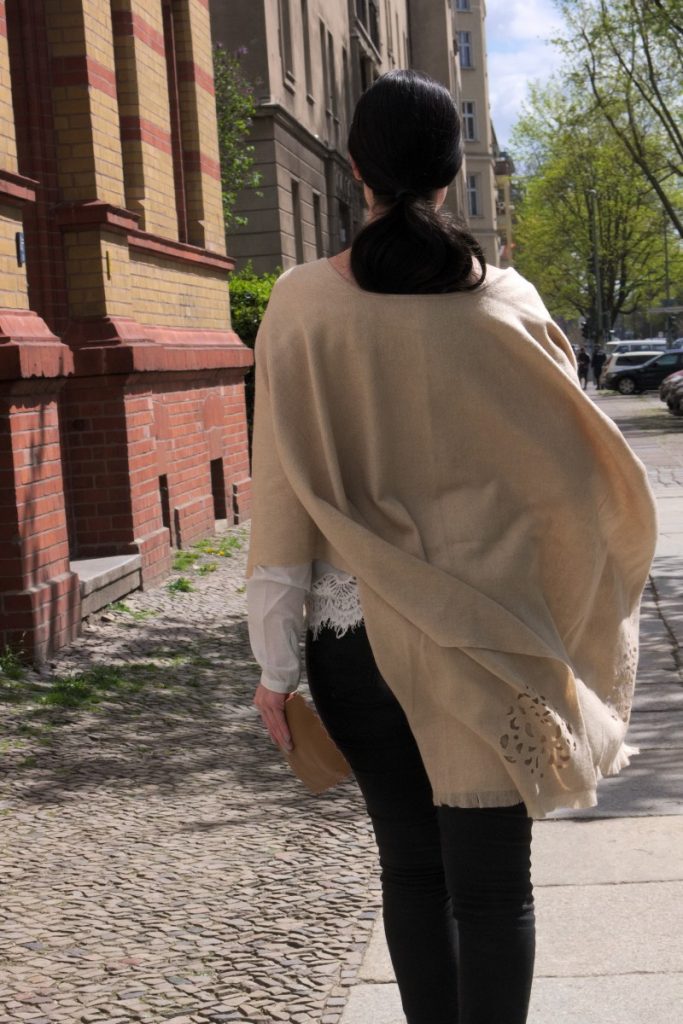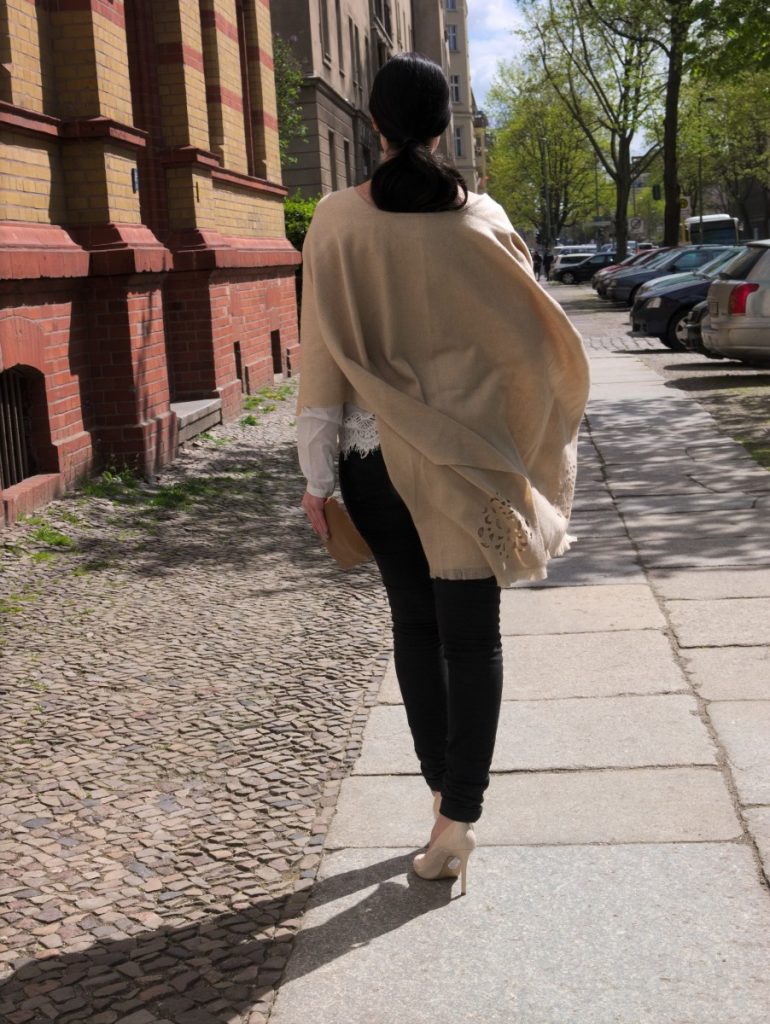 *Produkt wurde mir freundlicherweise zur Verfügung gestellt.