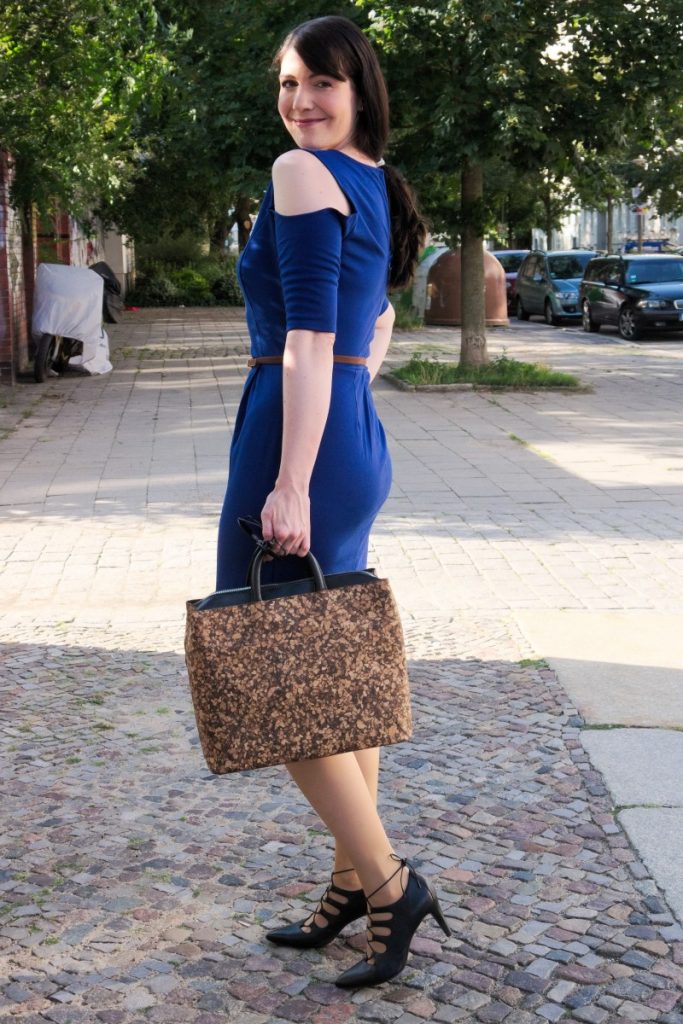 This week temperatures in Berlin are supposed to rise to new heights again, something that doesn't exactly make me rejoice. All the same, I love these late summer days as you can see that autumn is just around the corner. So I try to ignore the high temperatures.
Blue, Brown and Black
Today I'm showing you an outfit with a cold-shoulder dress from Justfab as a centerpiece. This particular shade of cobalt blue is one of my favourite colours. I spotted this dress on sale at a spectacular price and must say it's really good value for money. It has a classic sheath cut with a little faux leather belt and cute midi sleeves.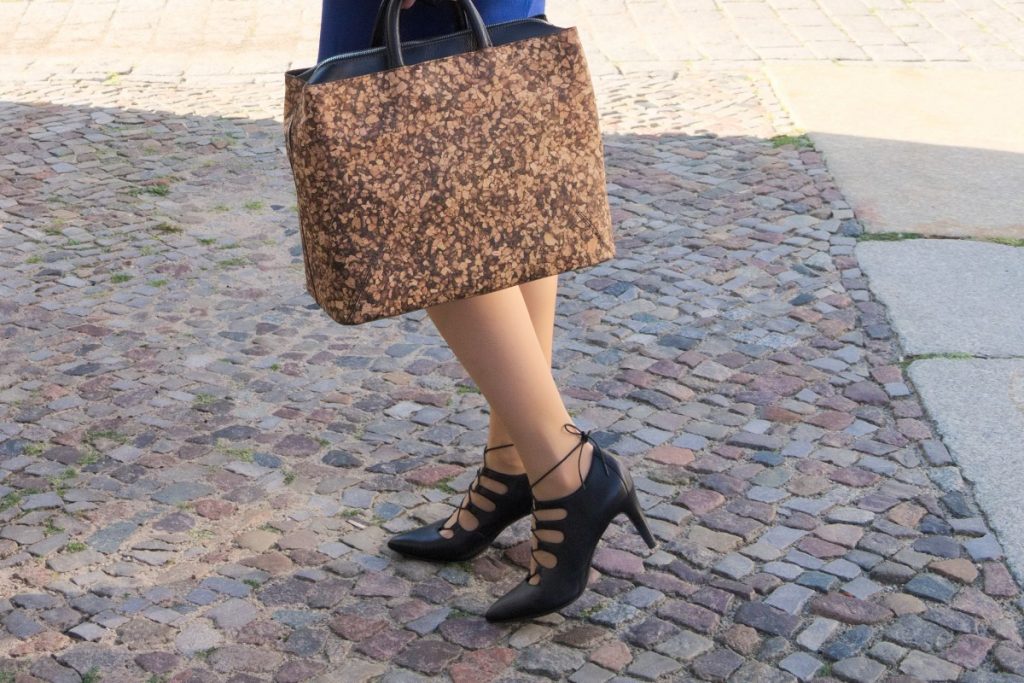 I decided to pair this dress with one of this summer's best acquisitions, the cork bag from matt&nat. The cork pattern goes rather well with the brown belt. I Think I've mentioned before that I love how cork has made a comeback as a fabric material and that it can be seen in various items in this year's collections. I also like the cork sole shoes I found at Zalando here. Maybe they will become part of my fall wardrobe!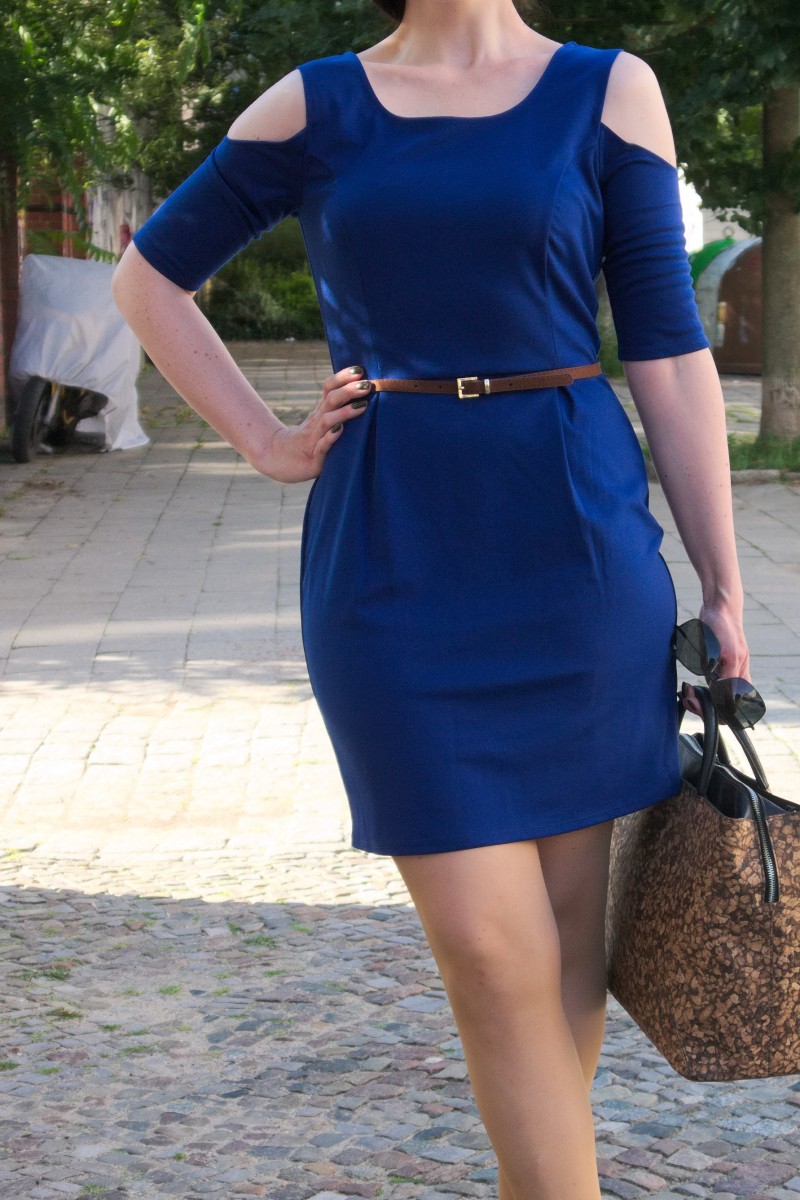 Outfit Details:
Dress – Justfab here
Shoes – 5th Avenue, via Deichmann here
Bag – Matt&Nat here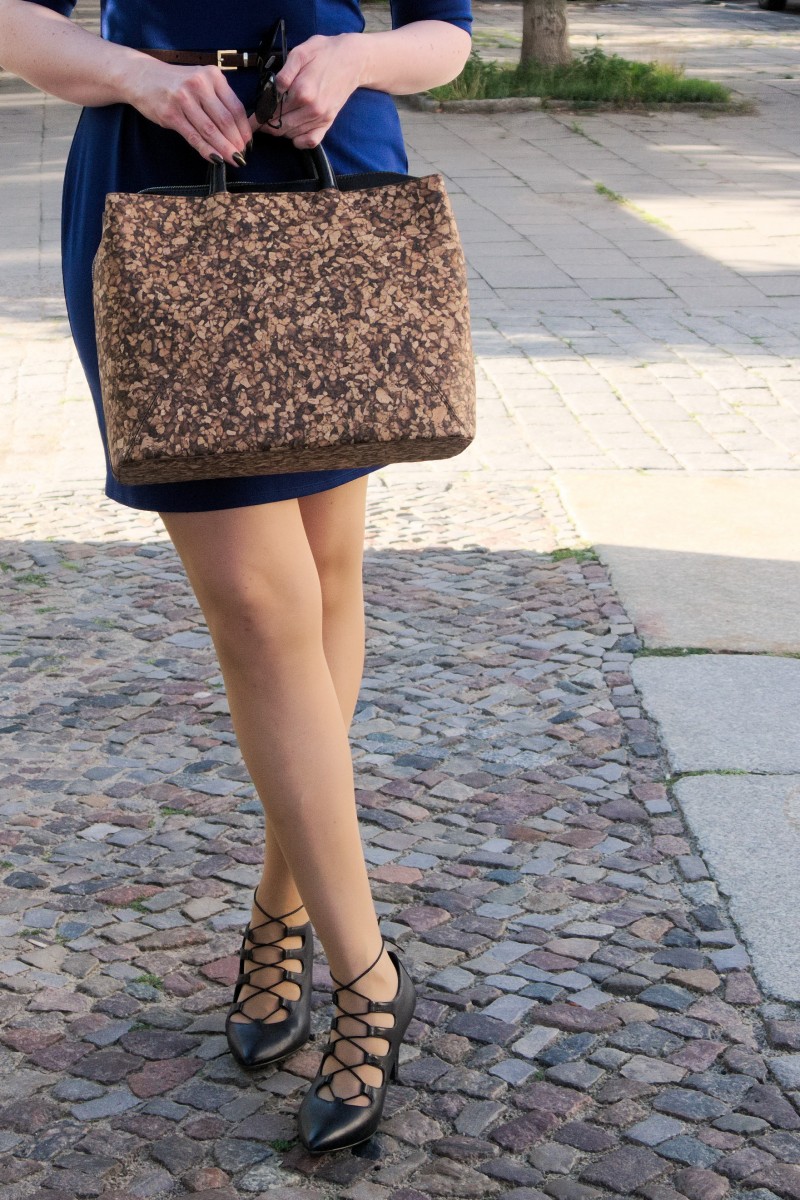 Have you embraced the cold-shoulder trend this summer? Are you looking forward to fall yet or are you still in a summer mood?
---
GERMAN
Bis Ende der Woche soll es in Berlin nochmal richtig warm werden. Am Freitag soll sogar noch einmal die 30°C Marke erreicht werden und das, obwohl ich mich schon so auf den Herbst gefreut hatte. Mittlerweile kann ich es tatsächlich kaum noch erwarten bis endlich die ersten Blätter anfangen zu fallen. Aber der Hochsommer hat natürlich auch seine schönen Seiten.
Cold-Shoulder Kleid in Kobalt mit Korktasche
Herzstück des heutigen Outfits ist ein Cold-Shoulder Kleid, welches ich vor einiger Zeit bei JustFab im Sale gefunden habe. Ich hatte bei JustFab bisher immer nur Schuhe bestellt und muss sagen, dass ich von der Qualität des Kleides durchaus angetan bin. Auch der figurbetonte Schnitt und der halbe Arm gefallen mir sehr gut. Das Kleid ist mit einem feinen Kunstledergürtel versehen, zu dem ich eine meiner liebsten neuen Errungenschaften des Sommers, die Matt&Nat Korktasche kombiniert habe. Ich finde, dass die Farben des Korkmusters recht gut mit dem Braun des Gürtels harmonieren.
Material Kork
Der Trend zu Kork als Material für Mode- und Einrichtungsgegenstände ist sowieso eines meiner Lieblingsthemen der letzten Zeit. Dazu muss man wissen, dass die Korkschicht aus abgestorbenen Zellen besteht und eine nicht zu häufige, fachgerechte Schälung der Bäume tatsächlich zur Baumgesundheit beiträgt. Da Kork ein nachwachsender Rohstoff ist, ist das Material also durchaus nachhaltig. Ich überlege grade, ob ich mir noch ein Paar Schnürer mit Korksohle zulege, wie es sie z.Bsp. bei Zalando hier gibt. Vielleicht dürfen sie nach meinem Shopping Ban im Herbst bei mir einziehen… .
Ich hoffe, ihr hattet alle einen guten Start in die neue Woche! Morgen ist mein Kurzurlaub vorbei und ich muss auch wieder ins Büro.
Freut ihr euch auch schon so auf den Herbst oder seid ihr noch in Sommerstimmung?
---