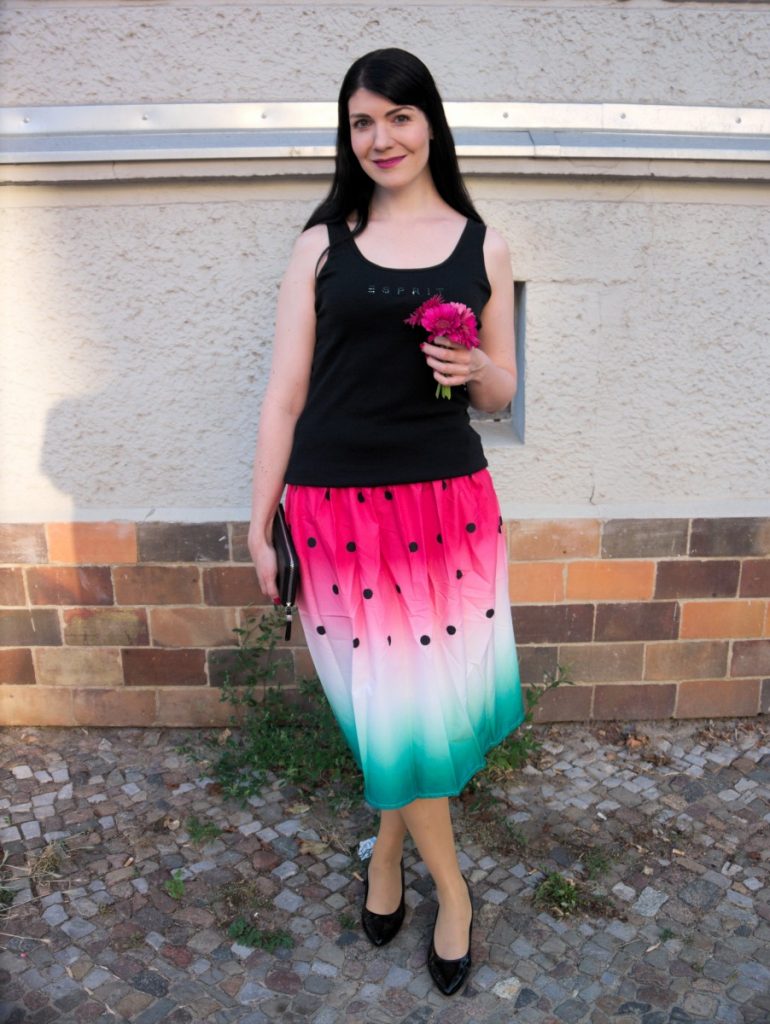 Today I have another very summery outfit for you which was shot in the first week of October which was very sunny in Berlin.
This skirt is from my recent collaboration with FashionMia and I wanted it the minute I saw it. The ombré watermelon print is quite fun. I ordered a size M to be sure and it turns out that was the right decision.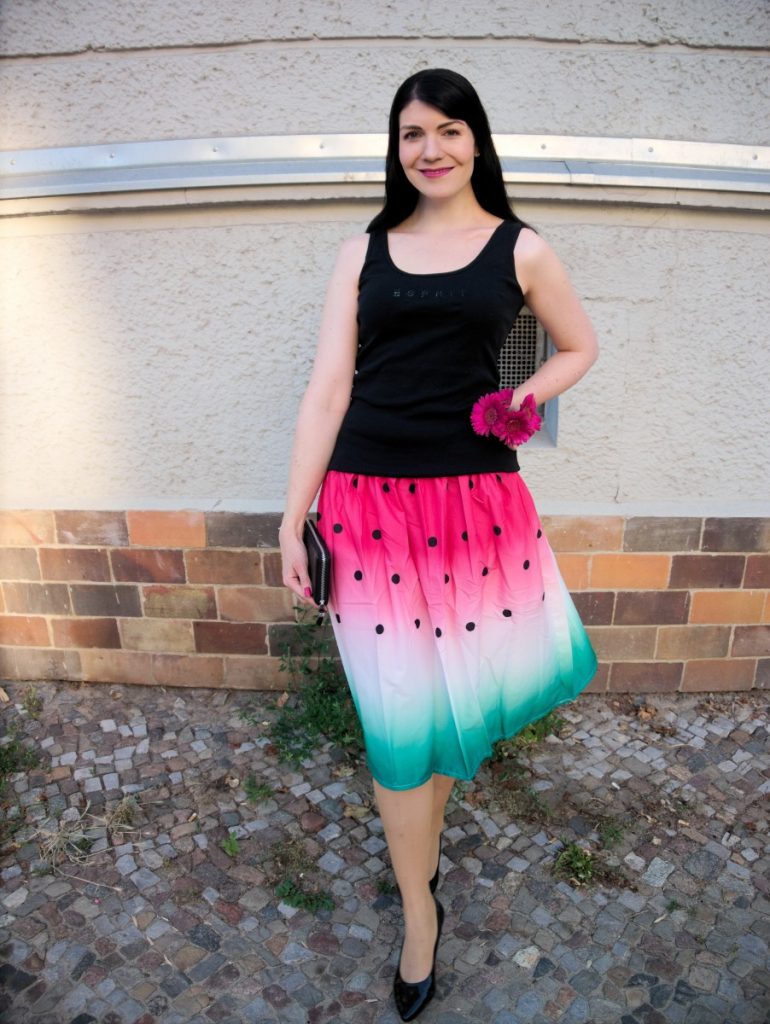 Outfit Details:
Top – Esprit
Skirt – FashionMia here
Shoes – Clarks
Clutch – Joop
Nails: Essie Watermelon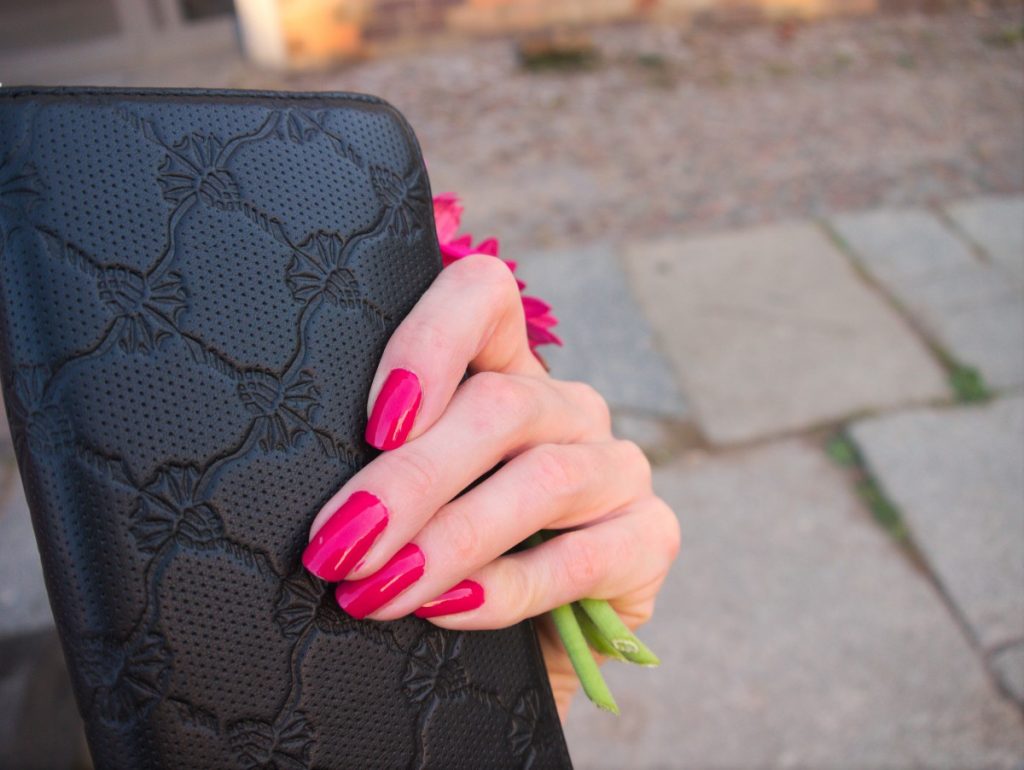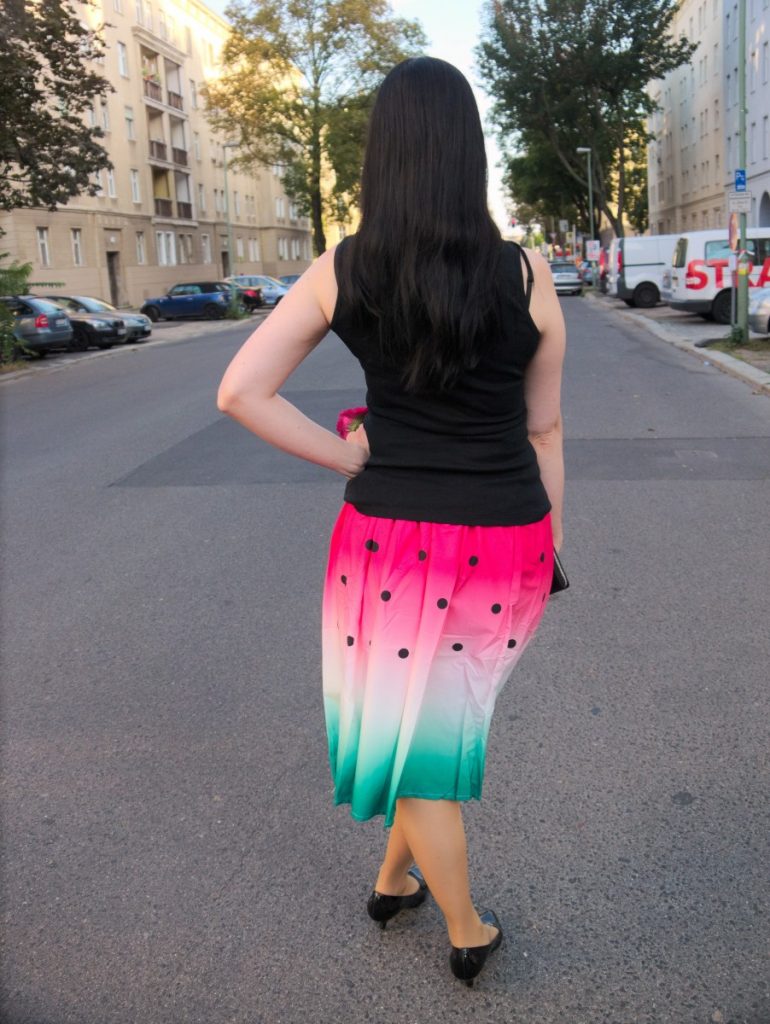 ---
GERMAN
"Ein super sommerliches Outfit – es gibt doch hier gar keine Wassermelonen mehr", werdet ihr jetzt vielleicht denken…aber man darf nicht vergessen, dass auf der Südhalbkugel ja schonwieder Frühling und damit fast Sommer ist! Und ich mich grade in den Tropen befinde. Dieses Outfit haben wir noch in den Tagen vor unserer Abreise geschossen, d.h. ich war schon ziemlich im Urlaubsmodus. Und Berlin hat uns ja noch mit einigen schönen Spätsommertagen beglückt.
Der süße Wassermelonenrock stammt aus einer Kooperation mit FashionMia. Ich hatte schon längere Zeit sämtliche DIY-Anleitungen für Wassermelonen-Shorts gesammelt und wollte mir endlich mal eine solche Hose selbst machen…als ich dann den Rock hier entdeckte, wusste ich natürlich gleich, was ich mir im Zuge der Kooperation bestellen würde.
Der Wassermelonen Rock
Der Rock ist aus Polyester,aber ziemlich fest und nicht so dünn wie ich es mir vorgestellt hatte. Also qualitativ besser als erwatet! Ich habe mir, wie immer bei solchen Shops, eine Größe M bestellt, da man davon ausgehen muss, dass die Sachen etwas enger und für kleinere Menschen geschnitten sind. Größe M passt wieder super.
---