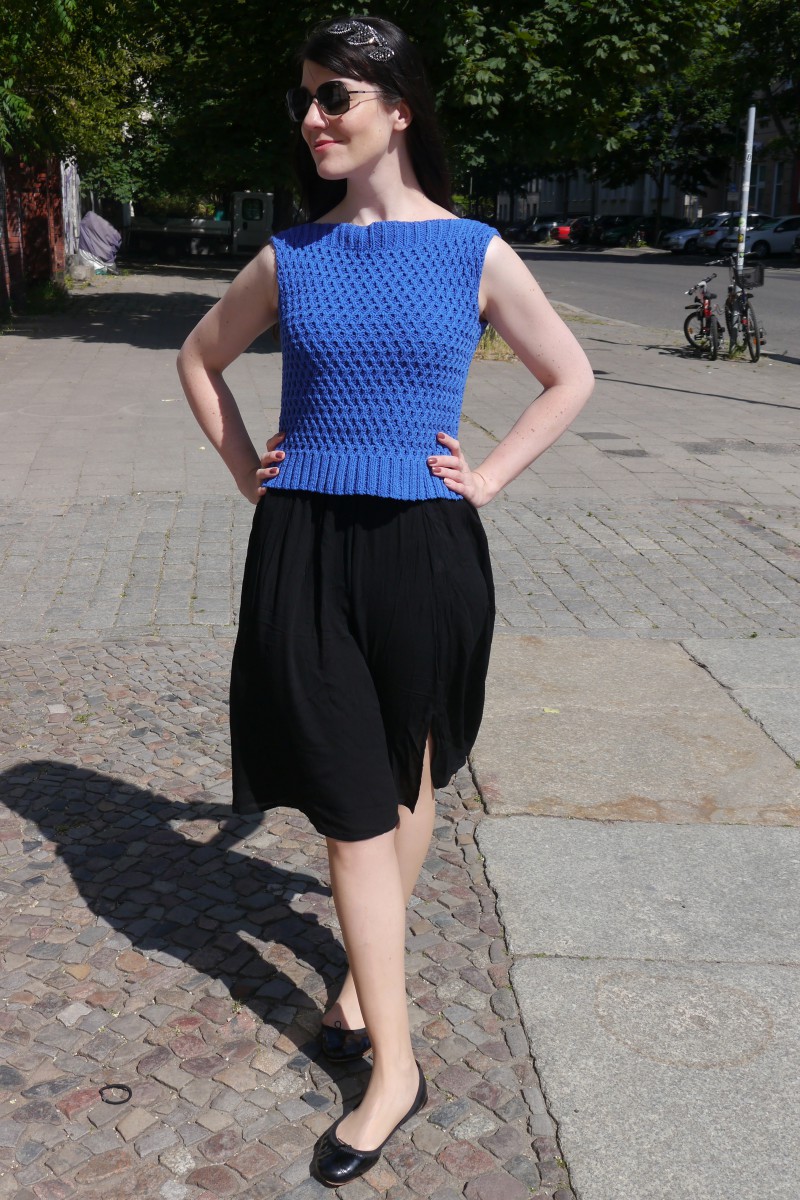 I'd like to share the latest knitted addition to my wardrobe with you – the Aldeburgh cable top. I decided to style this with a breezy skirt and patent leather flats. The top sports an attractive lattice cable pattern that reminds me a bit of honeycomb. Other details I particularly like are the different rib sections at the hem and neck which add visual interest. The Aldeburgh Tee pattern was designed by Miranda Jollie Designs and can be found on Ravelry or in Knit Now Issue 23, June 2013. I just recently stumbled upon it on Ravelry and fell in love at once.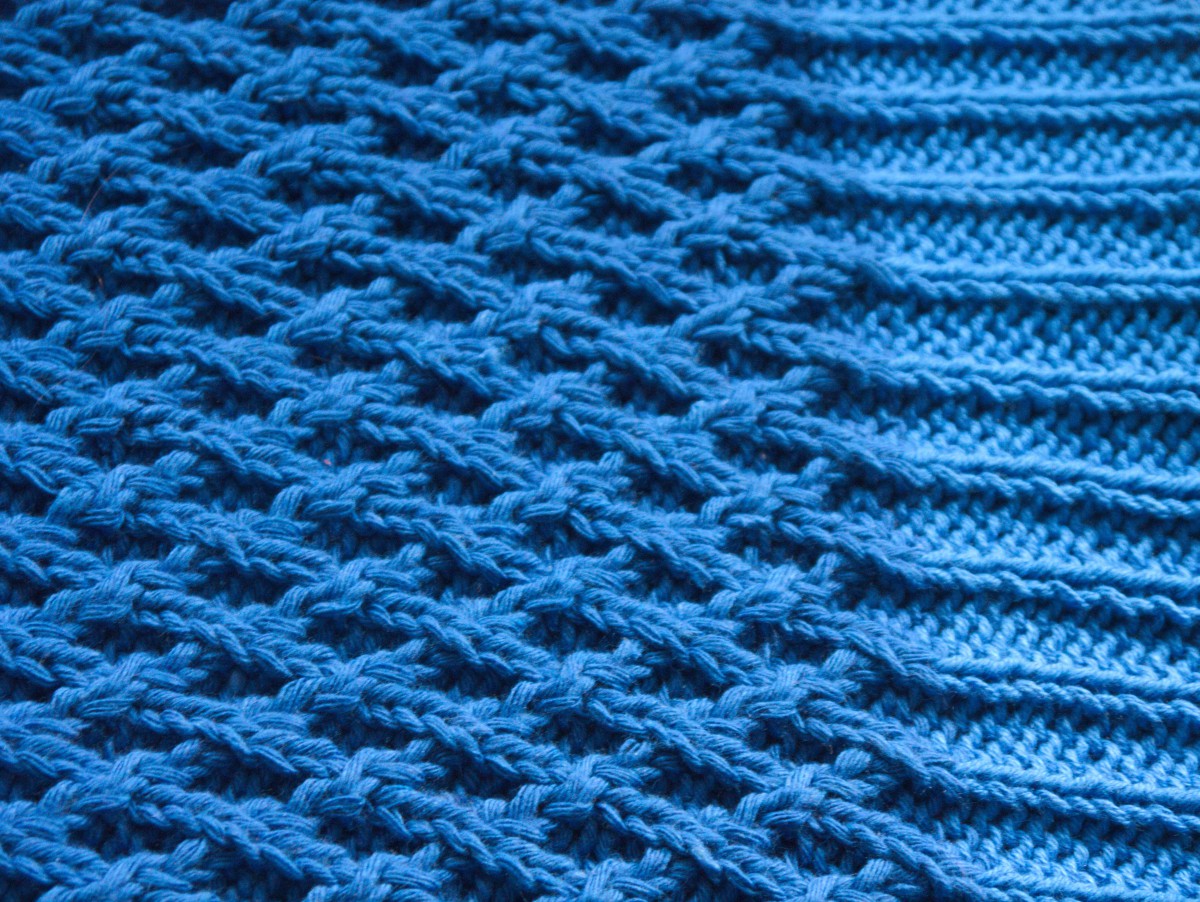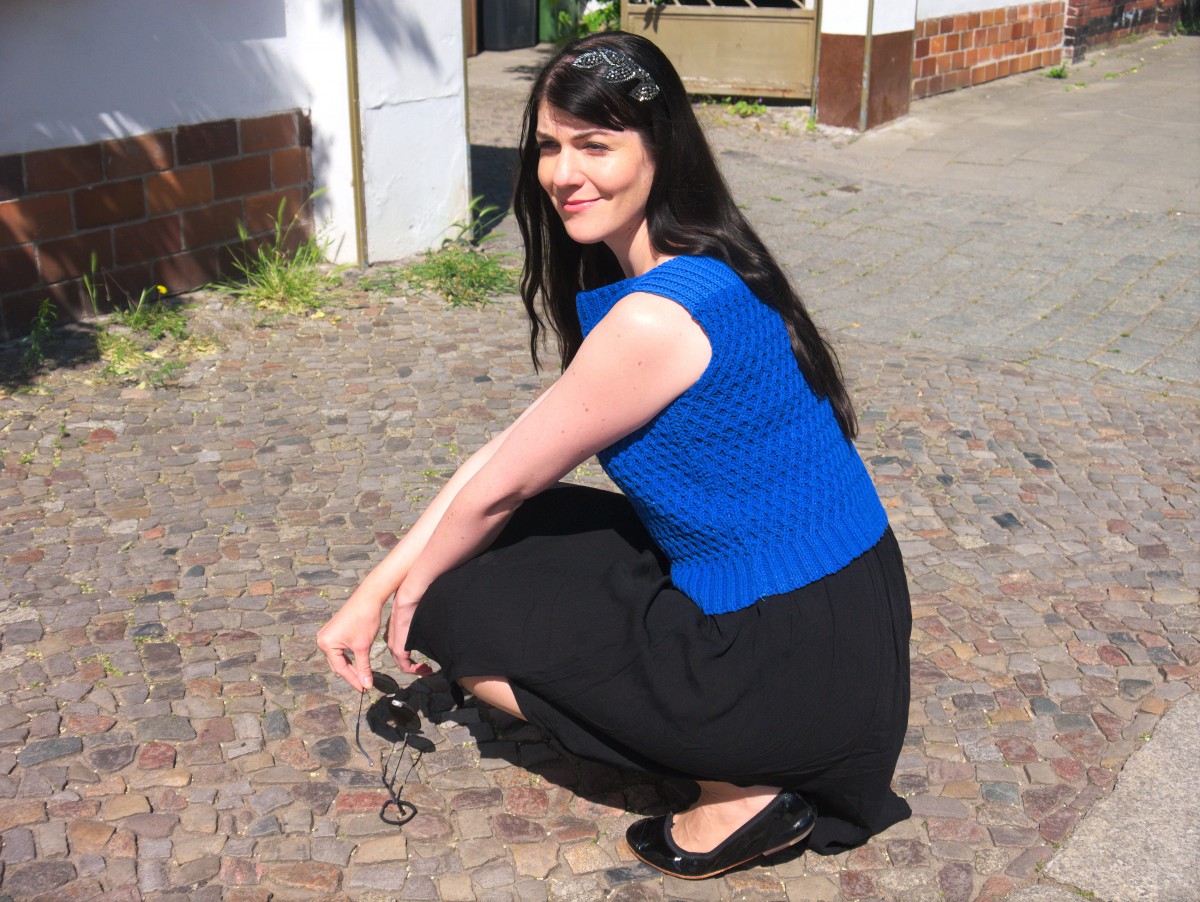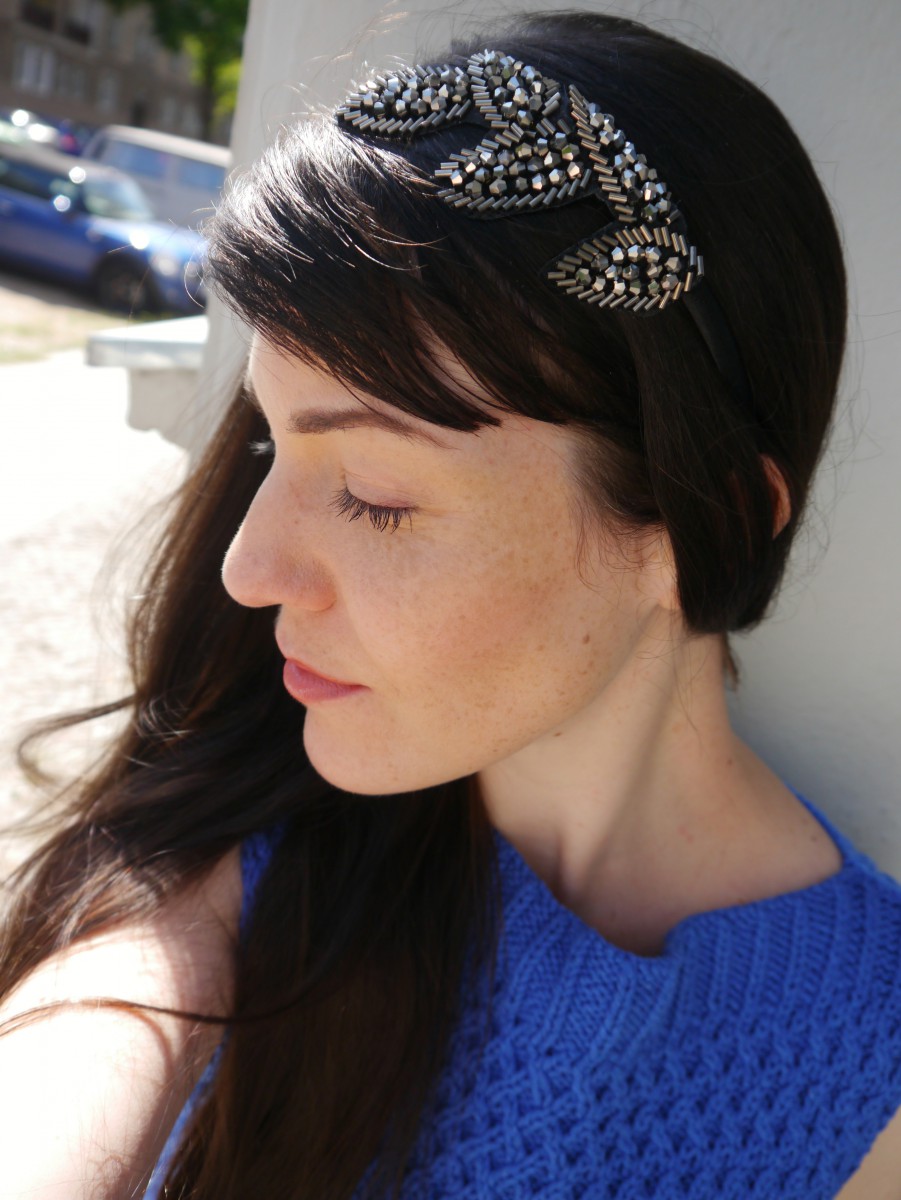 I generally love cable tops made from cotton or silk. They tend to be so versatile. You can either style them up with accessories and elegant, sheer fabrics to go with. That accentuates the unique look of the cable pattern, I find. Or you can style them down with basic items for a nice casual-summery or bohemian look. As I'm all for getting the most out of my handknits I'm really happy with the way this turned out. It will definitely see some wear this summer and fall!
The original pattern calls for DK yarn but I chose a worsted weight cotton yarn which gives the finished item a bit of weight without being too heavy for summer. So this will be a nice transition piece as well.
Overall, I really enjoyed the process of knitting this – I made both sides on one needle. Making both sides continuously which was a great idea.The designer's instructions were very clear, easy to follow and the pattern can be easily memorized too. I tend to be a slow cable knitter however so this took me about a month of weekend and occasional evening knitting. Living with an adolescent dog means having to get up repeatedly – be it to rescue a shoe from its fangs, removing food from its reach or hearing that deceptive rustling when the garbage can is being raided. And no, of course, we don't feed her – ever. So basically, there is no undisturbed knitting these days. The link to my project page on Ravelry can be found here.
Yarn Recap:
Garnstudio's Drops Loves You V is made from recycled cotton which I love. You might know by now that I support the idea of more sustainable living. Therefore I enjoy using recycled yarns whenever I can. It is a typical worsted/light aran yarn, very similar in type to Drops Paris. It was great to work with but does have a minimal tendency to split but this didn't bother me much. I did, however wash it at 30°C right after seaming and the surface showed signs of pilling immediately. It is not terrible pilling and you can only see it when you look at the surface closely. Before washing it had a decidedly smoother finish, however, so I would highly recommend washing this by hand only if you don't want the used-look.
All in all, it was great to work with this yarn – apart from the washing bit which may partly be due to it being recycled, of course. Also love the royal blue colour of shade 120. We'll see how it wears over time.
Outfit Details
Skirt – New Look, via Zalando
Hair Piece – H&M
Ballerina Flats – Bloch
Sunglasses – Lacoste
Recycled Cotton Yarn – Drops Loves You V, colour: 120, via Lanade
Links are placed for the convenience of the reader. No affiliate links.