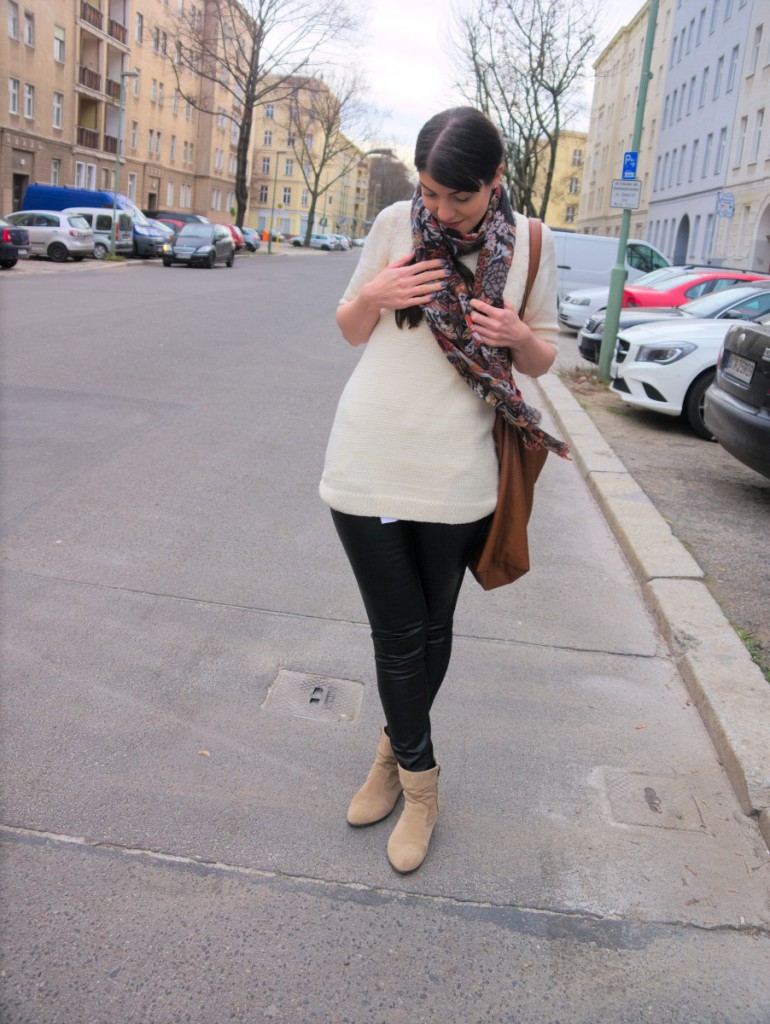 This outfit is actually a favourite winter daytime look of mine as it combines some of my best-loved winter colours and items: a light coloured sweater with a cozy scarf and suede booties.
As I have mentioned before I love wearing light colours in general, but especially in winter. Tan is also a typical winter colour and this faux leather bag by H&M is a trusty companion. Plus, it's huge so it is actually perfect for gift shopping or going to a xmas market (where you usually end up buying something).
Combining knits with leather or faux leather is actually one of my favourite looks right now – I just love how the different textures play together in this combination. In this outfit I'm wearing leggings with faux leather front inserts by Esprit. The sweater is made from Drops Merino Extrafine wool and was actually one of my very first handknits after I taught myself two years ago. I found similar ones here and here but the great thing about being able to knit is that you can always cater to your own whims and wishes.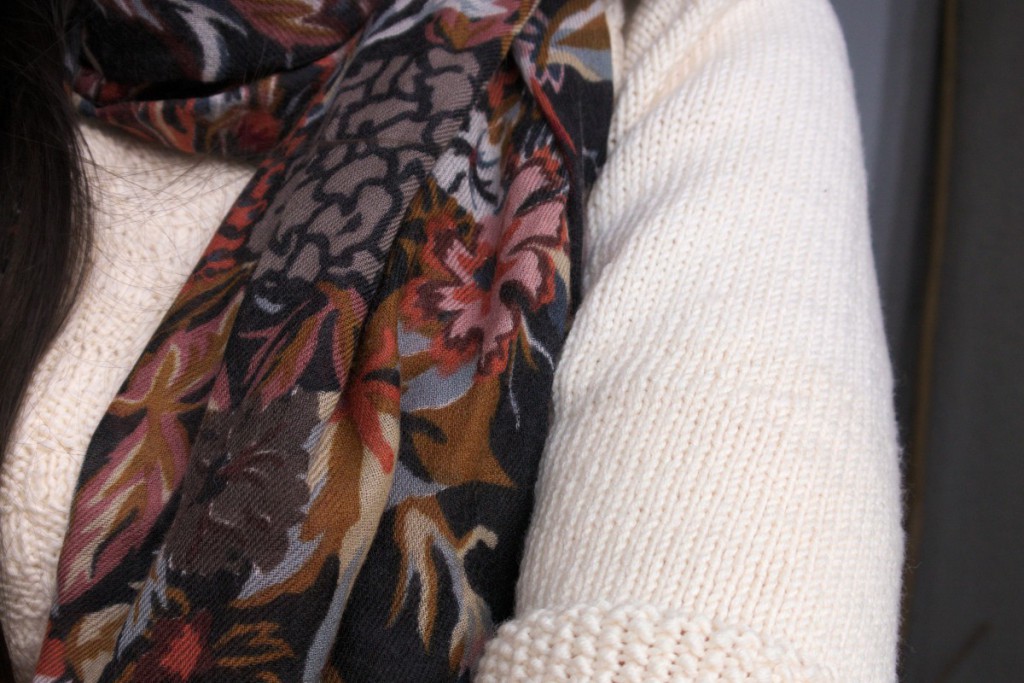 I really like this basketweave pattern for instance but you can seldom find it in the stores. You can also work exactly with your own measurements to get a fully fitted result. Plus, looking at the price of some designer knits, purchasing your own wool is actually a really good deal (I love Drops Design wool, as they also have a huge collection of free patterns online). Not even mentioning the grounding and satisfying experience of creating something and not just buying something online. The only real drawback is the time it actually takes to finish an item when you also have a full-time day job…but I suppose that's what slow fashion is all about.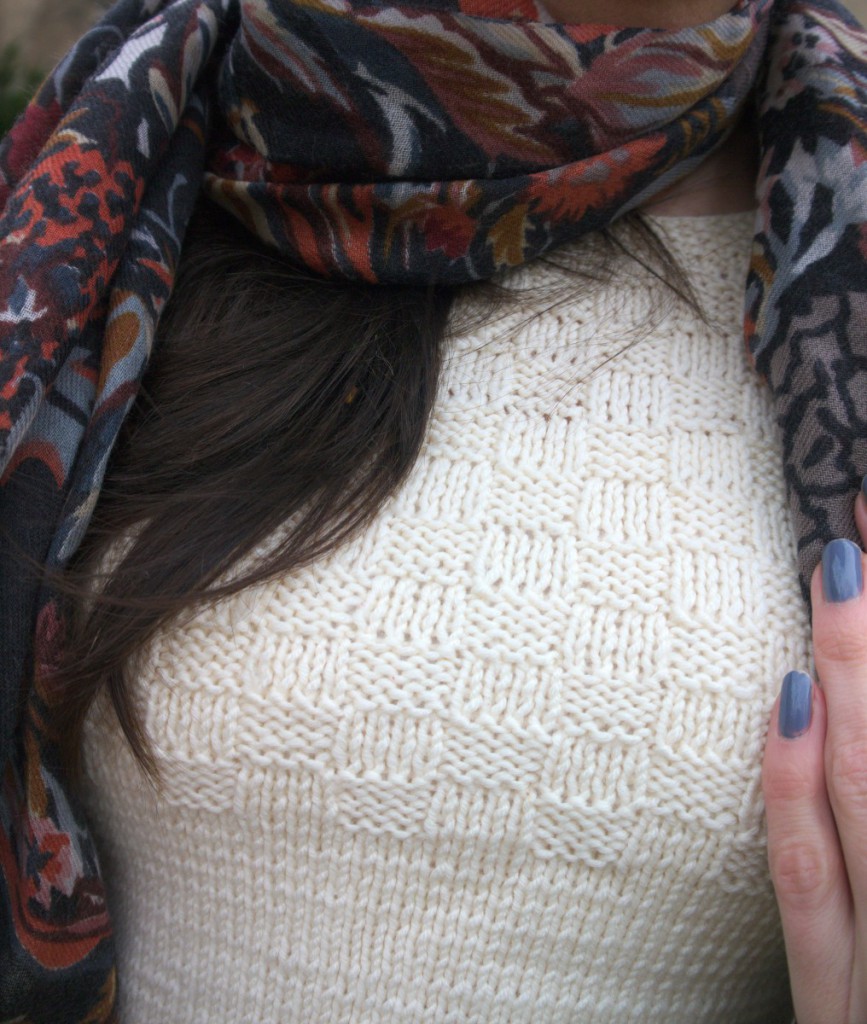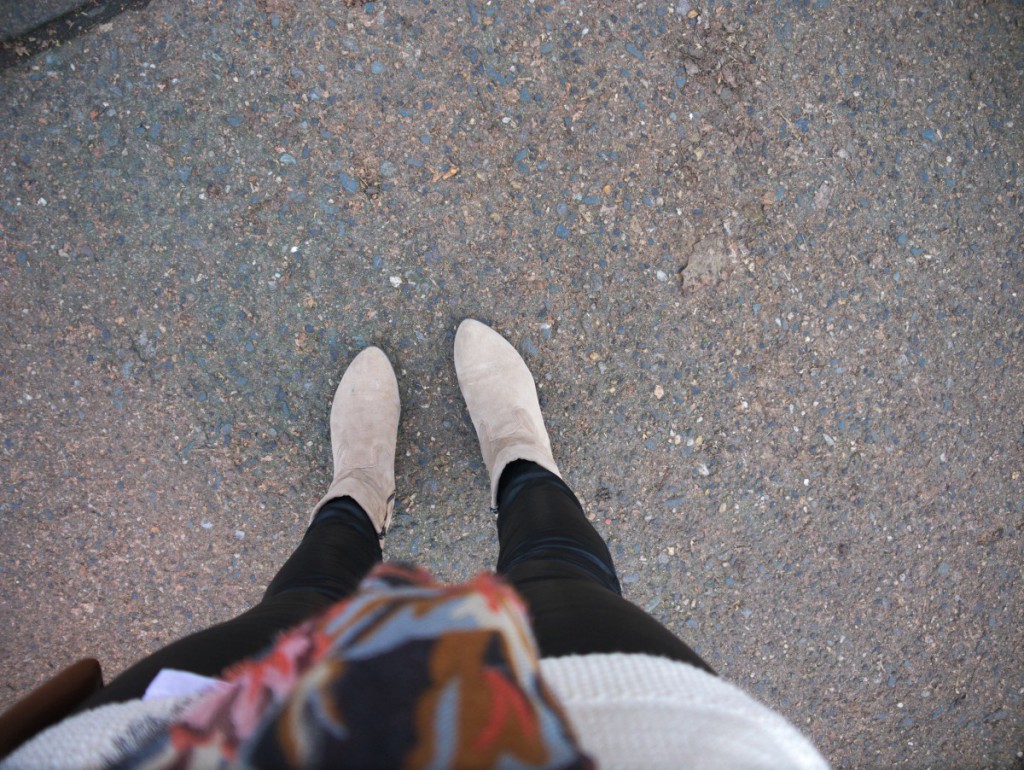 The lighting issue being what it is right now I find it harder and harder to get good outfit shots outside. I'm aware that we're not in Scandinavia and far away from the Arctic circle but sometimes it feels like the light slot has narrowed down to like 2.5 hours on a given day. Kinda looking forward to daylight saving around here.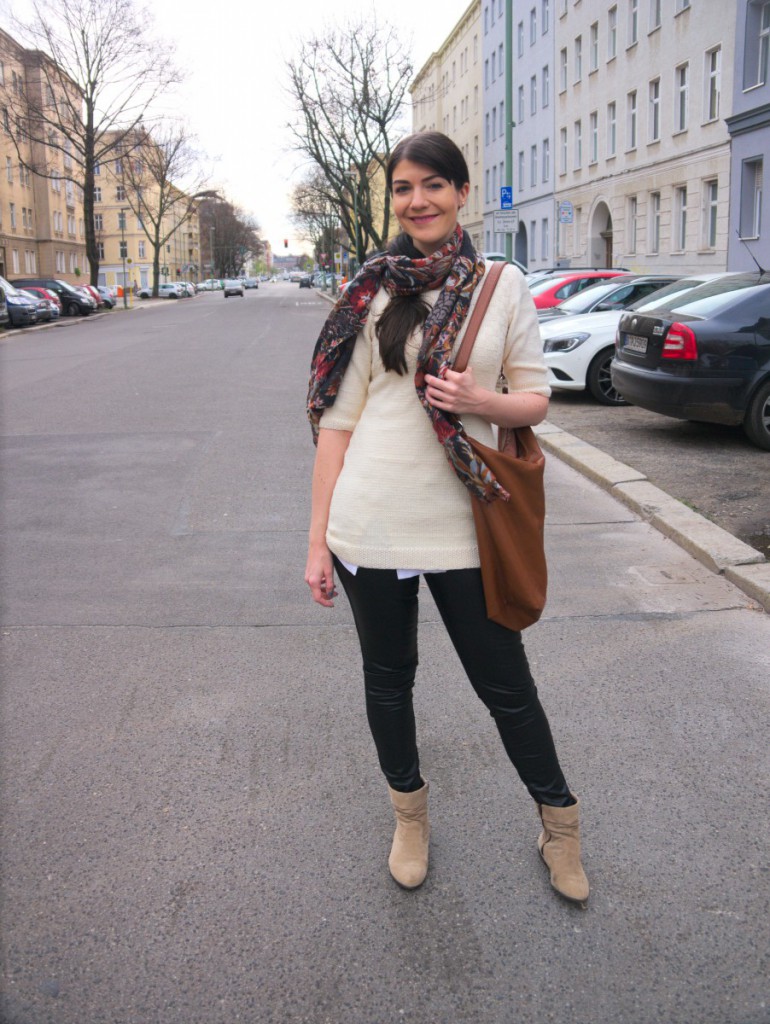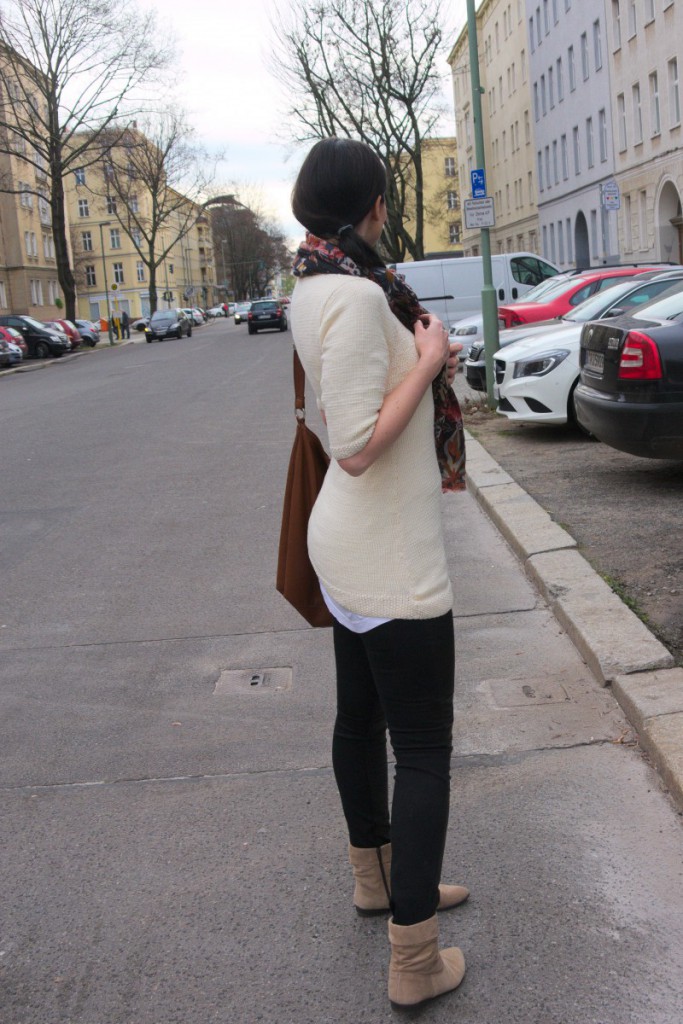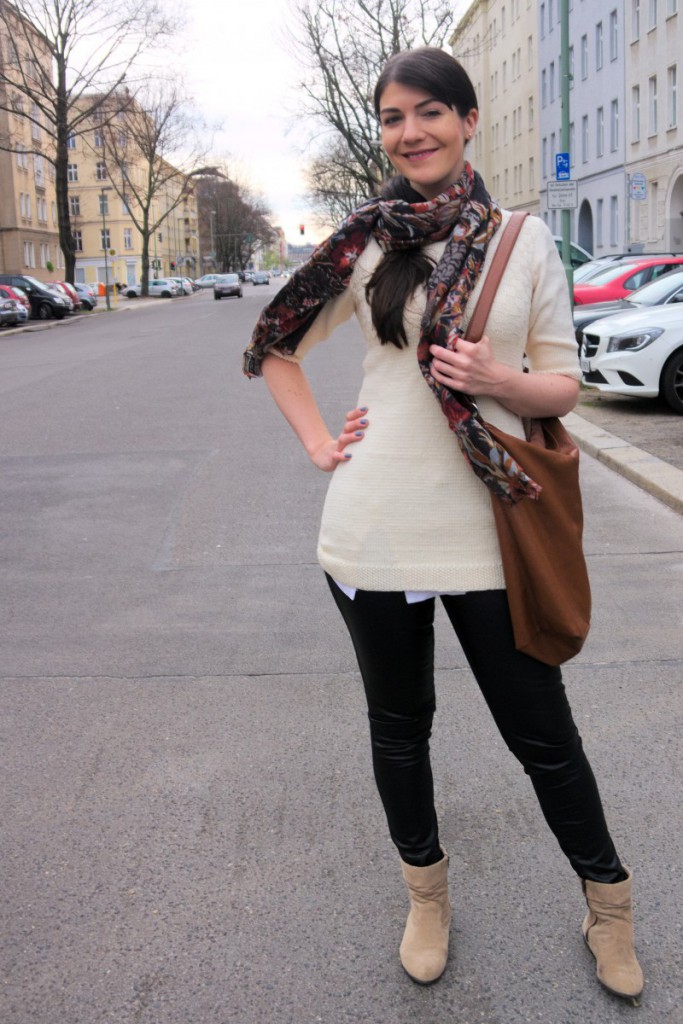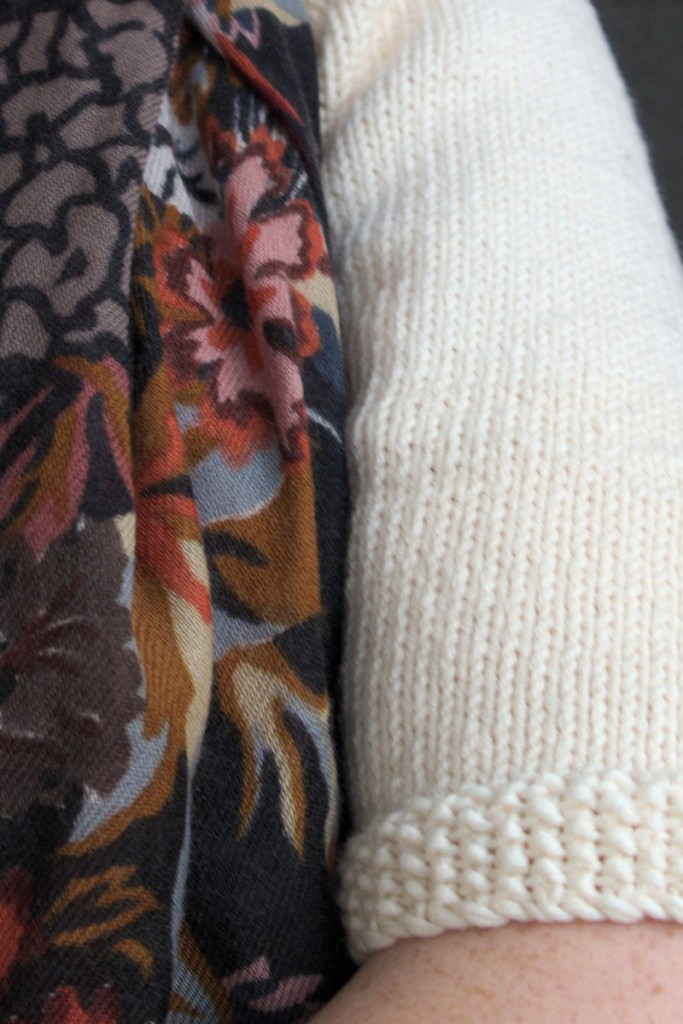 Outfit Details:
Sweater – handmade (Pattern by Grace Melville for Rowan, free pattern available here)
Leggings – Esprit
Boots – Tamaris (similar or heeled variety)
Scarf – Mala Alisha (similar)
Bag – H&M (similar here or here)