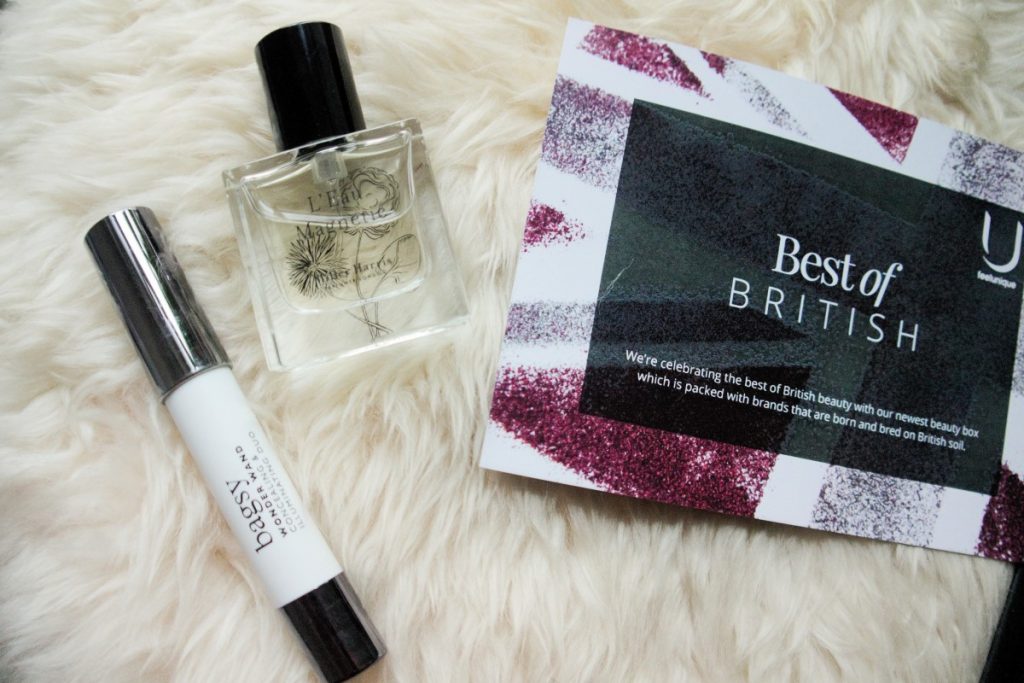 I have recently given the Best of British Beauty Box which is sold at Feelunique a try and here's what I think of the products. I have not tried any beauty boxes before so this is actually a first here on the blog!
This box is packed with brands that are born and bred on British soil. You can get the box at Feelunique here
From Emma Hardie's cult Moringa Cleansing Balm to Miller Harris limited edition fragrances, you will love these products at such great value.
I had actually never heard of any of these products and simply let them surprise me.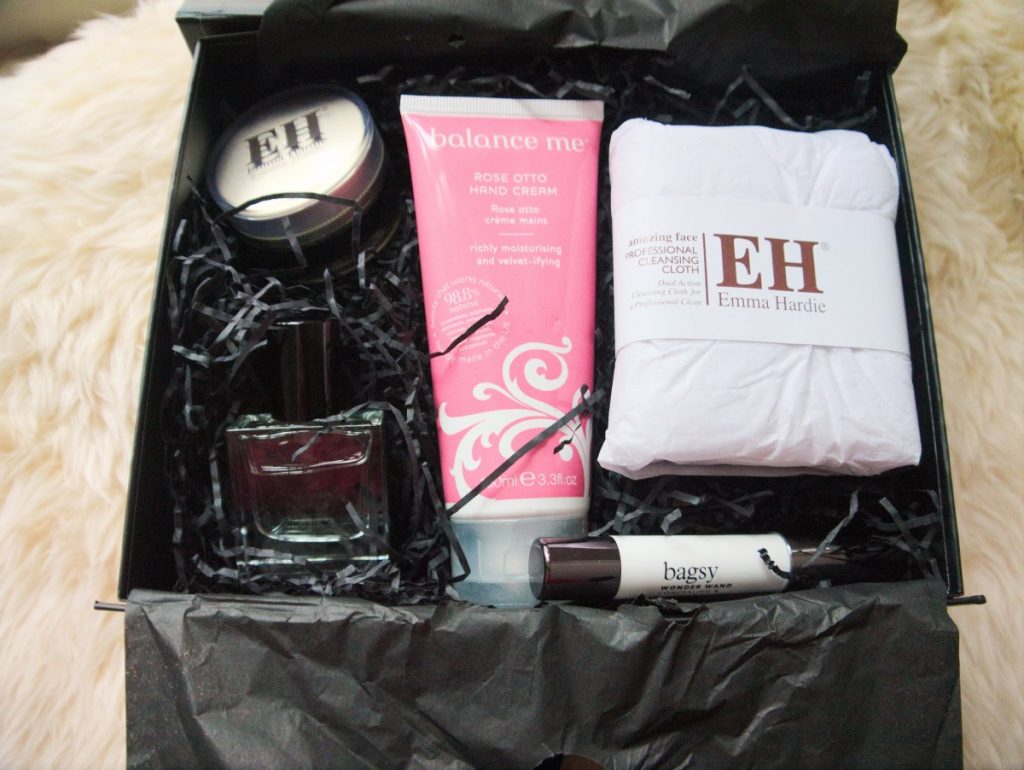 The Best of British Beauty Box contains:
– Emma Hardie Moringa Cleansing Balm & Cloth 15ml
– Balance Me Rose Otto Hand Cream 100ml
– Miller Harris Limited Edition Eau De PArfum 14ml – we're going to be surprising your senses by picking the perfume you receive from the limited edition range!
– Bagsy Wonder Wand Concealing & Illuminating Duo 2.5g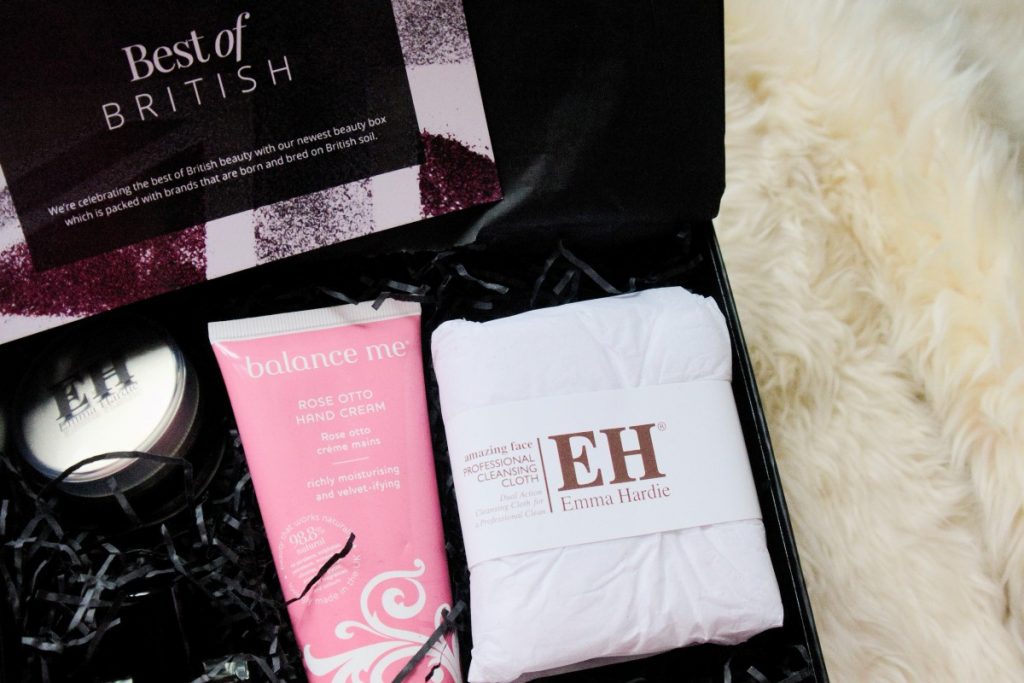 The Products – First Impressions
Emma Hardie Cleansing Balm
This is a high-end cream cleanser that needs to be taken off with a face cloth because of its thick consistency. It's meant to make your skin feel soft, radiant, smooth, hydrated and clarified. It has a noticeable Moringa scent and as some of you know, I prefer products that are minimally scented. All in all, it's very floral and summery though – people who like scents like this might actually find this pleasant.
Ela from Elabellaworld also recently reviewed this cleansing balm as part of the M&S Advent Calendar. I fully share her opinion that this cream is probably best suited for very dry skin or at least not heavy use when you have combination skin. Nevertheless, it is pleasant and I will use it occasionally whenever my cheeks get very dry in the cold season (luckily, that doesn't happen too often lately!). But this is definitely not something I could use on my T-zone as it is very rich and nourishing.
Balance Me Hand Cream
I have recently developed a taste for rose so the rose smell here is definitely a plus. It can be a little old-fashioned I suppose but I like it. The texture of this cream is also very rich and nourishing – perfect for the icy winter weather we have over here right now. I use it as a hand cream for the night at the moment and am very happy with it.
Miller Harris Eau de Parfum – L'eau Magnetic
This is a high-end limited edition perfume . I got L'eau Magnetic which is an aquatic scent.
L'Eau Magnetic embraces the energetic chaos of the ocean. A deserted cove with sand between your toes, where salty sea breeze mingles with distant pines. Carefree and naturalistic throughout, a marine effect blends Italian bergamot with zingy citron and airy pink pepper. A touch of Venezuelan tonka bean and Vanilla from the Reunion Islands balance against the crisp clarity of white cedar.
I had actually been hoping for one of the other fragrances in the range like Rose Silence or Tea Tonique. The little bottle is very elegant and beautifully done though. I'm not the type for aquatic scents and think a more fruity, oriental scent like Rose Silence would have been more suitable for me. But I hope to find someone who will love this. This is the fragrance composition:
Top notes: baies roses, bergamot, lemon

Heart notes: petit grain, cedre bois blanc

Base notes: accord tabac, vanille bourbon, tonka bean
Bagsy Wonder Wand
This is actually quite a cool product! I didn't expect much at first but when I tried this out I must say, it's a cool idea. And it has already moved to my little collection of emergency makeup essentials which I keep at the office (for quick touch-ups, should that ever be necessary).
Verdict
Overall, this box is not a Must-Have unless you're a fan of any of these particular products. Still, the contents are useful and the brands were completely new to me! There are also some high-end beauty products in here which are quite pricey when purchased on their own. I think I will get good use of the Bagsy Wonder Wand and the handcream especially. The product value of the items in this box is quite high. The perfume is definitely of high quality and even though the scent is not entirely up my alley I might find a use for this!
---
Do you know any of these products? Have you tried the Best of British Beauty Box before?