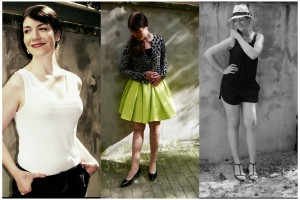 It's already the beginning of August – and I can't believe how fast the year is going by. Nevertheless, I have taken the time to look back on July's outfits. I just love a good outfit recap as it's a great way to keep track of the different styles and ensembles worn each month!
The extreme heatwave we had in Europe at the beginning of July had me wearing mostly casual outfits. There is nothing like jersey and the coolness of cotton fabrics to stay comfortable. Nevertheless, I used the chance to style my new Diane von Furstenberg cardigan when the heat abated for a few days.
Most of this month's shoots have been rather nature-centered, but after all: summer is the season to be outside! I tried to catch some early evening light now and again. Plus, it's so great to come home from work and still be able to do photo shoots without having to worry about there not being enough light. I have finally indulged my love of all things botanical with a pineapple patterned dress. And this beetle also found its way back into my selection of accessories worn on a regular basis.
The last few looks have been retro-inspired – with polka dots and a floral kimono to boot. Add a flower crown and copious canine cuteness for girly, slightly vintage looks. Of these the sheer, blue maxi skirt is one of my new favourites – it just has such fabulous colour intensity!