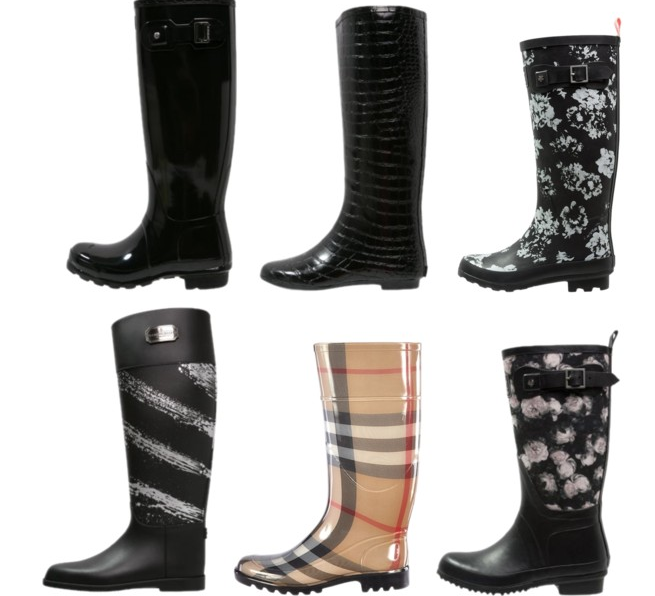 As a dog person I have to go outside no matter the weather so wellies are a must for me. Although the very first Wellington style boots were
actually made of fine impregnated leather, the vulcanisation of natural rubber took waterproof to new heights and makes the rain boot even more suitable for every kind of weather. Similar to that all-time favourite the trenchcoat, wellingtons are another fashion staple which experienced a serious production boost due to the requirements of World War I. One of the most popular brands that come to mind is Hunter, of course.
Styles have evolved though and today's rubber boots come in a staggering variety of styles.
Below are my current favourites –  as I'm rather tall I like high boots and they are more practical when you're cycling in the rain too. I have always wanted to have a pair of Burberry boots – another plaid crave here. I also fancy the flower and metallic prints somehow – I think they would make a playful addition to any monochromatic outfit when you're out in the rain.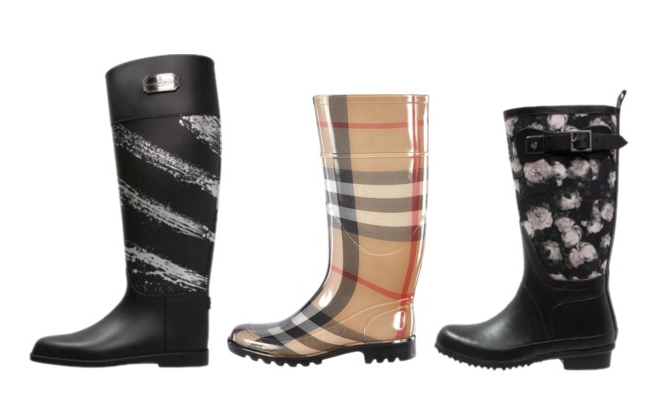 There has also been a pronounced emergence of waterproof chelsea boots lately and I'm quite a fan of these too. They are lighter than the original wellington boot and perfect for transitional periods as they aren't as heavy. There are several styles with glittery details which I rather fancy  – nothing wrong with adding a bit of sparkle once in a while. Especially when it's grey and rainy outside.