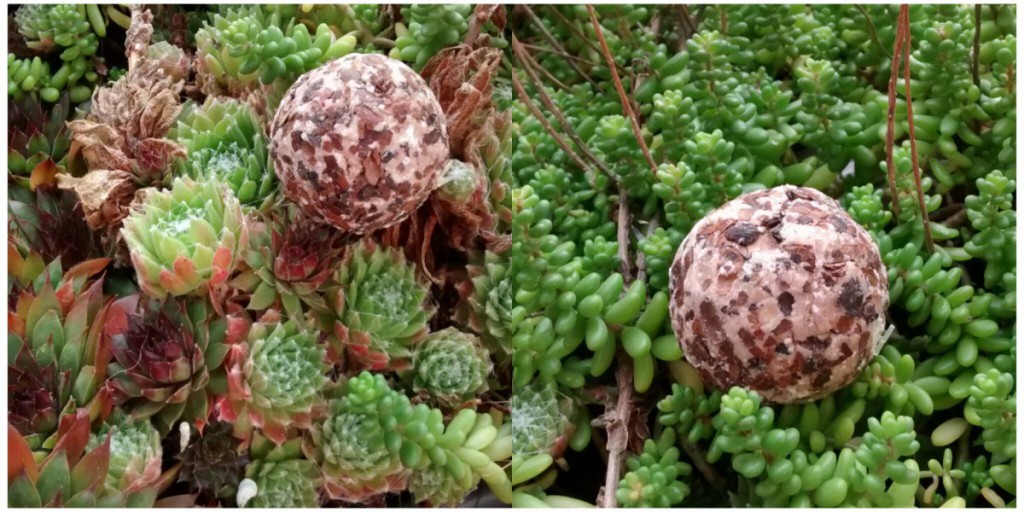 When the weather gets cold outside I find nothing more relaxing after a long day than a hot bath.
I have to admit that I really like scented bath products and tend to use bubble baths as a form of recreation. Grabbing my Kindle and retiring to the tub for a time-out can be quite a stress reliever. As I'm undeniably a fan of soaking I really need products that also moisturize the skin so I don't parch my skin too much. On one of my last visits to local German drugstore dm my eye was drawn to the Balea bath range (dm online store here).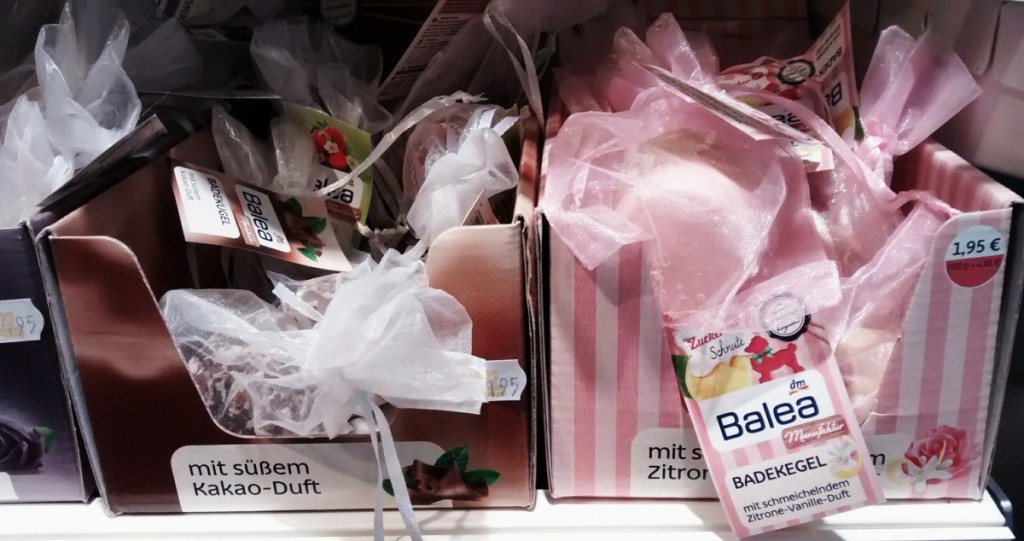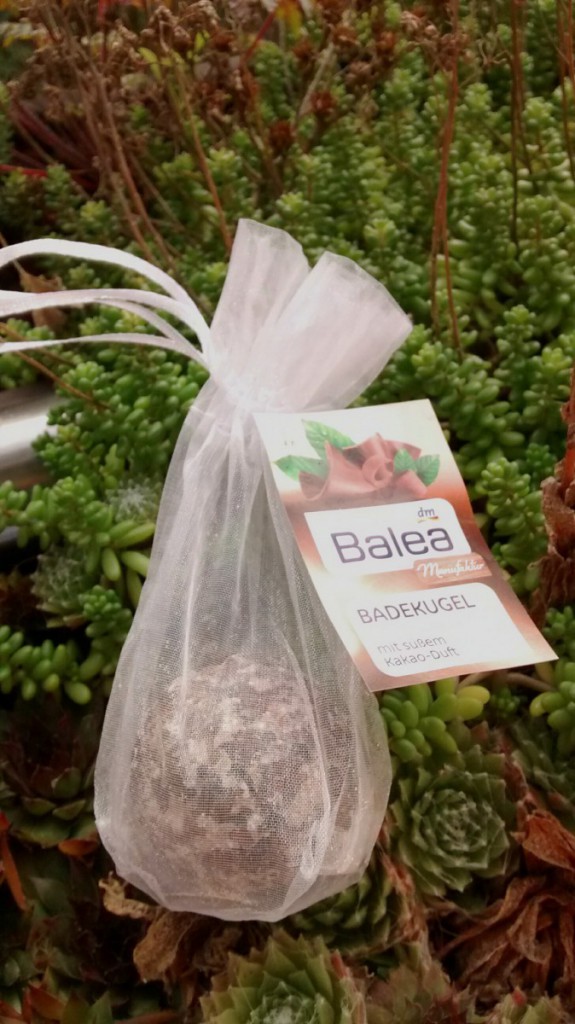 They have been on the market for about a year now and come in cocoa or strawberry scented varieties – each ball is individually wrapped in a little organza bag. The products are handmade and vegan. I was immediately drawn to the cocoa bath ball which I took home to try.
The ball is covered in bits of cocoa bean peel and exudes an undeniably chocolatey smell. The bits of cocoa peel can be used as a light natural peeling while in the bath or you can leave the ball to dissolve inside the little organza bag.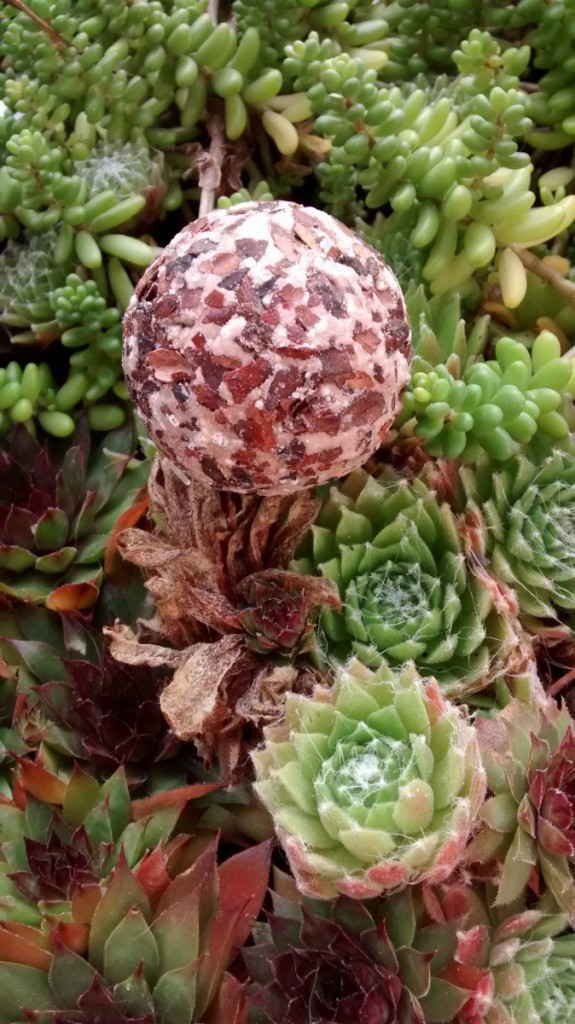 The overall experience was spa-like and relaxing – the chocolate smell is really nice but at the same time not overpowering – a fact I appreciate. There is nothing worse than an overly artificial scent that refuses to diffuse even hours after you've pulled the plug. Sadly, there was no foam to speak of but I wasn't really expecting that in a bath ball product. What's great is that my skin actually felt moisturized afterwards. So I would definitely recommend these little balls when you want to treat yourself to something special and are looking for a bath product that doesn't dry out your skin. The price of €1,95 is reasonable.
For the coming winter Balea has launched a few new products like these star-shaped bath soaps or bath balls covered in star-shaped sprinkles. I think they would make cute gifts or fillings for a DIY advent calendar…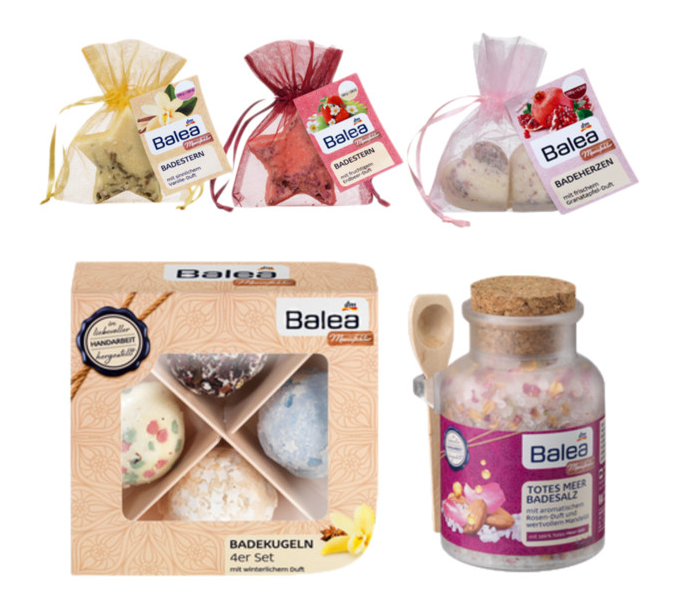 Product images courtesy of dm
GERMAN
In der kalten Jahreszeit gibt es für mich nach einem langen Tag fast nichts Schöneres als ein heißes Bad. Natürlich sollte man das nicht zu oft machen, da sonst die Haut zu stark austrocknet – deshalb mag ich auch Badezusätze besonders, die rückfettend sind und die Haut so vor zuviel Austrocknung schützen.
Bei einem meiner letzten dm-Besuche waren mir die Badekugeln von Balea ins Auge gefallen. Es gibt sie seit Herbst letzten Jahres und sie sind in den Sorten Kakao und Erdbeere erhältlich (dm Online hier). Da ich mir abends gerne mal ein Bad einlasse und mich dann mit meinem Kindle zurückziehe um einfach etwas abzuschalten, bin ich immer auf der Suche nach Produkten, die die Haut gleichzeitig auch pflegen.
Ich fand das Badeerlebnis mit der Kakaokugel recht positiv – ein schöner Kakaoduft, der aber nicht zu künstlich wirkt und vor allem nicht zu intensiv ist. Ich mag es nicht, wenn Badezusätze sehr stark parfümiert sind und einen förmlich erschlagen. Man kann die kleinen Rindenstücke der Kakaobohnen entweder als leichtes Peeling benutzen oder den Ball einfach im Säckchen lassen. Dann löst er sich darin auf und man muss die Stückchen nachher nicht wieder herausfischen. Das Beste ist, dass sich tatsächlich eine rückfettende Wirkung feststellen ließ und sich meine Haut danach wirklich gut und nicht ausgetrocknet angefühlt hat. Wenn man sich also mal etwas gönnen will und ein Produkt mit rückfettenden Inhaltsstoffen mag, dann kann ich diese kleinen Kugeln durchaus empfehlen.
Jetzt in der Vorweihnachtszeit bietet Balea auch eine Reihe neuer, saisonaler Badeprodukte an, die ich recht süß finde. Es gibt zum Beispiel kleine Badesterne oder ein Badesalz mit getrockneten Rosenblättern. Beides auch ein nettes Geschenk finde ich…als Füllung für einen selbstgemachten Adventskalender könnte ich mir die Kugeln oder die Sterne auch gut vorstellen. Nur sollte man dann vielleicht nicht unbedingt Süßigkeiten gleich daneben platzieren :)