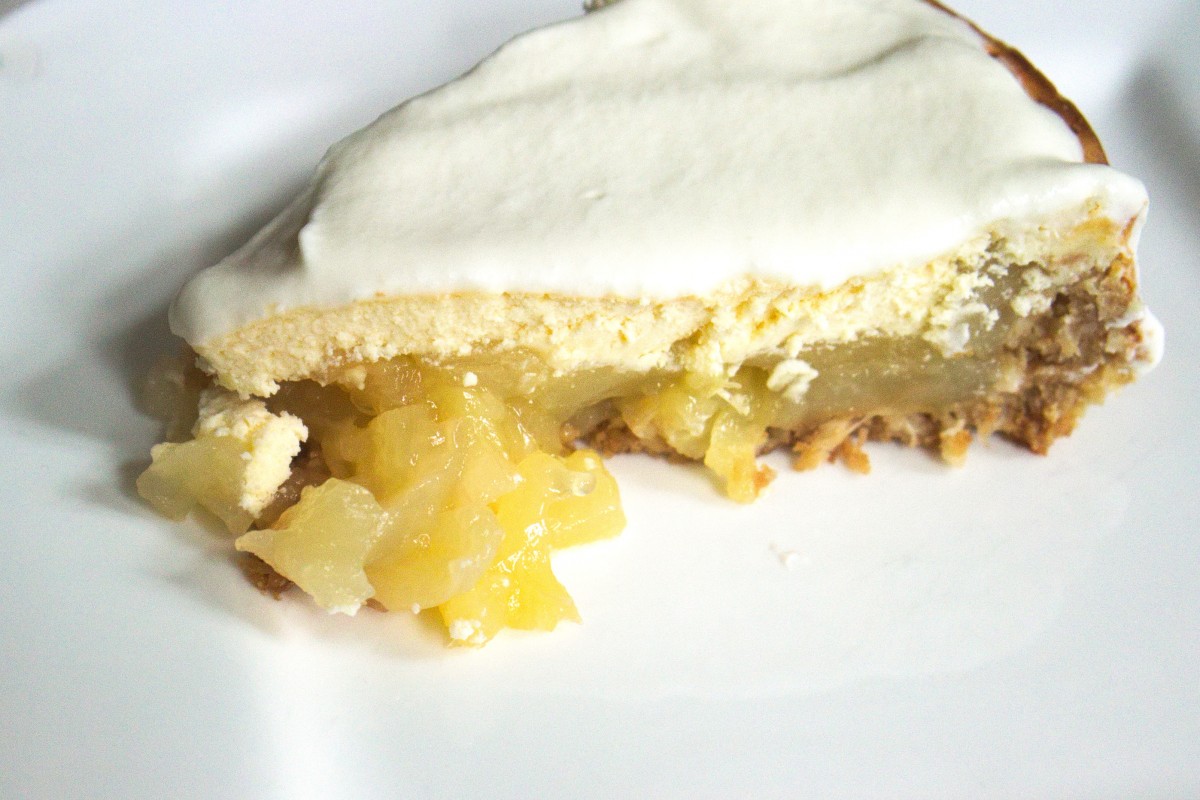 Happy Pi Day! How about some Piña Colada Pie to celebrate?
I found this amazing recipe a few weeks ago and instantly felt like trying it out. The idea of pineapple and coconut flavours always holds the promise of summer for me. I normally love baking and making desserts. Sadly, I haven't had much time for that lately but for pi day this year I just couldn't resist!
Tastewise this pie is different but yummy. It doesn't quite manage to taste like it's namesake cocktail but the flavour combination is certainly close. If you're a fan of coconut or pineapple and creamy richness this is definitely for you. Although I'm a vegetarian I made the non-vegan version but I'm sure the dairy ingredients could be exchanged for plant-based products such as soy cream. You have to be careful though – this pie is very rich! With it's mix of cream cheese, sweet coconut infused pastry crust and whipped cream this is quite high in calories. But eating a slice or two for dessert won't hurt too much, plus it works as a natural mood booster (at least for me :) ).
This is not a pie to be eaten warm from the oven as the flavours actually need time to mingle to give you the best result. I would even say that this is best eaten the day after. So making this pie a day ahead is actually a good option.
The construction is essentially a triple layer pie: cookie crumb crust, then a pineapple layer followed by a cheesecake layer with whipped cream topping.
You need:
2 cups butter cookies, crushed (about 16-20 cookies)
1 cup flaked coconut
¼ cup butter, melted
⅓ cup sugar
2 tablespoons cornstarch
1 can pineapple pieces in juice
1 package cream cheese (250g)
1½ cups cream of coconut, divided
2 large eggs
1 cup whipping cream
A springform pan or pie dish of your choice (I used a 24 cm springform pan)
Instructions:
Crust: Make an easy pie crust by mixing cookie crumbs, shredded pineapple and melted butter and pressing it firmly onto the bottom and up the sides of your springform pan or pie crust. Bake for about 9 min, or until lightly brown at 180°C. Allow to cool completely.
Pineapple layer: Stir together sugar and cornstarch in a small saucepan. Add all the pineapple and juice and bring to a boil, stirring constantly. Once the mixture is thickened (usually takes only 1-2 min), remove from heat and let it cool.
Cream cheese layer: Mix cream cheese with half the cream of coconut and beat in the eggs, one at a time until just blended.
Then spread the pineapple mixture over your cooled crust and top with cream cheese mixture. At 180°C (350F) bake for another 30-40 min, or until set. Cool on a wire rack and then chill for at least 4 hours in the fridge. You can add the final layer of whipped cream shortly before serving.
Cream: Beat whipping cream with a teaspoon of sugar and the remaining cream of coconut (to taste) until soft peaks form. Spread on top of your pie.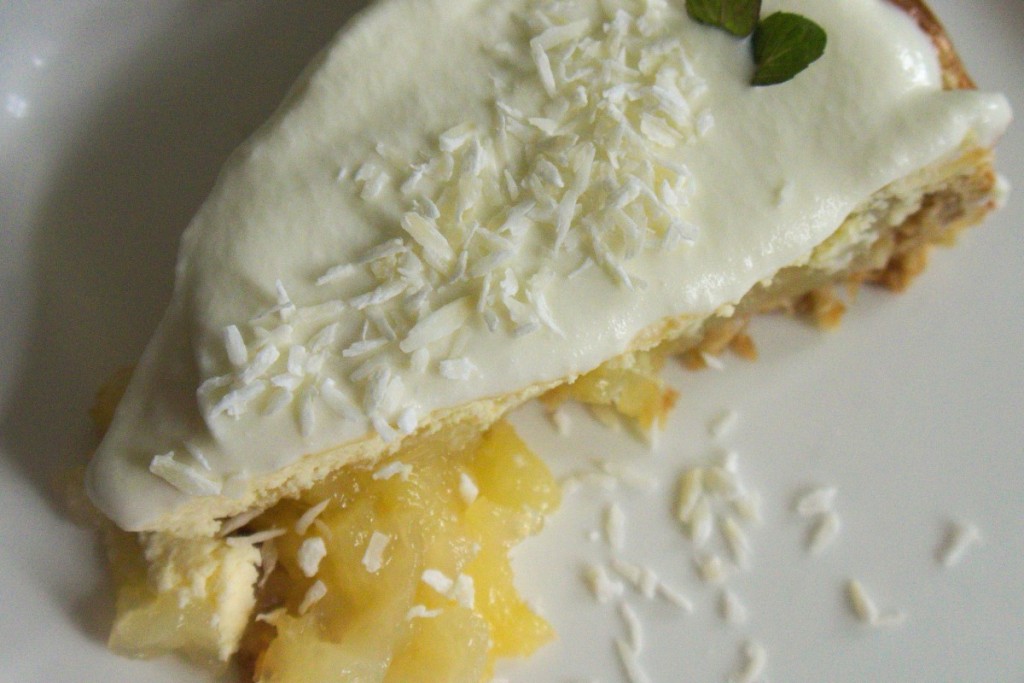 Garnishing this with fresh pineapple and coconut chips would be nice if you want to make an effort.
I suppose one could also try to add a dash of rum when making the pineapple layer to give it more of an authentic cocktail taste. Nevertheless, the non-alcoholic version will definitely become part of my summer dessert repertoire.
Sources: I found this recipe here – make sure to check out the mouthwatering photos. It's originally from Southern Living magazine. I usually just use a measuring cup but for all those who prefer metric weights, there's a great conversion table here.
Hope you all have a great start to the week!