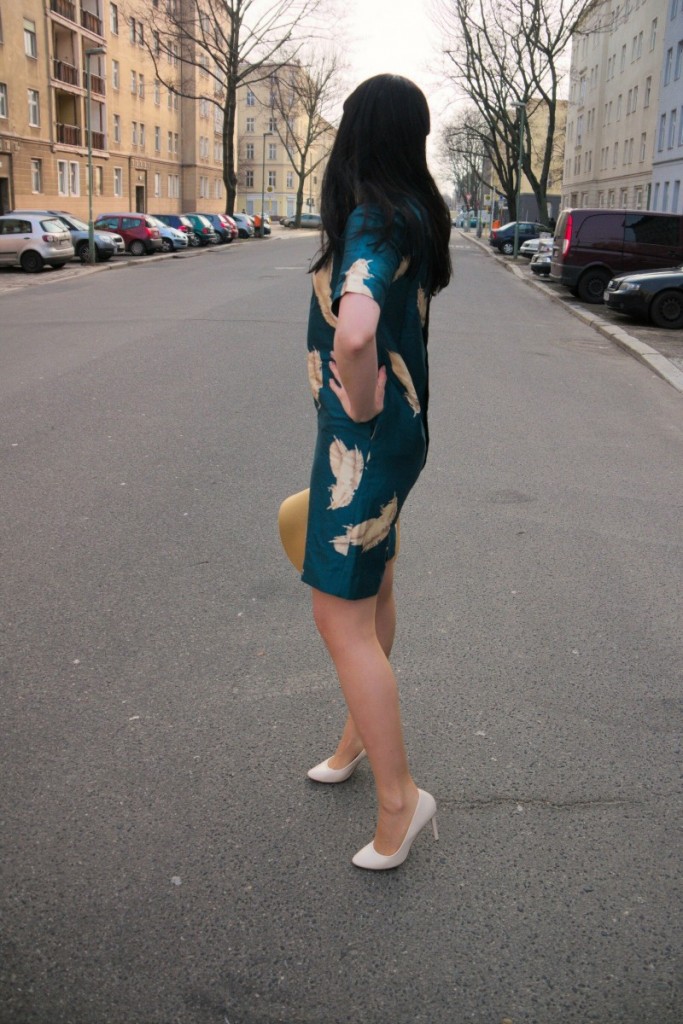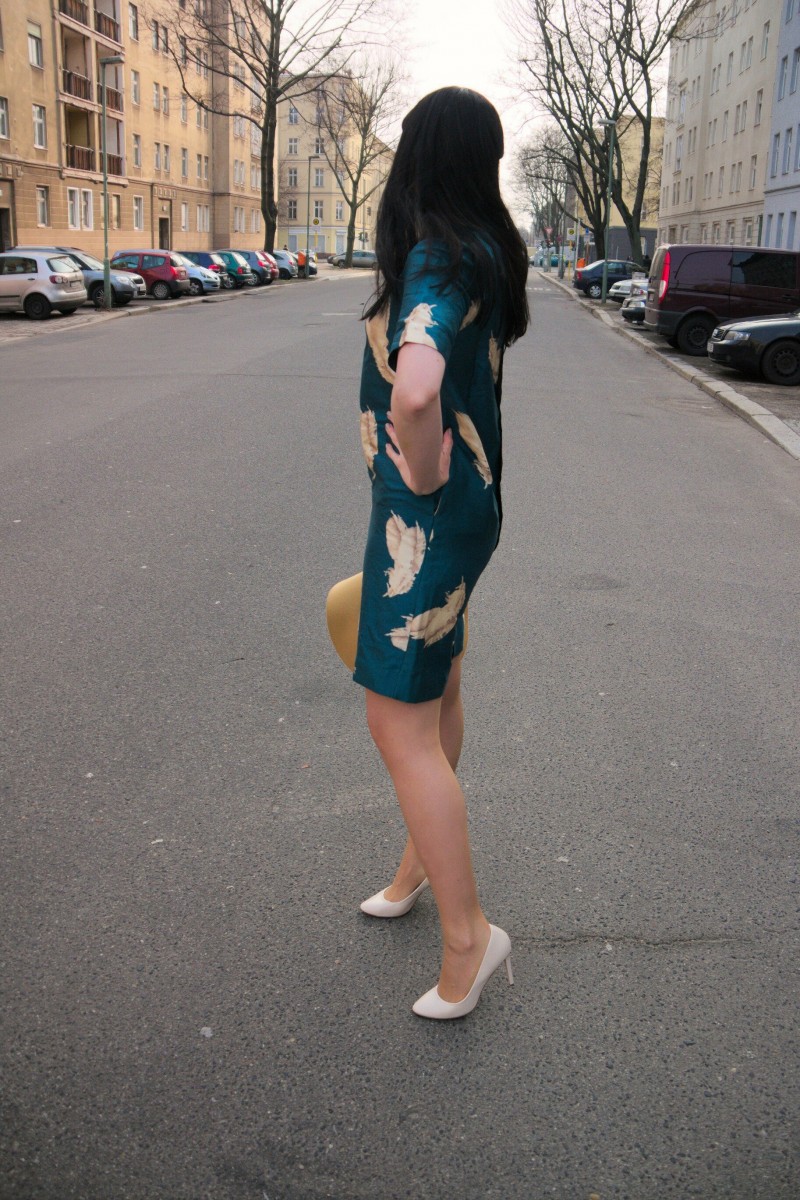 Keeping in line with my latest tropical interior crush which I talked about here, today's outfit features another green and cream colour combo which I rather like these days.
Mind you, spring still seems a long way off as temperatures have dropped again here in Berlin. I find it's surprisingly cold for mid March but I just hope the weather will come around eventually. The first crocus bulbs have flowered on the little patches of green in between houses in our suburb and I quite enjoy seeing more dainty green leaves every day when I walk the dogs.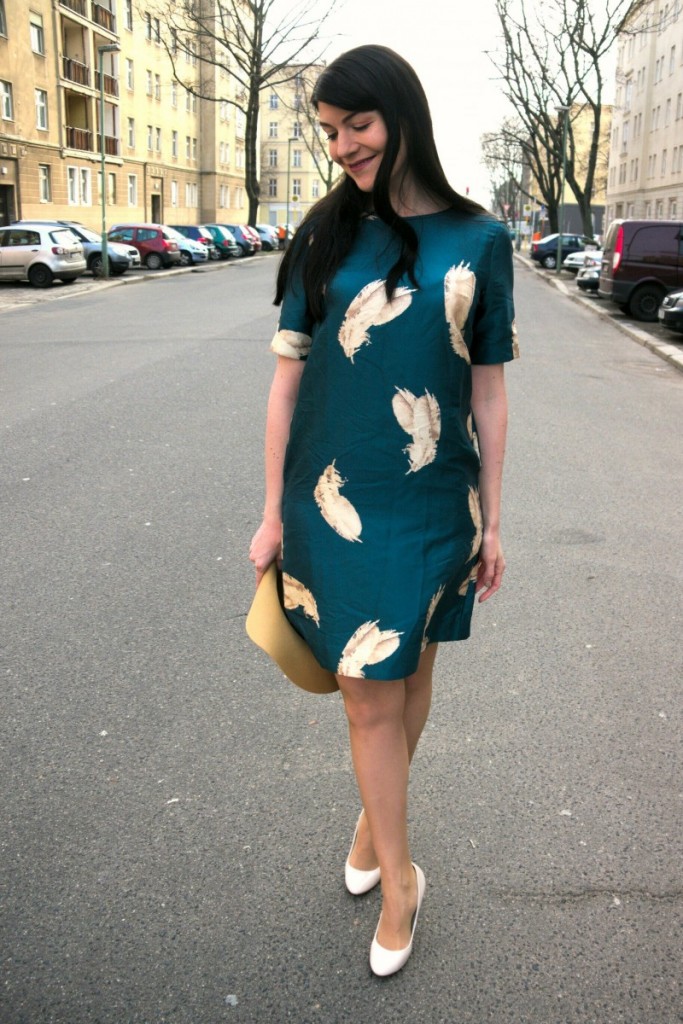 This dress by Noa Noa exudes a subtle vintage flair with its clean cut and satin fabric. I go in hugely for this particular shade of sea green so when I saw this dress at Zalando a few weeks ago I knew I had to have it. The cream-coloured Dorothy Perkins high heel pumps I already showed you in my last outfit post go perfectly with the light feather print.
These pumps have become a firm favourite for photo shoots lately even though they are a tad too high for me! They actually sport a staggering 10 cm (nearly 4″) stiletto heel. But I really like the way they look in outfit pics. Plus, the nude colour is so versatile that they can be worn with a lot of different styles and outfits. So even though I won't be wearing them for walking around town they were a really good investment!
Do you have shoes you prefer to wear for outfit shoots?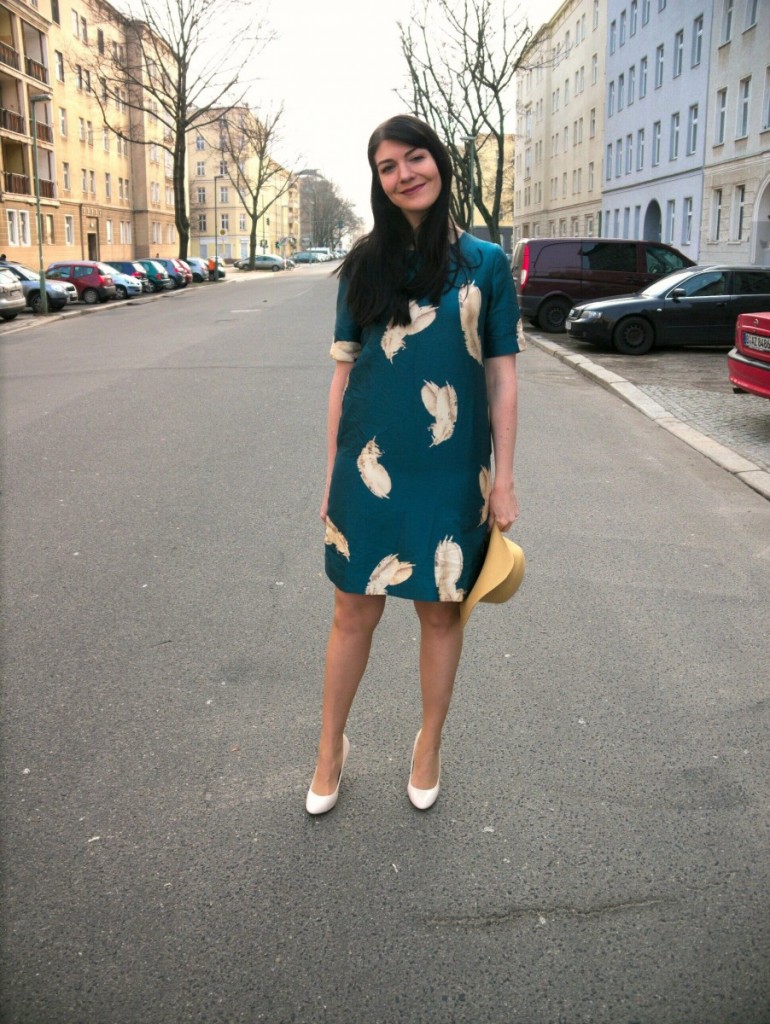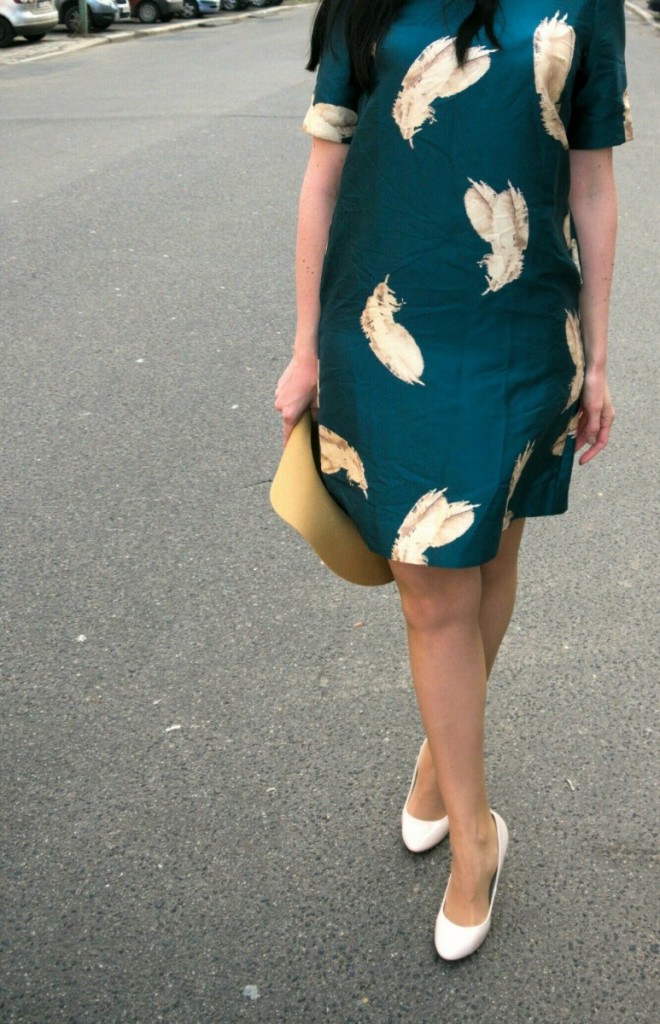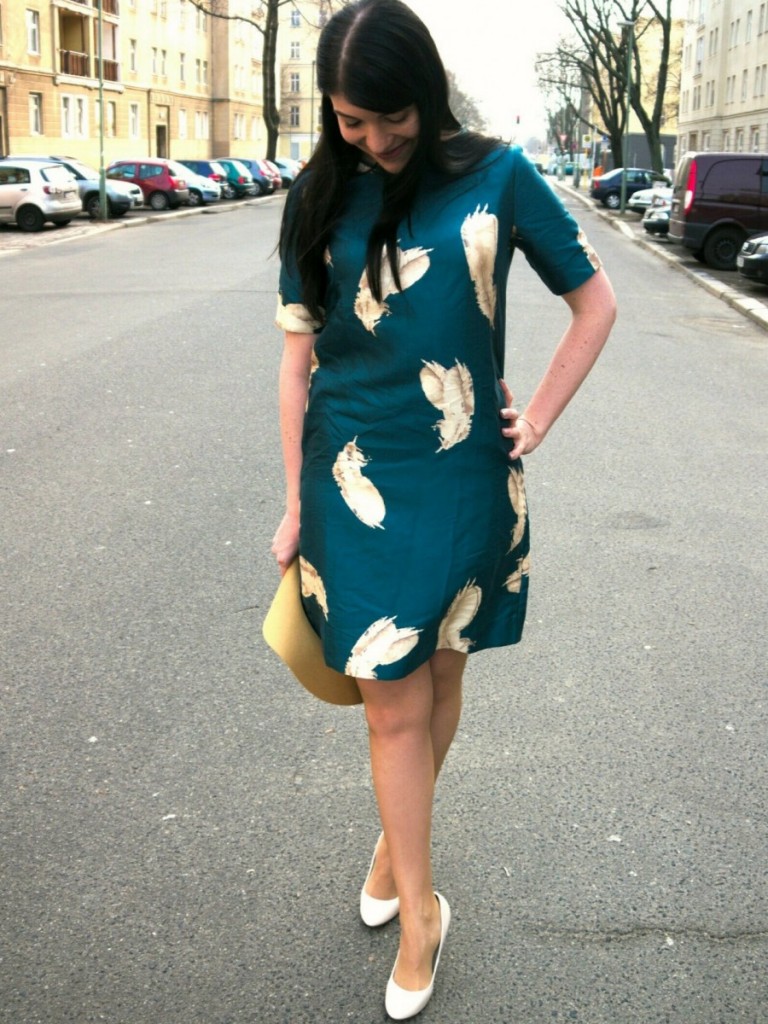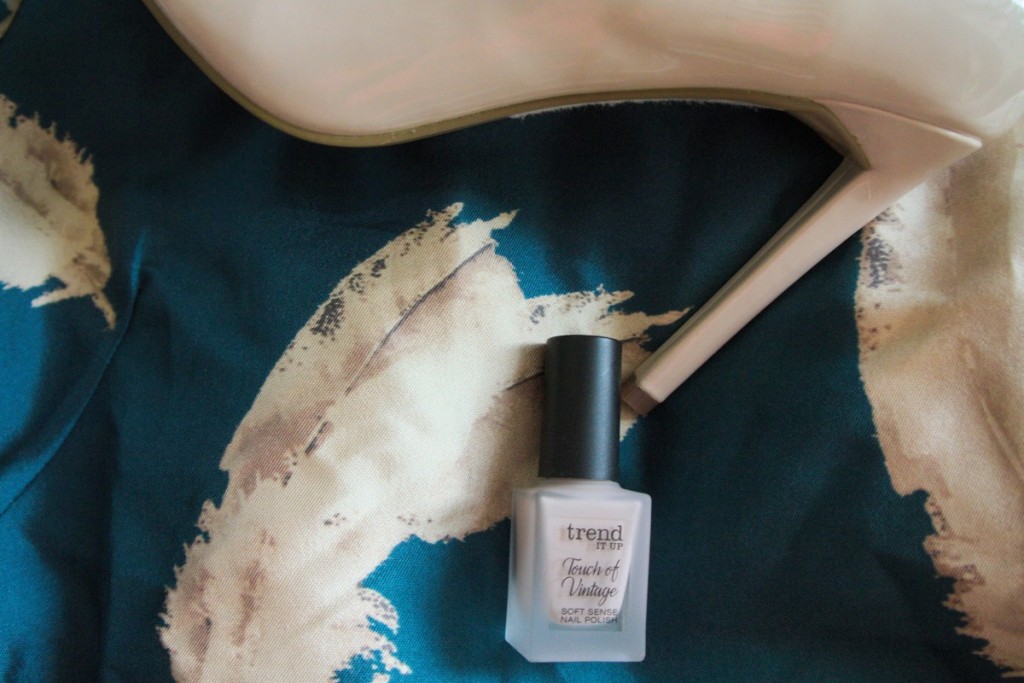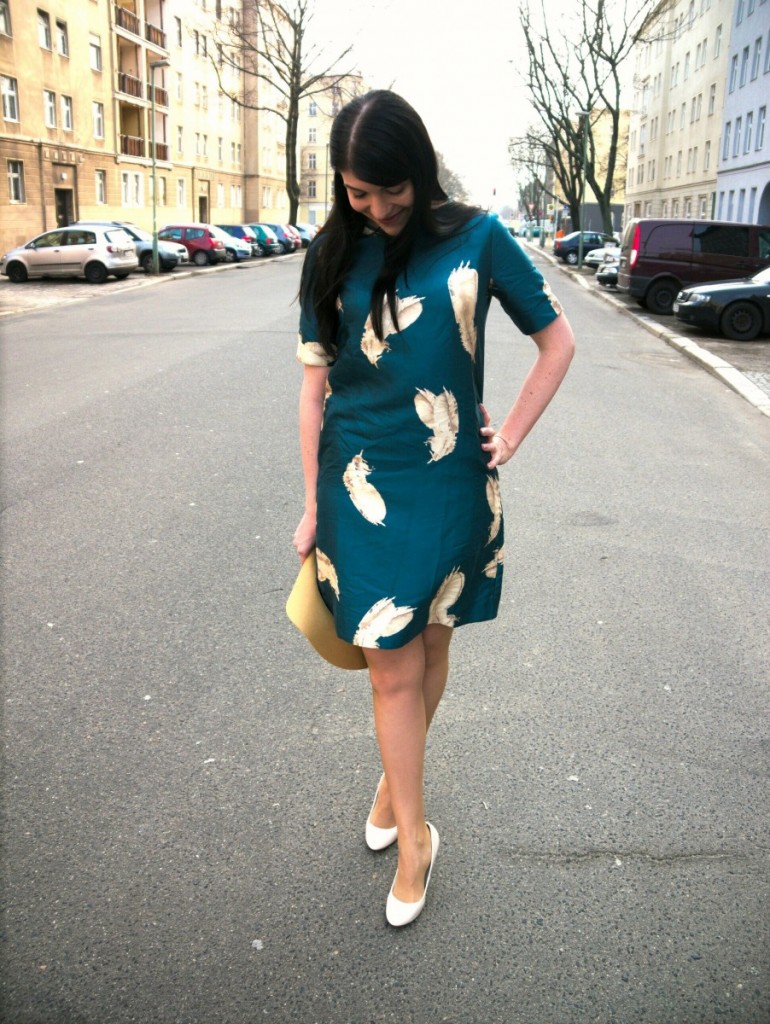 Outfit Details:
Dress – Noa Noa (here)
Pumps – Dorothy Perkins (here)
Hat – Blonde Accessories (similar)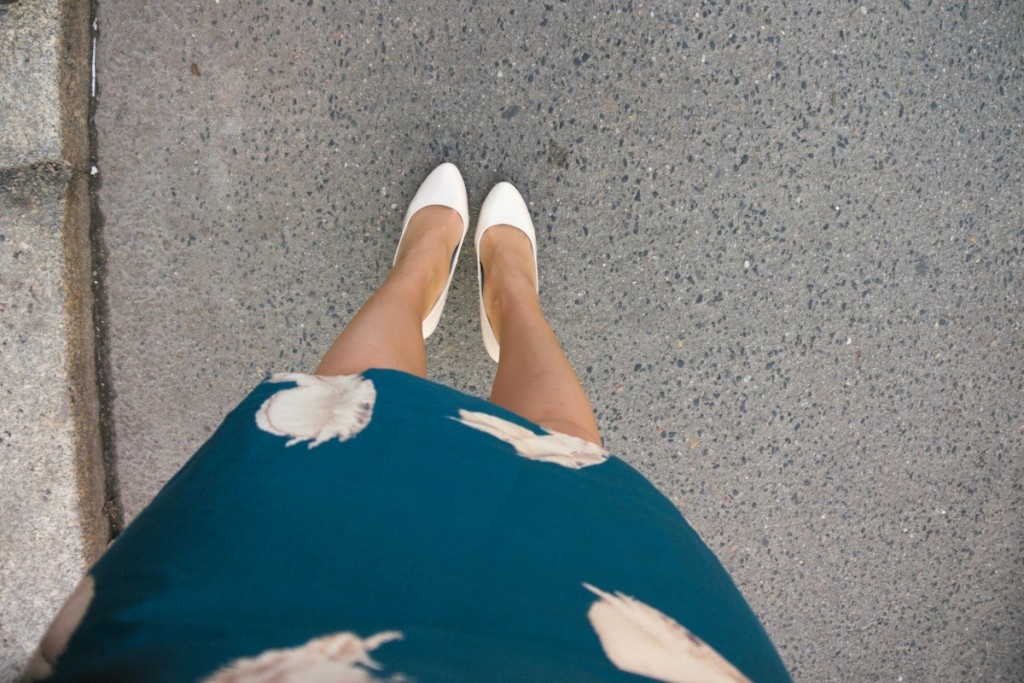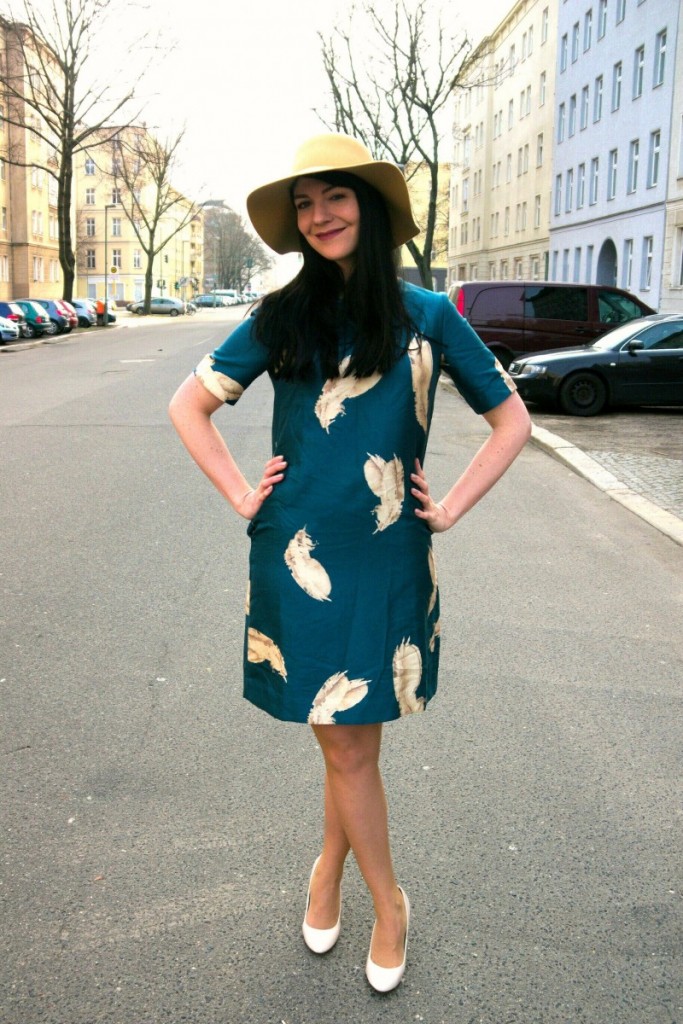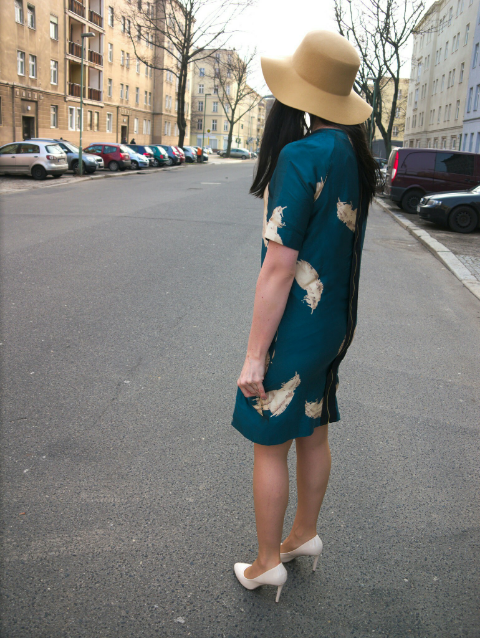 GERMAN
Wie schon der letzte Beitrag zu meinem Tropical Interior Crush, ist auch der heutige Look von Grün und Creme geprägt.
Da der Frühling hier in Berlin zumindest temperaturmäßig noch sehr auf sich warten lässt, dachte ich, dass ein paar frische Farben genau richtig sind, um meine Stimmung etwas aufzuhellen. Die Grün-Creme-Kombi gefällt mir in letzter Zeit erstaunlich gut und als ich da dieses Noa Noa Kleid bei Zalando entdeckt habe, wusste ich gleich, dass es genau meins ist. Der gerade Schnitt und der matt glänzende Satin verleihen dem Kleid ein leichtes Vintage-Flair, was ich ja immer sehr mag. Auch gefällt mir dieser blaugrüne Farbton, ich würde es am ehesten Meergrün nennen, ausgesprochen gut.
Die cremefarbenen High Heel Pumps passen farblich perfekt zu dem Feder-Print des Kleides und unterstreichen zusätzlich den subtilen Retro Charme. Diese Pumps sind eigentlich Schuhe, die ich im Alltag niemals tragen würde, da sie mit ihrem 10cm Absatz einfach viel zu hoch für mich sind. Höchstens zu besonderen Anlässen würde ich mich mal dazu hinreißen lassen und selbst dann liegt mein Maximum eher bei 4cm. Für Outfit Shoots gefallen mir die Pumps aber unwahrscheinlich gut, weshalb ihr sie wahrscheinlich auch in den kommenden Posts noch öfter sehen werdet. Auch in meinem letzten Outfit hier hatte ich sie an. Stiletto-Absätze sehen einfach immer gleich sehr elegant aus und passen zu femininen Kleidern und Prints sehr gut, aber für meine Alltags-Looks bleibe ich wohl eher bei flacheren Schuhen, Kitten Heels oder Booties mit einem kleinen Blockabsatz.
Kennt ihr das auch? Habt ihr auch Schuhe, die ihr lieber für Outfit Shoots anzieht als im Alltag?