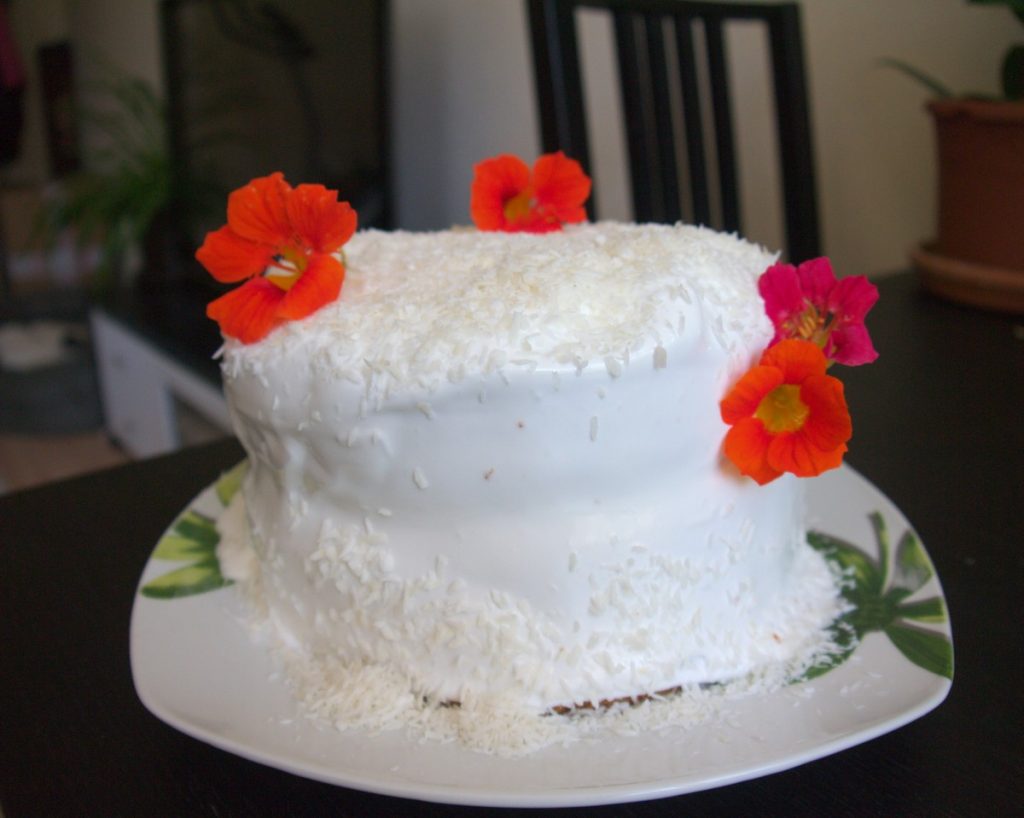 As I'm celebrating my birthday today I wanted to share a yummy recipe with you. This one is for a cake full of summery coconut flavour with just a hint of lemon.
I usually make my own birthday cake each year and last year this was the one I had. The recipe is from Joyofbaking which is a wonderful site with lots of wonderful recipes. You can find the original recipe here.
This stacked cake consists of layers of buttermilk cake with lemon curd in between and a seven minute frosting to top it all off.
Buttermilk Cake:
325 g flour
225 g butter
350 g sugar
4 eggs
2 teaspoons baking powder
1/2 teaspoon baking soda
1/2 teaspoon salt
240 ml buttermilk
Lemon Curd:
3 eggs
80 ml lemon juice
1 tbs grated lemon zest (or a lemon flavouring of your choice)
150 g sugar
55 g (4 tbs) butter
Frosting:
3 large eggwhites (room temp)
300 g sugar
60 ml cold water
1 tbs light syrup
1 teaspoon vanilla extract (or flavouring of your choice)
Garnish:
150 g shredded coconut
This is the metric version as that's what I usually use but if you're looking for cup measurements please check out the original recipe. You will need two round baking pans (about 23 x 5 cm).
Cake Batter:
Mix all the dry ingredients(flour mix) in a large bowl. Beat butter and sugar until soft and fluffy. Then add the eggs, one at a time, until well combined. Alternately add the flour mix and buttermilk to the egg mixture. Then divide batter evenly between the two prepared pans.
Bake for about 27-30 mins (depending on your oven and your choice of baking dish) at 180°C.
Let cool completely before filling and frosting.
Lemon Curd:
In the recipe on JoyofBaking you will find instructions to make your own lemon curd. But you could always just buy a jar of ready-made lemon curd, which is what I did to save some time.
Frosting:
This frosting is actually super yummy (if you like sweet, then this is for you).  Put all the ingredients into a stainless steel bowl and beat the ingredients until well combined. Then place the bowl over a small saucepan with simmering water. Continue beating the mixture with a handheld mixer on medium speed (about 3 min). Continue on high until the frosting forms small peaks (about 3-4 mins). Remove from heat and add the vanilla extract. Beat another 2 mins until the frosting has the desired consistency. Let cool to room temperature and use immediately.
Assemble the cake by cutting each of the two layers in half and then spreading some lemon curd on each half. You can also sprinkle each layer with a bit of shredded coconut. When you've finished stacking the layers, frost the cake with the 7 minute frosting and garnish with shredded coconut.
Recipe Source: Joyofbaking here
Decorating with edible Flowers
I decided to decorate this cake with edible nasturtium flowers(Tropaeolum majus) and lemon balm(Melissa officinalis) from my little urban balcony/garden. The upside of having a birthday in early September is the abundance of fresh flowers and herbs from the garden. I love the idea of edible decorations so nasturtiums and Calendula are staples I grow every year. Lemon balm is another all-time favourite of mine that goes wonderfully with anything fresh and lemony. Plus, the plants are really hardy and perennial.
---
Do you ever decorate with edible flowers? I hope you're all having a great week so far!