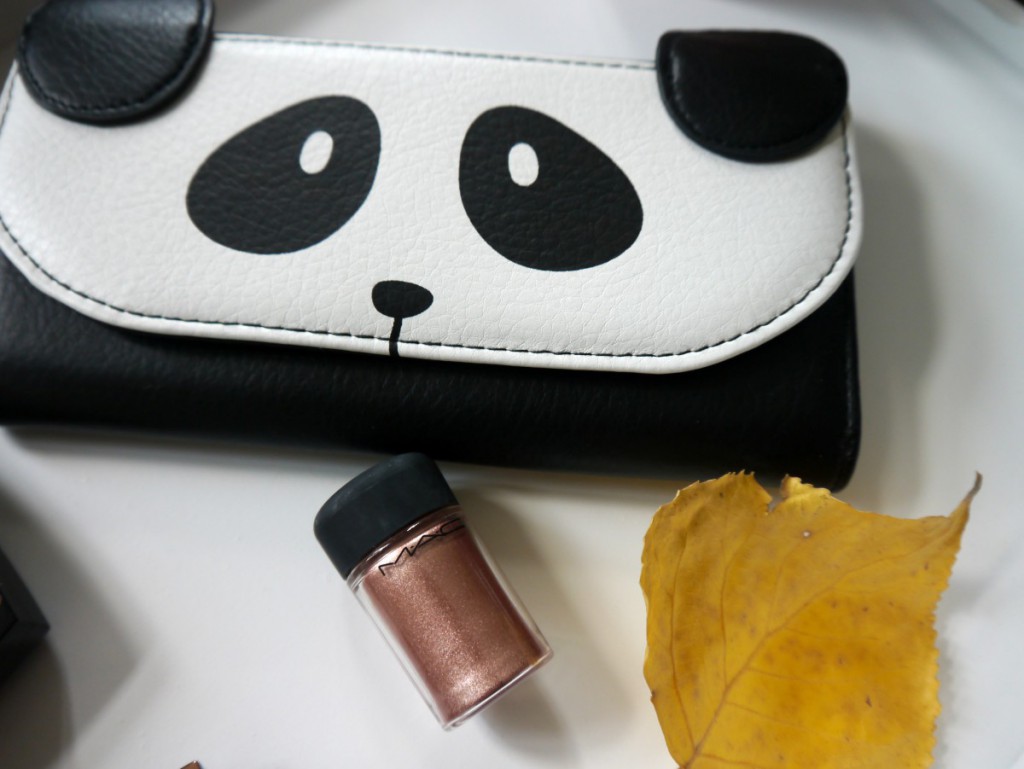 As summer is slowly coming to an end I decided to show you some of the beauty products I enjoyed using this summer…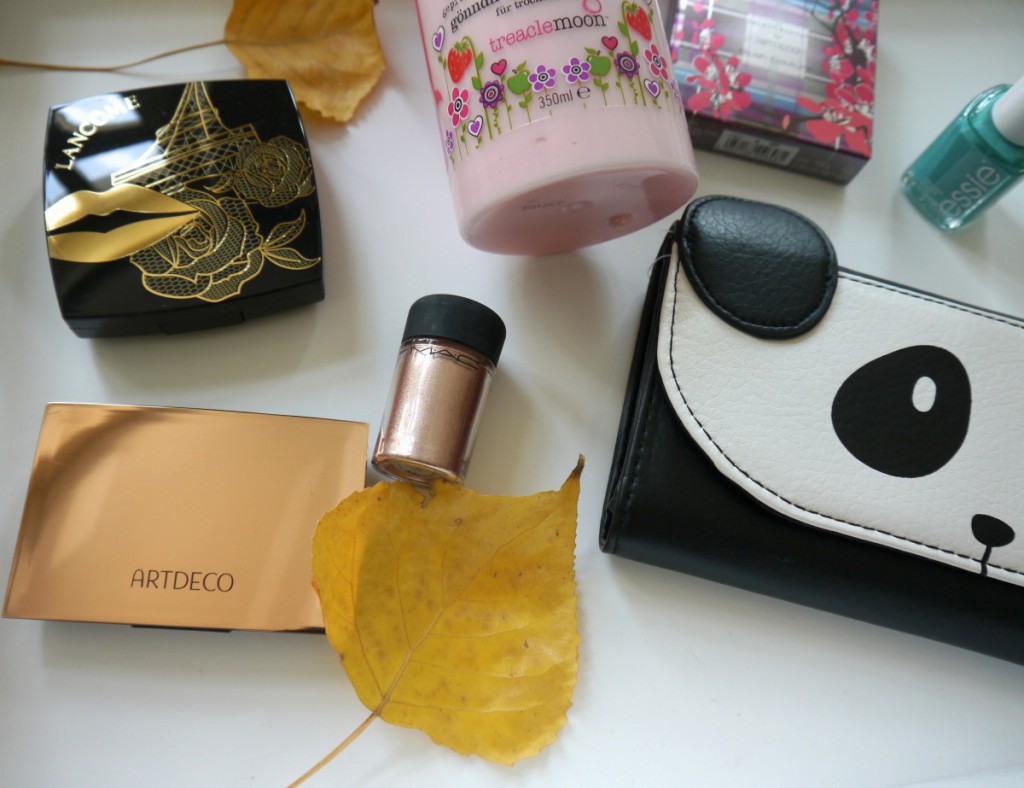 Centerpiece and not strictly a beauty product is this panda purse I found at C&A. I just recently discovered C&A as an online shopping destination as they have quite a few nice basics and stylish products like this faux leather purse on offer. They also had a matching backpack and I'm quite taken with this purse.
Eyeshadow
After reading many positive reviews I have decided to try out MAC pigment eyeshadow this summer. I chose the colour tan which is a light rosy brown with a golden shimmer. I rather enjoy applying the fine powder and the colour is nice and summery.
Artdeco has these practical quattro beauty boxes for keeping eyeshadow singles in. So another item from my vente privee haul is this Beauty Box in copper which fits in nicely with the colours of the season. I keep my brow powder in it along with a few basic colours of eyeshadow. I will publish more detailed reviews for some of these beauty products later on.
Body Lotion
Scented product of the season for me definitely was the Treaclemoon body milk in Iced Strawberry Dreams.  I'm not normally a fan of scented body lotions but treaclemoon have managed to create delicious, fruity smells which are not too heavy or annoying. They pride themselves in vegetarian and vegan-friendly manufacturing which I fully support.
Blusher
I have a penchant for blusher and have used two different ones regularly this summer: one by Artdeco, the other by Lancôme. Blush Couture by Talbot Runhof for Artdeco hails from the fall 2013 collection. This was a limited edition and I got it earlier this year at vente-privee. I didn't really have the time to try it out until this summer. Its comprised of three very subtle pink shades which go well with fair skin.
Another limited edition blusher I'm about two years too late for but which I have coveted for quite a while is the Lancôme Rose Désir Blush. It is an illuminating powder which comes in a beautiful package and with sparkling gold and metallic pink spray coating (already partially removed from use on the photo) on an embossed surface. I loved the design so much I found it almost too pretty to use. In the end, I couldn't resist though. It has nice pigmentation and the combination of orange and pink shades is great when combined.
Nail Colour
I have already mentioned my latest nailpolish favourite in some of my last outfit posts: naughty nautical by Essie Cosmetics. It is a lovely bluish green with very subtle flecks of silvery shimmer.
Artdeco Beauty Box in copper – via Vente-privee
Treaclemoon Body Milk in iced strawberry dream – via dm 
Essie Cosmetics naughty nautical 266 – via dm
MAC pigment eyeshadow in tan – via douglas.de
Lancôme Rose Désir Blush – Limited Edition, still available here
Artdeco & Talbot Runhof Blush Couture – Limited Edition, via Vente-privee
Panda Purse by C&A – sold out