I have recently tried the No.1 nail polish by Trend It Up from dm. Dm is a very popular drugstore chain here in Germany and they have currently launched a new line of beauty products called Trend It Up. They have several polish ranges – No.1 is a basic range with 16 different colours on offer.
I have to say I wasn't expecting all too much when I first got it. The leathery brown of colour 030 caught my eye on the new Trend It Up shelf at dm which is why I bought it in the first place. And the low price further prompted me to try it out.
The bottles are smaller than for regular nail polishes: 6 ml for €1,25
Formula :
Nice texture with an easy application. The polish glides on effortlessly. According to the manufacturer's homepage the production is entirely vegan. * see below for ingredients
Application:
I loved the practical brush which makes application that much easier. It's a flat brush and I am used to this from Essie polishes which I use a lot. Compared to Essie however, this polish was surprisingly quick-drying. It took about 3 min to get a relatively dry coat which was not overly touch-sensitive. After a further 10 mins I was good to go.
Longevity:
Applied in two coats without base or top coat it showed minimal signs of tipwear after about a day. There was no chipping though and the colour intensity was still great. This is about the same amount of tipwear I get when using Essie polishes. In between dogs and gardening I tend to work with my hands a lot, so this is a normal result for me. When used with a top coat it has a very satisfactory lifespan of about a week.
Colour 030 is a lovely reddish brown with good colour intensity even if just one coat is applied. It retains its colour easily for a week, if worn with a top coat. No fading. I love this colour for fall – it reminds me of coloured leaves and pumpkin spice!
Conclusion: Loved it  – colour intensive and quick-drying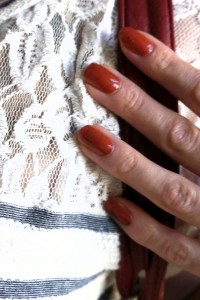 Pros: quick-drying, the price is unbeatable for this quality, lifespan is good.
Cons: Not a lot of colours to choose from in this range yet. But this may change.
Have you tried any Trend It Up nail polishes? What is your verdict?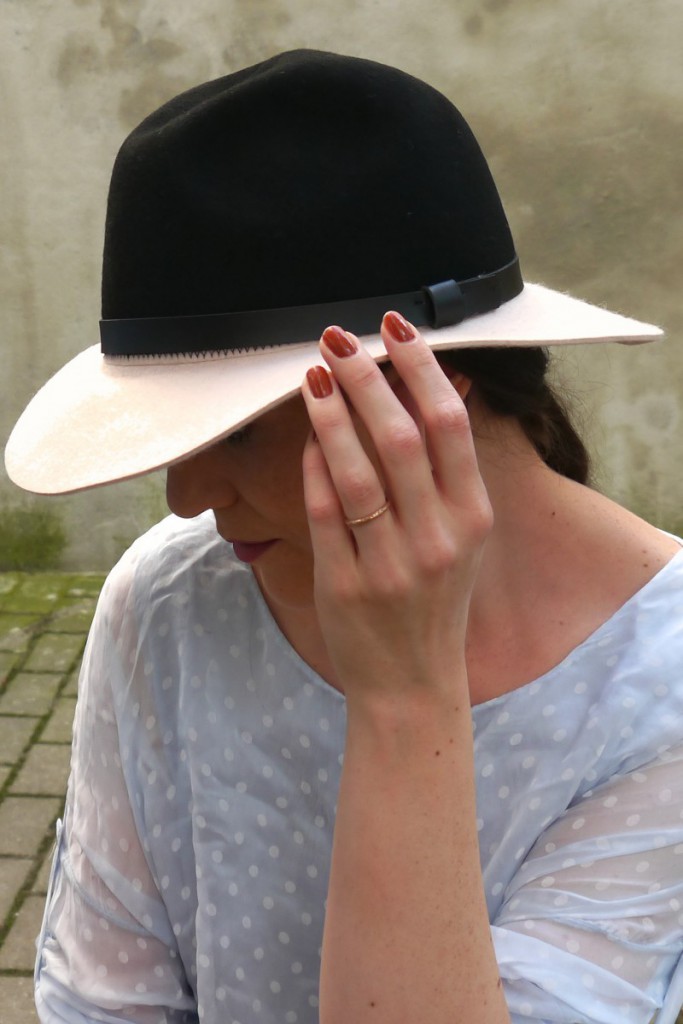 GERMAN
Als ich neulich malwieder bei dm war, habe ich mich spontan entschieden den neuen No 1 nail polish von Trend It Up mitzunehmen. Die Farbe 030 mit ihrem cognacbraun ist mir gleich ins Auge gefallen und gefiel mir in Anbetracht des nahenden Herbstes recht gut. Bei dem unschlagbaren Preis von €1,25 war die Kaufentscheidung dann schnell getroffen. Die Flasche ist zudem etwas kleiner, als man es von anderen Nagellacken kennt. Man bekommt 6 ml für €1,25.
Ich wusste nicht wirklich was mich erwartet, aber wollte den Lack einfach mal ausprobieren. Sollte er nicht gefallen, wäre das bei dem Preis und dem kleinen Fläschchen auch keine extreme Verschwendung.
Laut Hersteller überzeugt No.1 mit langer Haltbarkeit, hoher Deckkraft und einem perfekt auf die Textur abgestimmten Flat-Pinsel. Ein absolutes Must-Have für alle Fashionistas und ist in 16 trendigen Farben erhältlich.
Konsistenz: 
Der Nagellack hat eine gute Konsistenz, weder zu dünn noch zu viskos. Er ließ sich gut auftragen und ist laut dm komplett vegan, was ich unterstütze. *Inhaltsstoffe am Ende des Posts
Applikation: 
Das Auftragen war sehr einfach und angenehm. Der flache Pinsel ist in der Tat hilfreich und hält was er verspricht. Er erinnert mich sehr an den Essie-Pinsel, da ich ja sonst auch sehr gerne die Nagellacke von Essie verwende. Was mich wirklich überrascht hat, war die kurze Trocknungszeit. Der Lack war schon nach etwa 3 min oberflächlich trocken und man konnte ihn mit wenig Druck anfassen ohne Spuren zu hinterlassen. Nach weiteren 10 min konnte ich die Hände schon wieder nutzen, was für mich echt eine gute Trocknungszeit darstellt. Bei Essie brauchen manche Lacke länger, wie ich finde.
Haltbarkeit:
Die Haltbarkeit von Nagellacken ist bei mir immer so ein Thema, da ich sehr viel mit den Händen arbeite. Zwischen Hunden und Alltag müssen meine Nägel da schon recht viel aushalten. Mit zwei Schichten ohne Unter- und Überlack hatte ich schon nach etwa einem Tag etwas tipwear. Das ist allerdings ein recht normales Ergebnis bei mir, was ich auch von den Essie-Lacken her kenne. Mit Überlack hingegen hat der Lack gut eine Woche gehalten ohne abzusplittern. Nach einer Woche war wieder tipwear zu sehen – aber sehr verhältnismässig. Insgesamt war ich mit der Lebensdauer also schon zufrieden.
Die Farbe 030 ist ein schönes Cognac. Das Rotbraun passt sehr gut zum Herbst und sieht auch zu roten Outfits toll aus, da es von weitem wie ein dunkles Rot erscheint. Grade zu klassischen, lederfarbenen Accessoires gefällt er mir auch sehr gut.
FAZIT: ich finde den Lack super! Tolle Farbintensität und Trocknungszeit.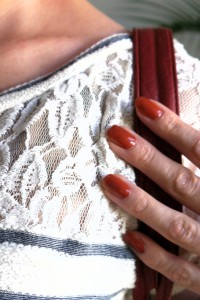 Pros: schnelltrocknend, der Preis ist unschlagbar für diese Qualität, gute Lebensdauer
Cons: die Farbauswahl für die No.1 Lacke könnte größer sein. Bisher gibt es nur 16 Farben, von denen viele für mich nicht wirklich in Frage kommen.
Inhaltsstoffe/Ingredients: BUTYL ACETATE | ETHYL ACETATE | NITROCELLULOSE | ADIPIC ACID/NEOPENTYL GLYCOL/TRIMELLITIC ANHYDRIDE COPOLYMER | ACETYL TRIBUTYL CITRATE | ISOPROPYL ALCOHOL | ACRYLATES COPOLYMER | STEARALKONIUM BENTONITE | CI 77491 | CI 77891 | N-BUTYL ALCOHOL | DIACETONE ALCOHOL | SILICA | TRIMETHYLPENTANEDIYL DIBENZOATE | HEXANAL | LITHOTHAMNIUM CALCARUM EXTRACT | CI 77266 [nano] | ISOPENTANAL | LAURALDEHYDE | CI 19140 | MANNITOL | DIATOMACEOUS EARTH | ZINC SULFATE | TOCOPHEROL
Habt ihr auch schon Nagellacke von Trend It Up ausprobiert? Wie fandet ihr sie?