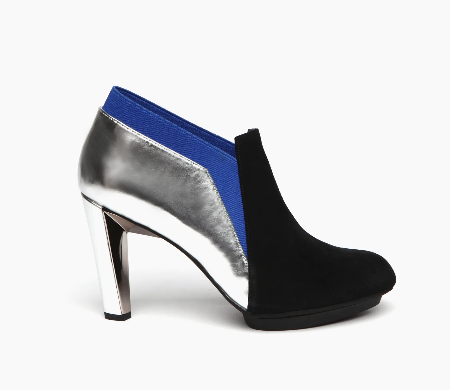 Booties are among my favourite fashion items for fall. I have recently stumbled upon United Nude's Autumn/Winter '15 collection and instantly fell in love.
The object of my desire is called Lola. This style comes with a contrasting elastic detail around the top line of the shoe and a contemporary chromed detail under the heel. The upper consists of two different types of leather: suede and mirror metallic. It boasts a 9.5 cm heel and a floating platform.
I have spend way too much money on shoes lately though… so I may just wait and hope for it to appear in one of my favourite online outlet shops!
There is another colourway with an embossed front, by the way – I'm not sure which one I like best. Both have so much going for them but I think I'm leaning towards the blue and silver ever so slightly! They can be found at United Nude's online shop here and here.
Images courtesy of United Nude webpage