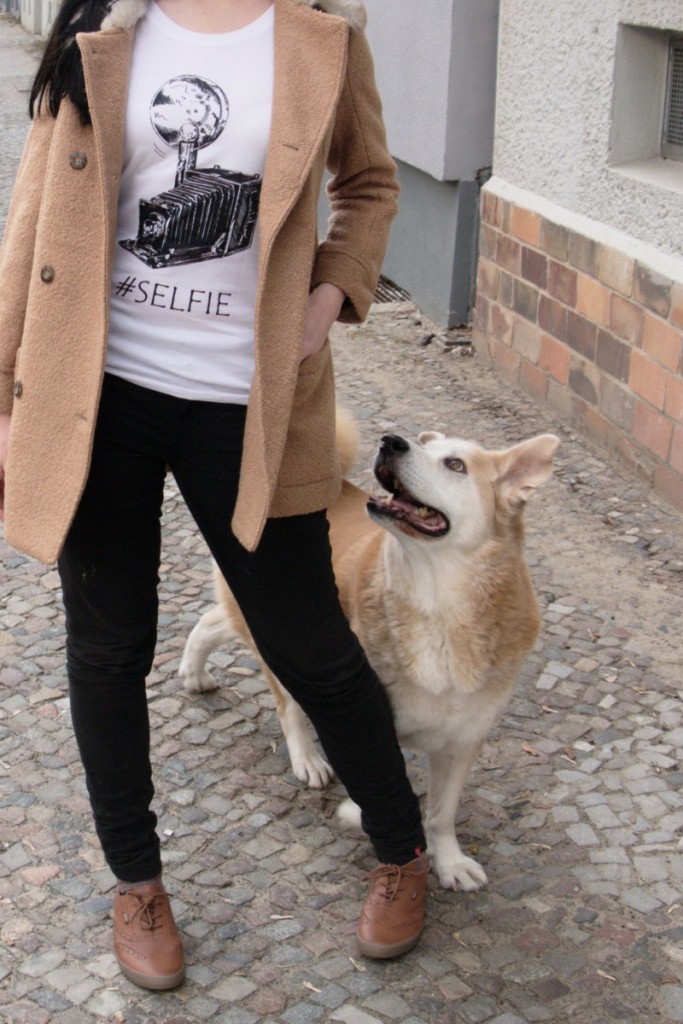 Today's outfit is a casual winter daytime look featuring a camel coat and novelty tee with vintage camera print which was kindly sent to me by Kater Likoli.This is actually a typical workday outfit as luckily my workplace has a very casual dresscode. I have to admit that I'm largely addicted to black pants and white shirts lately…this T-shirt by Kater Likoli is a great fit and made of pure cotton. I have managed to keep cycling to work during the winter so wearing something comfortable is quite important to me.
I love the #selfie print with the allusion to 19th century folding cameras. Living in an era where we take photos every day at next to no cost it's worth a thought that the early days of photography were actually very different.  It's fun to think of how cameras have evolved to the present day when our smartphones routinely include high resolution digital cameras.
I couldn't resist taking my Akita outside with me when getting these pictures taken. My camel coat with the light faux fur collar matches his winter fur so well that we look a bit as if we're wearing matching clothes.
Outfit Details:
T-Shirt – Kater Likoli *
Coat – H&M (currently on sale)
Pants – Esprit
Shoes – Esprit